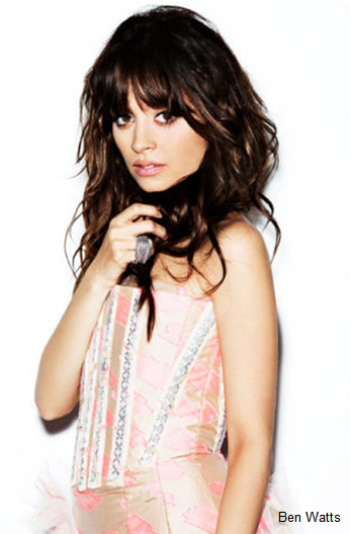 Nicole Richie is the March 2010 cover girl for Marie Claire UK, and these are some of the sultry photos from the shoot. I think Nicole looks lovely here – I love the dark, rich brunette hair, and her makeup looks great. Most of the clothes she's wearing are from her new clothing line, Winter Kate, named after her daughter Harlow's middle names.
In the interview excerpt, Nicole addresses some of the lingering rumors about an alleged eating disorder. The rumors began in earnest several years ago when Nicole dramatically lost a lot of weight. Incidentally, many people noted that she had begun to be styled by Rachel Zoe at the time. Zoe and Richie both denied their separate eating disorder rumors at the time, and for a while it seemed like Nicole and Rachel were on the outs. However, they recently made up, and their friendship continues. They just went out to dinner the other night. Equally strange is the Rachel denied her eating disorder rumors again just a few days ago too. For her part, Nicole calls the rumors "extremely insulting and irresponsible."
This month, the cover star that everyone is talking about, is Nicole Richie – who graces the March issue of Marie Claire.

Once the wild child side-kick of Paris Hilton, Miss Richie has undeniably undergone one of the most dramatic makeovers of the decade – blossoming into a beautiful young mum, who's boho-chic style is eminated world over.

And in our cover shoot, not only is she looking drop dead gorgeous with her newly brunette locks, but the 28-year-old gives one of her most honest and open interviews to date, talking candidly about those eating disorder rumours.

'I felt it was a little unfair to say someone has an eating disorder when they don't' she says. 'It's extremely insulting and irresponsible.'

'An eating disorder is serious and it's a disease.'

The former reality TV star dropped down to a size zero back in 2006, and was snapped looking remarkably frail on the beach in her bikini.

But since the birth of daughter Harlow Winter in January 2008, and son Sparrow just over four months ago, Nicole's appearance has transformed dramatically.

And with her happy home life, a successful jewellery line, and a fledgling fashion collection getting rave reviews, there's no looking back.

'I'm just one to live in the present and enjoy the time that I'm having. Going into my past is just not something that I do,' she says. 'Right now I'm just living my dreams.'

Read the full interview with Nicole in the March issue of Marie Claire, out now.
[From Marie Claire UK]
I'll give Nicole the benefit of the doubt, I think. While I don't think she lost so much weight initially (back in 2006 or whenever) the healthy way, I do think Nicole is much healthier today. I buy her transformation to earth mother and fashionista, and I don't think she's doing anything to damage her health. Anymore.
Photos courtesy of Marie Claire UK online.