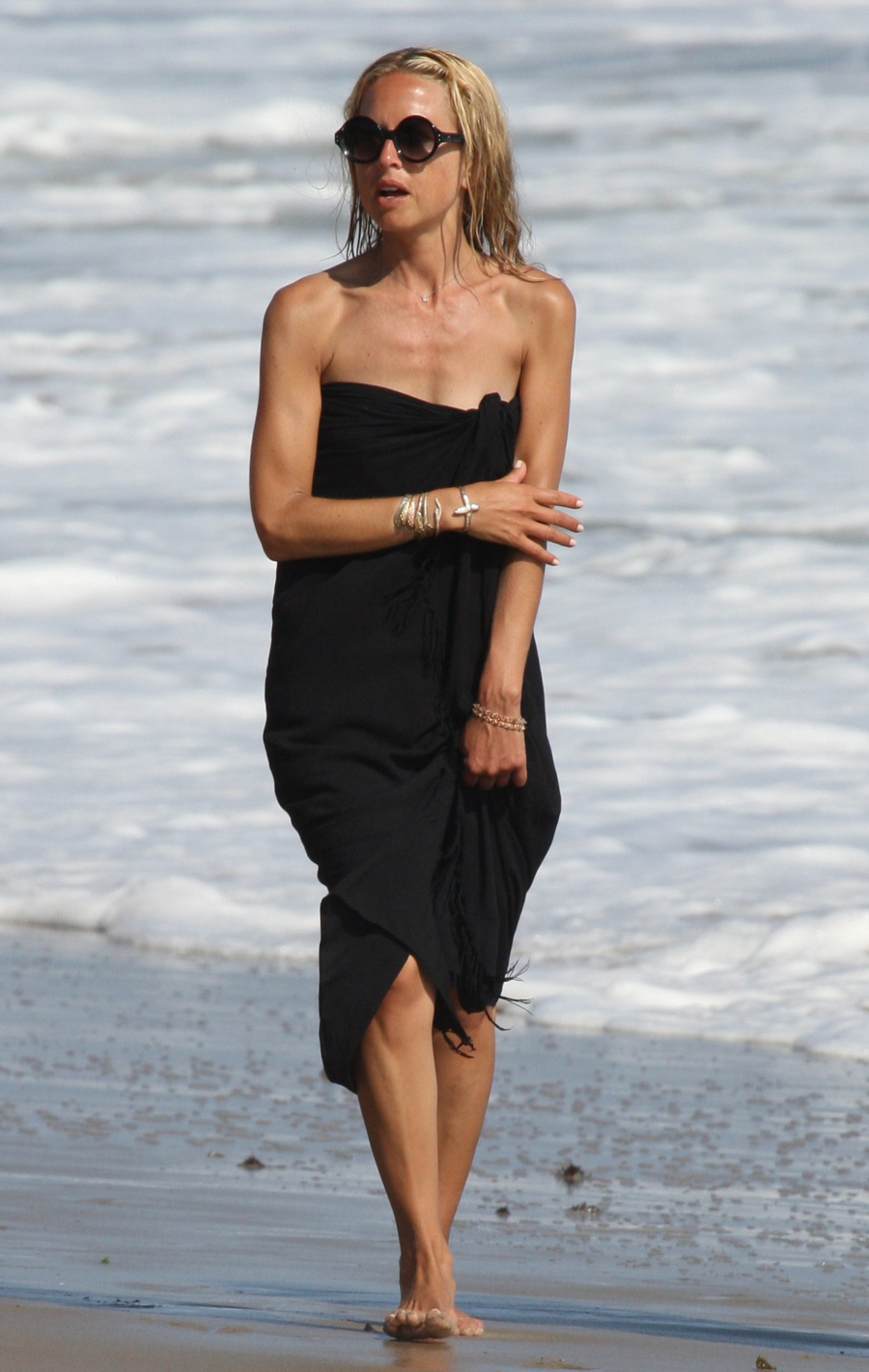 The rumors about Rachel Zoë's (not so) alleged eating disorder have been rampant for years. She's denied them time and again, and yet they persist. Probably because she keeps getting thinner, if that's at all possible. Anyway, a few weeks ago Rachel was photographed on some beach in a wrap skirt and a bikini top (we don't have access to those photos, but you can see one of them here). You could pretty much count every bone in her torso, so those photos started up the "eating disorder" rumor mill yet again. When attending an event last night, Us Weekly caught up with Rachel and they asked her about the rumors… and she was predictably delusional:
Despite an alarmingly thin frame, A-list stylist Rachel Zoe insists she doesn't have an eating disorder.

The Rachel Zoe Project star, 38, drew stares when she walked the St. Bart's shore in a bikini Jan. 8.

But Zoe – who attended the Beverly Hills Rimowa store opening Tuesday – tells E! News, "I'm here. I'm fine. I feel great, and I'm good."

Dr. Fred Pescatore, author of The Hamptons Diet, estimates the 5-foot-1 Zoe weighs just 80 pounds. A Zoe pal is not surprised, telling UsMagazine.com: "She's obsessed with being skinny. She never eats. If she does, it's fat-free."

But Zoe calls all the chatter "silly."

"I'm going to go and eat dinner after this," she tells E!.

Zoe has long slammed eating disorder rumors. She told Harper's Bazaar last year that she doesn't get why so many people give her a hard time.

"We've had Audrey Hepburn, we've had Twiggy, we've had Veruschka, we've had Kate Moss," she said. "I'm trying to figure out why I am to blame for skinniness.

"Truthfully, I've never seen myself as being too thin," she added. "Sometimes I'll look at photos and be like, 'Oh, that's not a good look.' But generally speaking, I'm not too thin."
[From Us Weekly]
I have an admission: I watch The Rachel Zoe Project. It's not like must-see-TV for me or anything, but I love when Bravo does a marathon on the weekends. I get addicted to watching them all in a row, and I especially love when they're trying to get people dressed for one of the bigger events. Part of the reason I love the show is because pretty much everyone on it is a despicable person. Everyone from Rachel, to Rachel's poor enabling husband, to her (now former) assistant Taylor, to the dweeb always in a tie, these people are so far stuck up their own asses, all they see is brown. Anyway, long story short – Rachel doesn't just have an eating disorder, in my opinion. She also has a very serious drug problem, and she's already done irreparable damage to her body.
BAH. NANAS.
Rachel Zoe in LA on January 26, 2010, credit: PER/Fame Pictures. Also, at the beach on August 22, 2009, credit: Mike @ Fame Pictures.