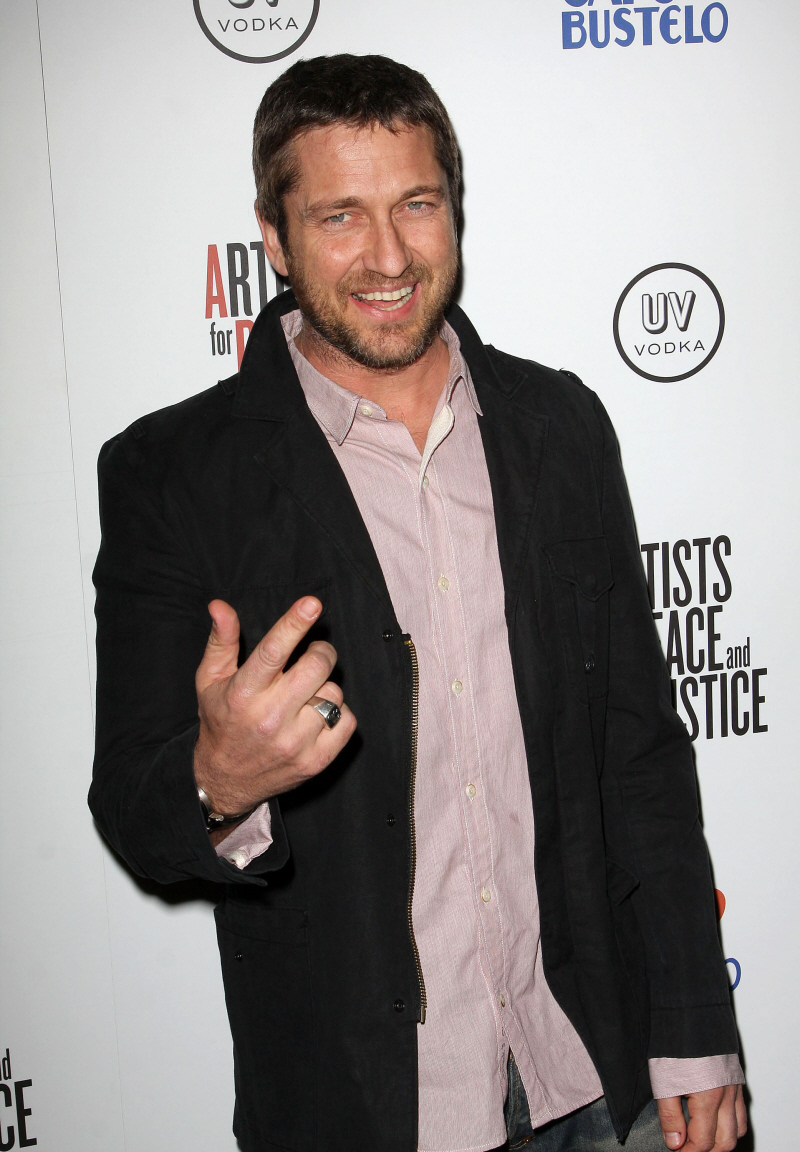 What the hell is wrong with me? I just spent way too much time staring lovingly at these photos of Gerard Butler at the Artists for Peace and Justice Haiti Benefit. He's not wearing a suit, he still doesn't look like he bathed, he looks smug and potato-faced. And yet, I'm still feeling it. In my pants. I clearly have issues if, after all this time, all of the Lindsay Lohans, the Jessica Simpsons, the Jennifer Anistons, the random makeouts with girls on the street, I'm still attracted to him. I would still hit it, and hit it hard. But I would make it bath and shave before I hit it, probably. But I can't even commit to that!
While at the benefit, Gerard donated $50,000, which will end up going to "emergency relief and medical supplies" in Haiti. The fundraiser was held by screenwriter/director Paul Haggis, and Nicole Kidman, Javier Bardem and Daniel Craig were also there. Alas, no Daniel Craig photos from the event. That would be too much for my pants.
Incidentally, it looks like Gerard is already gearing up to promote How To Train Your Dragon, the animated film that Gerard did the lead voice work on. It comes out in March (as does Bounty Hunter), so we'll be seeing a lot of this potato-face in the next two months. Hurray! Anyway, Gerard sat down for an interview with a Scottish paper and was pretty funny about everything, really:
GERARD BUTLER has a history of being romantically linked to his co-stars. But he's hoping that won't be the case with his new film – even though it's a successful Scot. But although his fellow thespian is tall and good looking, Gerry is happy to keep Craig Ferguson as "just good friends" on the set of their new film How To Train Your Dragon.

"I wouldn't be surprised if I was linked to Craig," chuckled Gerard. "But maybe they'll come up with a way to say I had an affair with the dragon. Or that I had sex with all of them."

In fact, the sexy Scot found to his surprise that it's his accent, not his dating habits, that has attracted attention and plaudits this time round. How To Train Your Dragon is the new Dreamworks 3D cartoon from the creators of Shrek and opens here in March. Yet although the film is set in an ancient Viking village of Berk, there's a strong Scottish flavour to the film with bagpipes on the soundtrack and Vikings talking with Scots accents.

"It reminded me a lot of 300," said Gerard. "When I was first approached they showed me storyboards of how everything would eventually look, which is what they did with 300. And animation is something I've never done before. So of course I jumped at the chance. I even started off doing a voice like my 300 character but later they decided the wanted me to sound more like myself."

"I met Craig when I was a student at Glasgow University and Craig was doing stand-up around Scotland," recalled Gerard. Gerard, 40, and Craig, 47, have stayed in touch ever since and Craig even had a bit part as himself in Gerard's recent romantic comedy, The Ugly Truth. The bosses of How To Train Your Dragon reckon Craig and Gerard were able to draw on their friendship to convincingly play a Viking hero and his oldest pal. But Craig and Gerard admit that their characters may sound like them – but onscreen the strapping Scotsmen look very different.

Gerard's Stoick has red flowing locks and an enormous bushy beard while Craig's Gobber has blond braids and has lost an arm and a leg in battles with dragons. But the two men got into the roles by dressing up while recording their voices for the film.

Gerard said: "I would try to wear something evocative of the period, instead of the usual T-shirt and jeans. A say baggyish shirt just made me feel closer to the period."

Craig joked: "I wore full Viking costume. It was difficult because you could hear my breastplate clink, and it drove the microphone people mad. But if you're going to make a movie with me, you've got to be prepared for unreasonable behaviour."

The film has taken three years to get to the screen with Gerard recording and re-recording every month or six weeks since 300 debuted in March 2007. Craig was brought in 18 months ago, and a sneak preview of the film this week suggests that How To Train Your Dragon could be a huge, Shrek-style hit for the Scots boys. And Paisley-born Gerard admits that he's always had a soft spot for animated flicks and can't wait for his home audience to see the new film.

"When The Jungle Book came out I went to the movies three times before I could get in because it was sold out every time. When I finally got in, I watched it four times. It was a big thing for me. Remembering these kind of films brings up such emotions from my childhood. You don't just remember the movies, you remember who you were, where you lived and what you were doing."
[From The Daily Record]
Maybe I like him because he actually is a funny, interesting guy. Maybe I just like really big men. Maybe it's the accent. F-ck, I don't know. All I know is that I've just spent another five minutes gazing adoringly at his smile. He would change if he met me, I just know it! I hate myself for actually feeling like that.
Gerard Butler at the Artists for Peace and Justice Haiti Benefit on January 28, 2010. Credit: WENN.