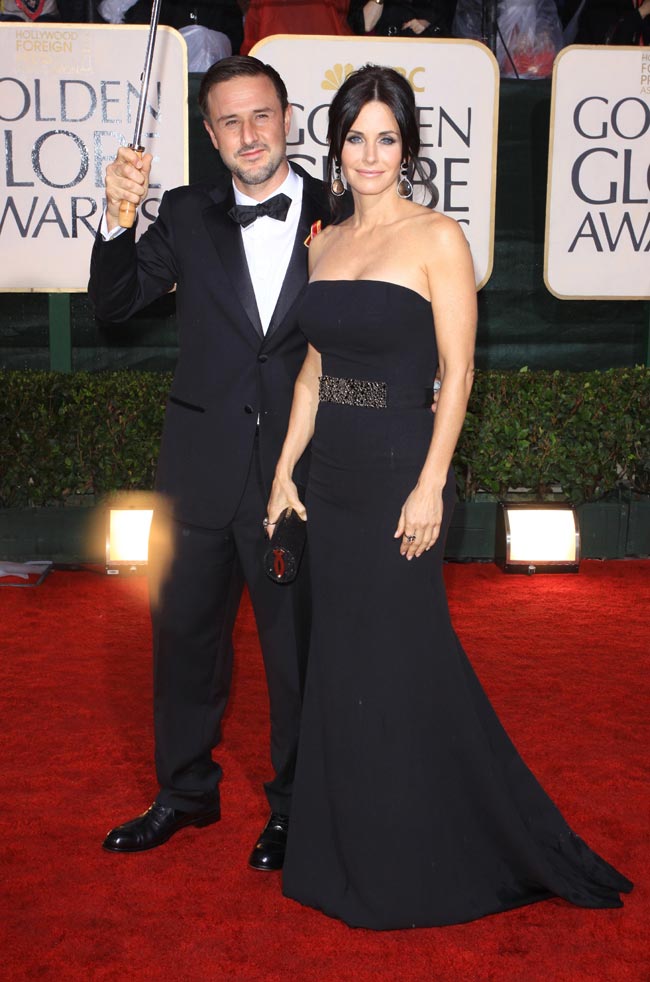 Courtney Cox, 45, gained a little bit of much-needed weight so now there are inevitable pregnancy rumors. In this case, Star Magazine claims to have a "source" who says Courtney is pregnant, but they lead the story with the fact that she's not so skinny and was maybe holding her stomach at the SAG awards. I think that's pretty much what they're basing the story on, but there's also the fact that the Cougar Town set was shut down briefly in November. Here's Star's account:
Curvier Courteney Cox raised eyebrows by holding her purse in front of her stomach while walking the Golden Globes red carpet in a black dress. And at the after parties for the Jan. 17 awards ceremony, the glowing actress stuck to drinking water with lime, leaving partygoers to wonder: Is she expecting?

Now a source tells Star that Courteney, 45, is thrilled after finding out she's pregnant with her second child. "Courteney's telling friends she's almost three months along," an insider tells Star. "She's been trying to get pregnant again for so long. She feels really lucky." Courteney, who has a 5-year-old daughter, Coco, with husband David Arquette, is due in late July, says the source.

The Cougar Town star confided to friends she had multiple IVF treatments to get pregnant. "The Cougar Town set was shut down in November because she was getting IVF. She was on bed rest to make sure the implant took," says the source. "Courteney's being very careful. She had several miscarriages in the past and doesn't want to suffer that loss again." And her best friend, Jennifer Aniston, is by her side, making sure she takes care of herself. "Jen is totally into helping Courteney with her baby," says the source.
[From Star Magazine, print edition, February 8, 2010]
Courteney suffers from antiphospholipid syndrome, an autoimmune disorder that causes blot clotting and pregnancy loss. Most women have no idea about it until they suffer a miscarriage. It's worth looking into if you've had a miscarriage and is easily treated with blood thinners and/or low dose aspirin. Courtney suffered multiple miscarriages before she found out she had the disorder and was able to get treatment and become pregnant with Coco, now five and a half. Anyway she's in a high risk category due to her condition and advanced maternal age.
Courteney has said in the past that she'd love to have another child and that if it didn't happen naturally she'd adopt. I hope she is pregnant if that's what she's hoping for. It's true that the Cougar Town set was shut down in November for Courteney to attend to a "family matter." Was the family matter an IVF treatment? Fingers crossed for Courteney if this is true.
Photo credit: WENN.com