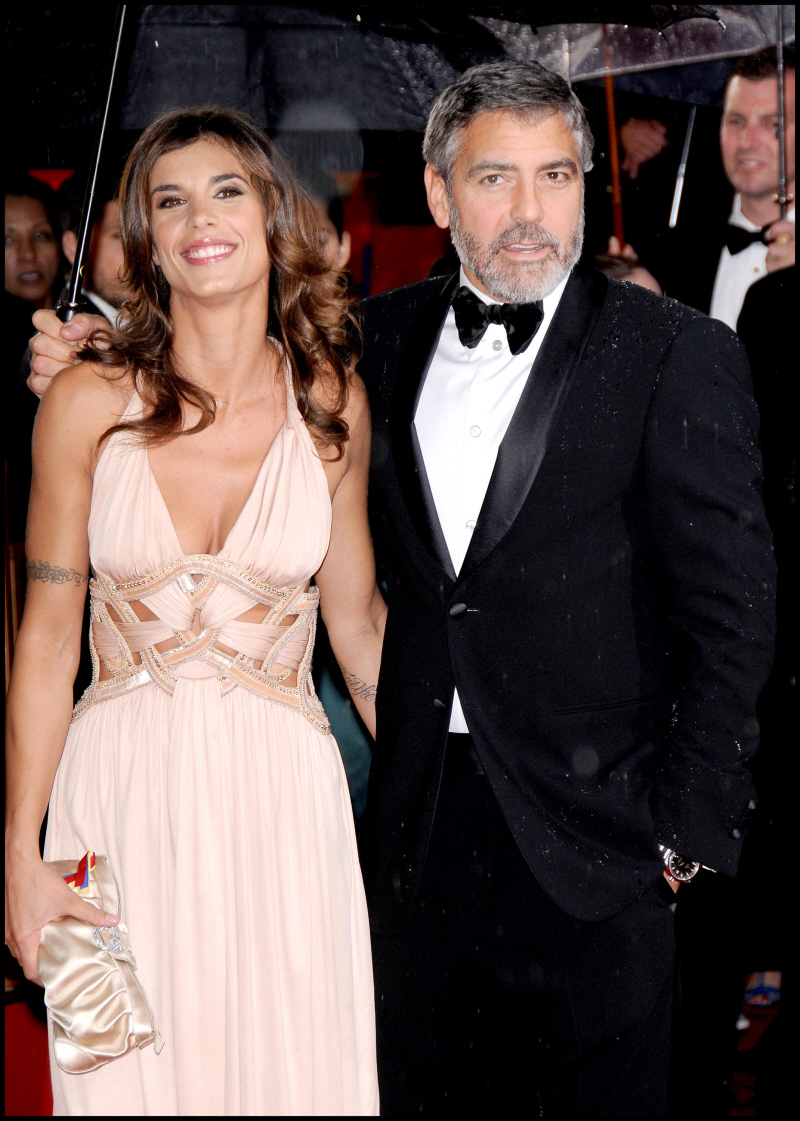 Can you feel it? This is what it feels like when the tide turns against one of George Clooney's girlfriends. Not to be a broken record about this, but I don't think Elisabetta Canalis is going to last much longer. And now the tabloid reporting is starting to reflect that! After seeming to be bored with each other at the Golden Globes, George didn't even bring Canalis to the SAGs, and she's been MIA for more than a week – I think she might have gone back to Italy? I seem to remember photos of her in Italy several days ago? Maybe I'm mistaken. But I don't think I'm wrong about her not lasting too much longer.
While just a week ago, the tabloids were writing glowing reports about George and marriage and babies and Elisabetta being "the one," this week's Enquirer has the first negative report about Elisabetta. It's a good one, too. Apparently, she's "jealous" of Clooney's friends. Namely, his female friends. And you know Clooney doesn't roll like that.
George Clooney's relationship with Elisabetta is doomed to fail, say pals – because she's jealous of his friendships with other women.

"Elisabetta is crazy about George and she gets very possessive when George pays too much attention to another woman… When other women get too close to him she always slips her hand around his arm as if to say, 'He's mine!'"

Elisabetta fumed her way through the Golden Globes after George's former costar Julianna Margulies stopped to hug him on her way to the stage.

"You could almost see the smoke coming out of Elisabetta's ears… She was standing up and hugging her in front of everyone."

The situation grew even more strained at the after-parties, as dozens of George's friends and acquaintances – both men and women – vied for his attention.

"Elisabetta bristled at the parade of women who were very affectionate with kisses and some whispers and laughter – and the fact that George enjoyed the attention… If Elisabetta can't understand that George is buddies with plenty of women, including his old girlfriends, their relationship is doomed."

"Elisabetta doesn't understand that his friends are just that and she has nothing to worry about… George is very comfortable with Elisabetta, but if she starts rocking his boat regarding his friendships with women, she'll find herself walking the plank."
[From The National Enquirer, print edition, February 8, 2010]
This is the sound of George's butler packing Elisabetta's bags. No, seriously – is this true? I can't decide. I wasn't paying attention to any of the Clooney-and-Canalis cutaways at the Globes, so I don't know if Canalis looked pissy or not. I could conceivably buy it, I guess. Probably because I could totally see myself reacting the same way if the guy I'd been dating for several months was paying too much attention to a parade of gorgeous actresses. Of course, I would never get to that point, because I'm not into all of the kinky sh-t George is allegedly into. Anyway… George doesn't like possessive. He doesn't do controlling, ballsy, jealous, crazy women. If she is acting like this, she's gone.
George and Elisabetta at the Globes, on January 17, 2010. Below, various photos of George being friendly with other women, like Julianna Margulies, Vera Farmiga, Julia Roberts, and Renee Zellweger. Credit: WENN.