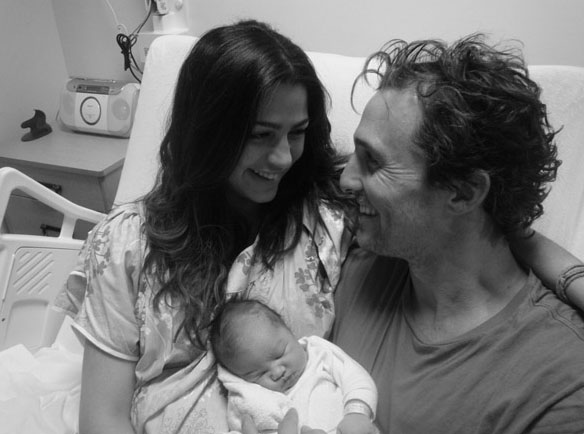 Matthew McConaughey has shared a photo of his newborn daughter, Vida, on his website. Little Vida was born to Matthew and his longterm girlfriend, Camila Alves, on January 3. The photo was taken in the hospital and Visa is sleeping while Matt and Camila look at each other lovingly. It's one of the cutest and most intimate first baby photos I've seen, and all that's missing is their older child Levi, one and a half. There's something to be said for the fact that McConaughey has his own charity but they made the decision not to sell the photo, even for a good cause, and to release it free of charge. They premiered Levi in OK! Magazine and gave the proceeds to McConaughey's JK Livin foundation.
Meet Matthew McConaughey's new daughter Vida!

On his official website, the actor, 40, and girlfriend Camila Alves have released the first photo of their baby girl, who was born Jan. 3 in Los Angeles (she weighed in at 7 lbs., 7 oz.).

"Our latest family member, Vida Alves McConaughey," McConaughey wrote under the baby's photo.

Alves, who makes her debut as host of the Bravo hairstyling reality show Shear Genius on Feb. 3, tells the new Us Weekly (out now) that the baby "is doing great."

"It's easier with the second child, because, you know what she'll be like," said Alves, 27, who welcomed their first child, son Levi, in 2008.

She said their 19-month-old son is "at the fun stage where he's talking. He loves saying Vida's name!"

McConaughey couldn't be a more doting dad, she added.

Said Alves, "To see a father with his child is beautiful."
[From US Weekly]
Yesterday we heard that there may be a hint of trouble in McConaughey and Alves' relationship and that Alves' mother was pressuring her daughter to get a formal agreement out of McConaughey. The couple is not married and Alves' mother is said to be concerned about her daughter's future. It's probably an issue that they're not overly concerned about and will work out in time.
Vida is a lovely name and it means "life" in both Spanish and Alves' first language, Portugese. Vida is sleeping in this picture and her face is all scrunched up, but you can see how adorable she is. I want to kiss her little head and cheeks. Will Matthew eventually share the story of his daughter's arrival with a colorful description of the birth scene? We can only hope.