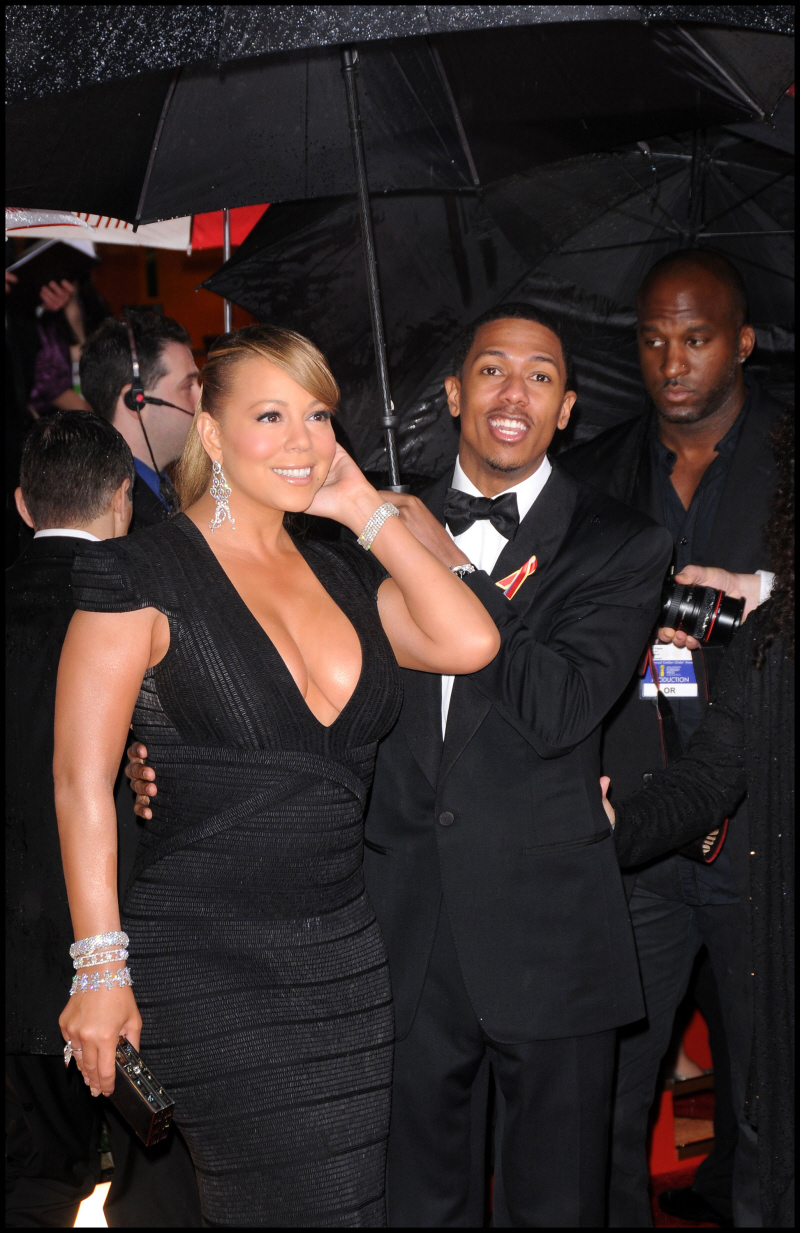 Mariah Carey has been the victim of a whirlwind of pregnancy rumors every since she married Nick Cannon. I've even fallen for it a few times, thinking that this or that report was probably true, and I keep waiting for the announcement. However, at this point it seems to me like Mariah isn't all that interested in getting pregnant (at least not in the foreseeable future). But now Nick has given a new interview where he talks about their baby-making plans, claiming that a baby is a "major, major priority" and "like the only priority in life." Uh-oh. I don't think Mariah will be happy about this:
And baby makes three?

"We absolutely plan to have a family," Nick Cannon, 29, told MTV News of his wife of nearly two years, Mariah Carey, 40.

"But we gotta prioritize, because that's a major, major priority," continued Cannon, who currently hosts America's Got Talent.

"That's like the only priority in life, when you think about it, is starting and raising a family," he added. "We wanna make sure everything is out of the way and that we don't have any distractions."

Getting pregnant may have to wait until Carey is done touring to promote her newest album, Memoirs of an Imperfect Angel, Cannon said.

"She's on tour right now, I'm doing a bunch of stuff, so eventually we want to be able to say, 'It's time to have a kid,' and set everything up," Cannon said.

"But we're definitely moving toward [having children]. We got our house in L.A., and we got a house [in New York], established and close to schools," he went on. "So we take all of that stuff into consideration."
[From Us Weekly]
Oh, so "eventually" they'll have a kid. Here's the thing: I don't blame Mariah at all for focusing on her career. She's never been all gooey and gushy about babies and she's never really played the "I'm ready to have a baby, wait for it, in a minute" game. She's always made it pretty clear that her career is her priority, and that if she ever becomes a mother, it's going to be years down the road. So… why not say right now that Mariah and Nick will eventually adopt? I think that would be really nice, if they just came out and said "Given everything we've got going on, we think adoption would be our best option, and that's what we're planning on in the years to come."
Nick Cannon and Mariah at the SAGs and the Globes, credit: WENN.