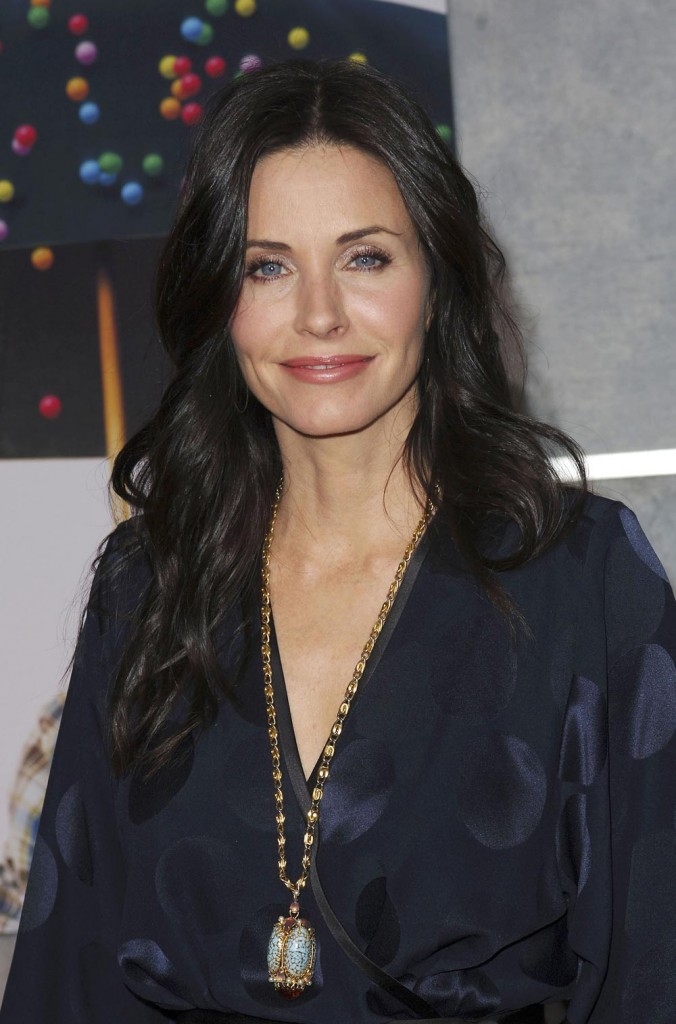 Courtney Cox has given an interview, promoting nothing in particular, although her new show Cougar Town is currently in production. She's given some great sound bites about her personal life to the Daily Mail.
On her marriage:
Courteney is one of the few celebrities I've met who is candid about her relationship, admitting their nine-year marriage has had its rocky patches. 'Is marriage for ever? I think you get married with the intention that it will be, but who knows?

'I get shocked by people getting divorced all the time, that's why I choose to work on it. Therapy helps us,' she says, twirling her fingers around a long lock of hair. 'It's so easy to grow apart; marriage takes work. I suppose you can work it out by talking to each other – I would just prefer to have a referee, it reminds us why we're together.'

Courteney's own parents divorced when she was a child. 'Before my dad died, he said one of his big regrets was that he hadn't worked on their marriage enough. I don't know what the future's going to hold, but divorce isn't really an option.'

Isn't it difficult working together? 'It seems like it would be the worst thing in the world but we manage to handle it really well. We argue, but never about work. We love being together.'

On Jennifer Aniston:
What makes her friendship with Jennifer Aniston so enduring? 'We've known each other nearly 15 years now, we grew up together emotionally. I lost my father, Jen got divorced, and I had a baby. We've been through huge life changes together. I can be myself around her.

'We never judge each other, we support each other, but we're honest with each other too. I feel lucky to have her.'

Courteney won't comment on her friend's love life. 'I want for Jen whatever she wants; she's really happy at the moment, so I don't have to worry about her.'

On beauty:
Courteney is even willing to put the record straight on internet rumours about plastic surgery. Now 44, she looks younger, but there are lines around the eyes. 'I've done Botox,' she admits, 'and there were times when I thought, "That was nice", but I had one bad experience when I wasn't able to move my face for two or three months.'

Will she do it again? 'I don't know,' is her candid reply. 'I'm sure I'll be tempted when I get older, but you see too many people who look really strange.'

She adds that David, who's seven years younger, doesn't think she needs any improvement. 'He loves the ageing process; he thinks it's beautiful. Right now, I don't do Botox – or anything except this,' she says, pointing to a cabinet of creams and serums by Kinerase, the American skincare company for which she's spokesperson.

On parenthood:
'I can't imagine life without a child; I don't even remember what it was like four years ago. Coco is everything to me,' she says.

'We did a lot of in vitro fertilisation, and it was tough. But we'd waited a few years before trying, and in retrospect I would say: don't wait as long as I did, especially if you want more than one child.'
Courtney has said in the past that she has done botox and been unsatisfied with the results, feeling that as an actress she needs to be able to move her face. Nicole Kidman did not get that memo.
Courtney also says that she'd love another child, but if it 'doesn't work', she'll adopt. She adds that while she wants to buy one really great present for Coco, David 'wants to buy her 900 presents'. Usually David gets his way. This is how it often happens in our house, where we try to keep Christmas and birthdays low key but you just can't resist those cute toys.
Courtney to me always seems like the most successful of the Friends stars, because although Jennifer Aniston's movies earn good box office, I feel like her personal life has distracted from her success. Courtney seems to have walked away from Friends and found a great life with her family if not necessarily with her work. She also looks fabulous for 44, cosmetically enhanced or not.
Courteney Cox is shown at the premiere of Bedtime Stories on 12/18/08. Credit: WENN.com/Fayes Vision