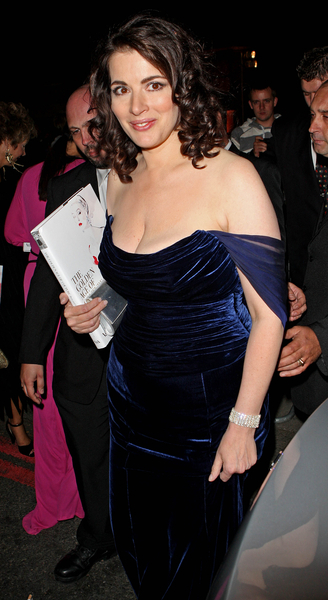 Nigella Lawson – a British celebrity chef, for those of you who aren't following the cooking-show-as-entertainment trend – has an estimated fortune of £110 million, from her television show and cook books, as well as from her marriage to marketing guru Charles Saatchi. But she doesn't plan on her children claiming the spoils of her hard work upon her death.
She has decided that she won't allow her children to inherit a large quantity of wealth, as it spoils them for life, but her husband disagrees.
Mr Saatchi has one daughter, 12-year-old Phoebe from his first marriage.

Miss Lawson, 48, has two children, 13-year-old daughter Cosima and son Bruno, 11, from her marriage to the late journalist John Diamond.

Asked what she hoped the children would learn from her, Miss Lawson told the magazine My Weekly: "To know that I am working and that you have to work in order to earn money.

"I am determined that my children should have no financial security. It ruins people not having to earn money.

"I argue with my husband Charles, because he believes that you should be able to leave money to your children.

"I think we'll have to agree to disagree."

Miss Lawson has not said what she would rather do with the couple's fortune, although she has worked closely with cancer charities after her mother, sister and first husband died of the disease.
While I think it is nice that Nigella might donate money to cancer causes, who almost certainly would do good work with the fortune, has she considered the fact that by the time she dies her children will probably be in their 30s and 40s? If they haven't learned fiscal responsibility by that point they probably never will.
They also have not exactly been sheltered from the privileges of wealth – Nigella indulges in designer labels and celebrity beauty therapy, as well as employing someone to do her shopping. The family live in a £7 million London pad. All of which sounds pretty good – maybe Nigella and husband Charles could adopt me?
I think this is actually a ploy on Nigella's part to scare the children into aiming high, and upon her death she will leave them money. While the Daily Mail suggests that Nigella plans on leaving her children with nothing, she actually doesn't say this herself.
Last year Body Shop founder Anita Roddick died and left all of her fortune to charity, and her children seem to have accepted this decision. Perhaps it is a good idea – what do you think Paris Hilton would be like today if she had to work 9-5 like other people, instead of partying every night? She gets paid for partying though so that may defeat the purpose of cutting her off.
Picture note by Celebitchy: Nigella Lawson is shown at The Golden Age Of Couture VIP Gala on 9/17/07, thanks to PRPhotos.