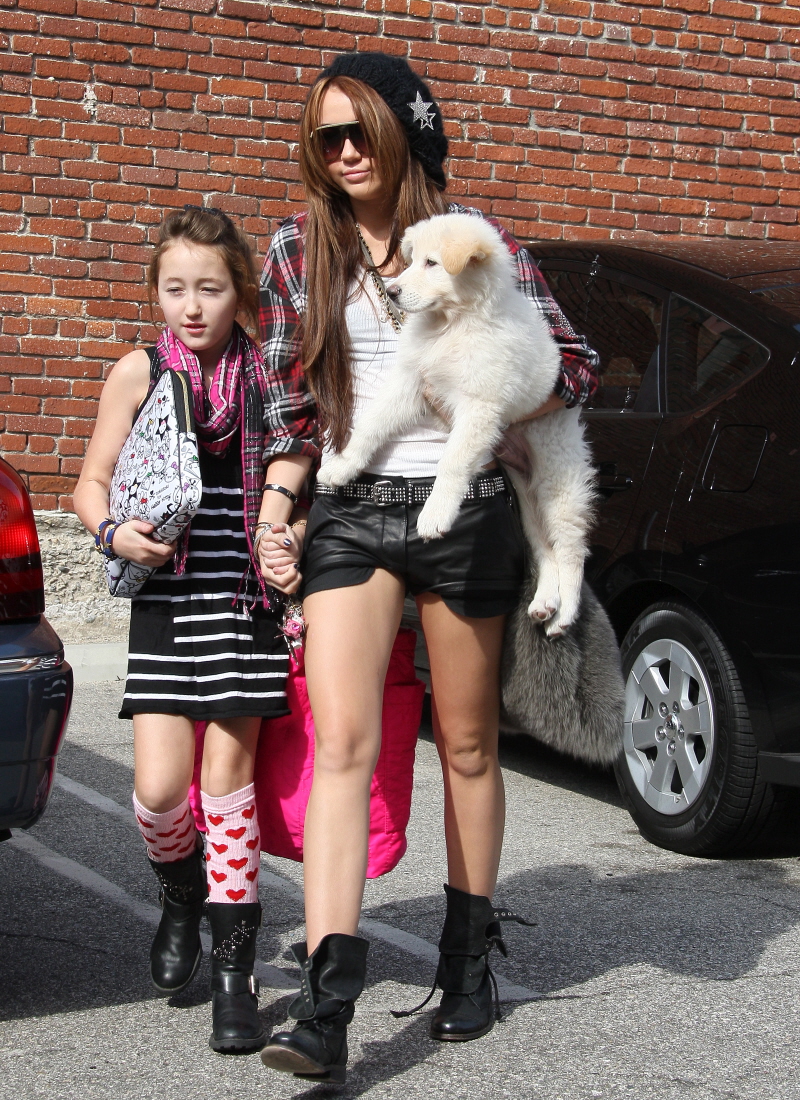 Before I get into the latest Noah Cyrus debacle, can I just say that Miley shouldn't be holding her dog like that? That is one enormous puppy, and she should let him walk on a leash or something. But compared to all of the complaints I have against the Cyrus family, I guess carrying a big puppy by the stomach isn't even the worst thing that's happened this week.
So… I hope everyone remember Noah Cyrus, Miley Cyrus's 10-year-old sister. Noah was the one who dressed up as a dominatrix-hooker for Halloween, and the one who liked to be filmed singing and "performing" inappropriate songs like Akon's "Smack That" and Ke$ha's "Tik Tok". Basically, Billy Ray Cyrus needs someone to smack him and tell him to be a real father. The latest from Noah Cyrus, age 10, is a report that she and her friend Emily Grace are now the "faces" of a… wait for it… children's lingerie line. The line is called Ohh! La, La! Coutoure. Here was one of the original stories, via Perez Hilton:
Miley Cyrus' 9 year old sister Noah and her BFF Emily Grace are teaming up together to launch a children's lingerie collection for Ohh! La, La! Couture.

We don't know what's scarier the actual clothing or the fact that someone's parents sit back and let this happen.

The website describes The Emily Grace Collection as "trendy, sweet, yet edgy feel, is reminiscent of Emily's true personality. She is collaborating with Ooh! La, La! Couture designers to create versatile styles that can be worn with sweet ballerina slippers, funky sneakers or paired with lace stockings and boots for more of a rock and roll look. Emily's collection will appeal not just to little girls—the line also has an exclusive Teen Collection available to a size 14."

On top of hawking slutty clothes, Emily hopes to promote and raise awareness for her foundation, "Lollipops and Rainbows", which is basically a charity of charities.

Yeah, we don't get it either. But good for her for wanting to change the world one provocative child at a time. That sets a great example.
[From Coco Perez]
Now, here's the thing – I looked up the Ooh! La, La! Couture website, and it's not really about lingerie. And yet… it's still sketchy. They're selling tutus, tank tops and leggings, all in very garish colors and designs. Like, zebra-print leggings. It still feels perverse, although it's not even as bad as it could be. But I want to point out something else – this collection that I'm looking at - it's not called the Emily Grace Collection. I'm not sure, but I don't think that the new Emily Grace collection has been released yet, and when it is released, there is a chance it is just as bad as we're thinking.
Meanwhile, here's Miley, Noah and this Emily Grace girl promoting the new collection. Sigh… fishnets. For f-ck's sake.
Miley and Noah Cyrus on January 30, 2010, Credit: RIV/Fame Pictures/WENN.