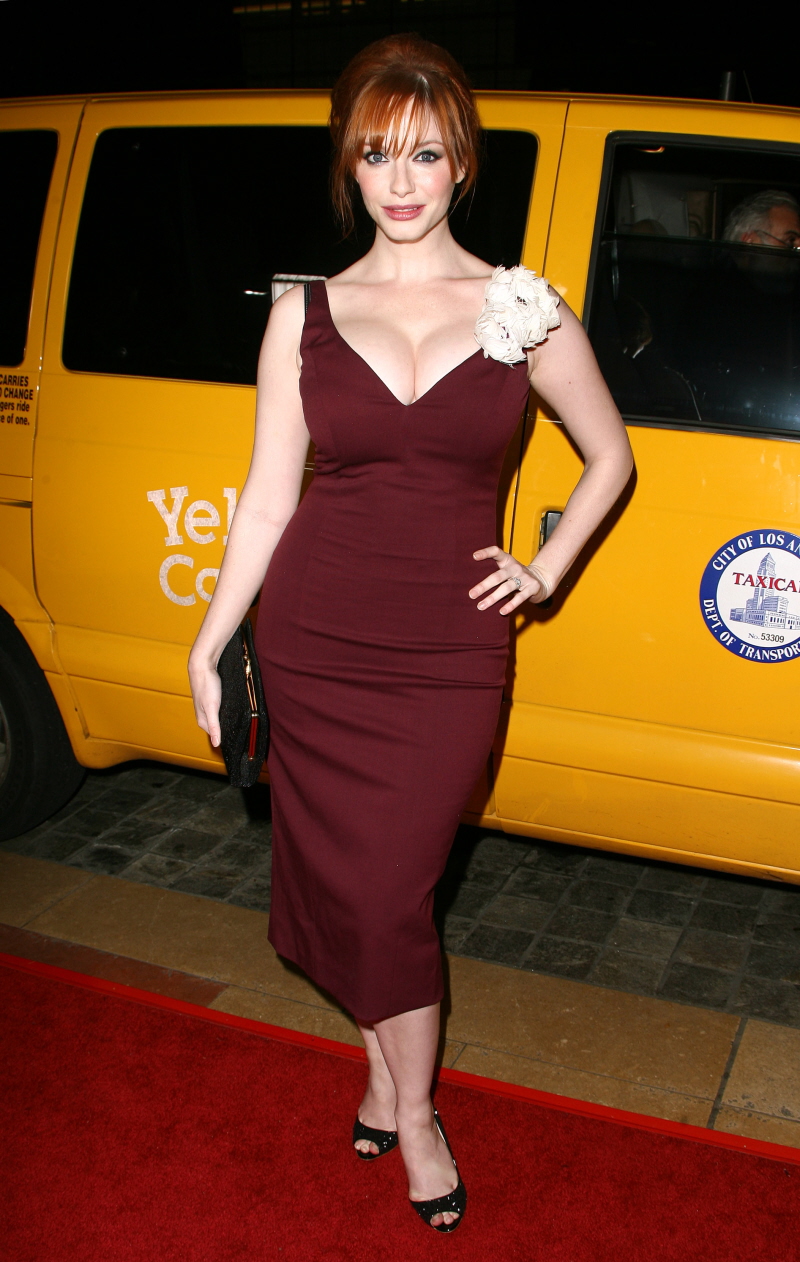 This is Mad Men's resident ginger beauty Christina Hendricks at the Director's Guild Awards on Saturday. Photos of Christina – and really, it was just a series of photos – put on Huffington Post seriously garnered more than 800 comments. Gee, I wonder why? Why is it that we are all transfixed by Christina and her magical rack of beauty? Besides her boobs (gorgeous), the photos of Christina might have garnered so much attention because her dress was lovely, and much prettier than the overly-criticized dress from the Golden Globes (photo below).
This was the dress that inspired some nasty NYT blogger to "quote" a stylist who snotted "You don't put a big dress on a big girl." Of course, that was only one insane and nasty thing the NYT bloggers were up to that night, but apparently that one comment really bothered Christina's husband Geoffrey Arend. Much like David Arquette's defense of wife Courteney Cox, Arend took it upon himself to defend his new wife.
Following the heated debate over Christina Hendricks' choice of a champagne ruffled gown by Project Runway alum Christian Siriano at the Golden Globes, the Mad Men star's husband, Geoffrey Arend, is fighting back.

At a SAG awards after party, Arend stopped to defend his wife to PEOPLE. "I was just upset about the whole Golden Globes dress thing. I thought she looked so gorgeous. And that New York Times blogger saying that… It's so ridiculous," he said, referring to the paper's fashion critic, Cathy Horyn offering the critique "You don't put a big girl in a big dress. That's rule number one".

Arend contines, "What was nice was seeing the entire internet come after that blogger. That was really cool. It was the first time I saw just a solid block of 'You're crazy! What's wrong with you? You should be ashamed of yourself!' [in the comments.] And honestly, the Grey Lady should be ashamed of themselves to print a picture like that, that they widened!"

In an update to her column, Horyn acknowledged that the original photo used in her post was accidentally distorted: "The photo was slightly distorted inadvertently due to an error during routine processing. The photograph has been replaced," she wrote.

For her part, Hendricks is standing by her Siriano gown: "I loved it! I thought I looked gorgeous!" she told PEOPLE.

We agree—as does her proud husband, who gushes, "Honestly, she's the greatest woman I know. She's the most beautiful woman I know. She's the most talented woman I know. It's like there's not enough adjectives that could express or superlatives that could express how wonderful she is."
[From People Magazine]
Well, that's nice of him to defend the boobs his wife. And seriously, why wouldn't he? You know he married up. And he knows it too. He seems like the kind of guy who treats his wife like gold, so good for her. And good for her boobs. I'm so glad a girl who looks like Christina gets work. And that no one is telling her to lose weight or get a breast reduction or something. She's like a ginger throw-back to Jayne Mansfield.
Here's a cute one of Christina with her dorky/sexy librarian glasses. I need those frames. I love them:
Christina and her husband at the DGAs on January 30, 2010. Credit: Fame Pictures.