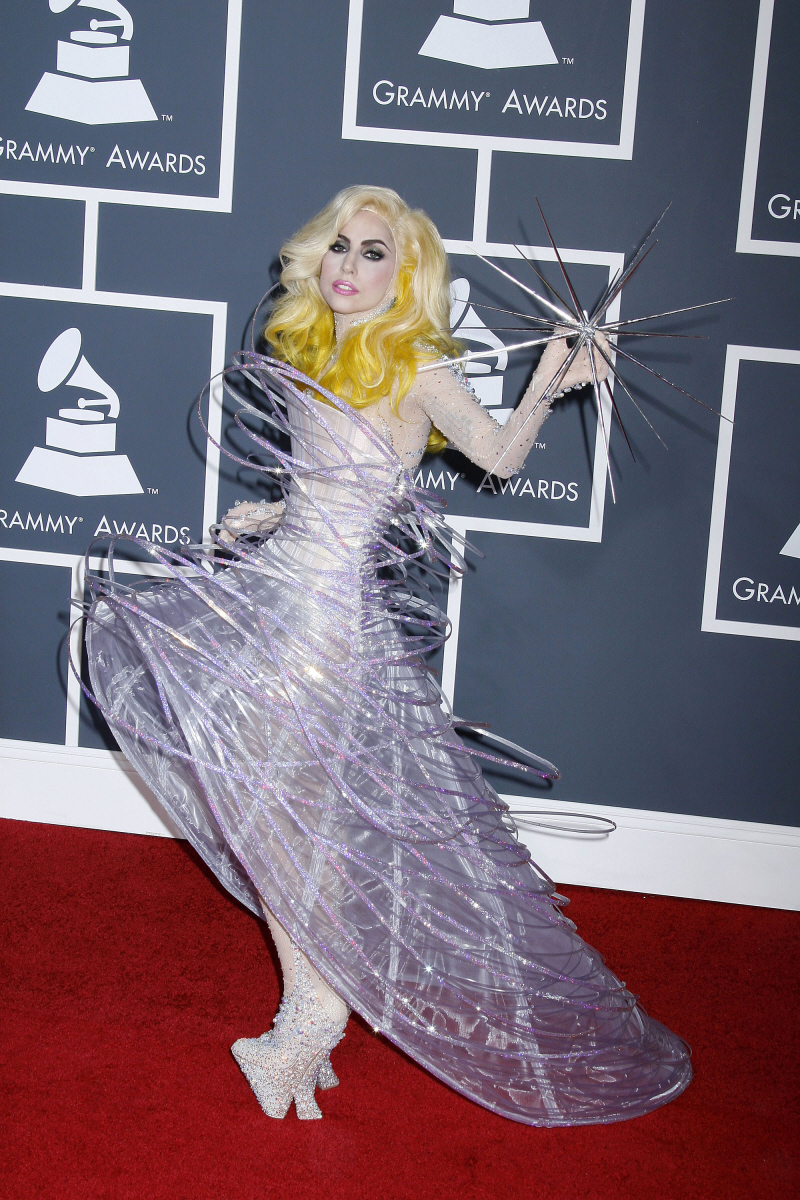 The Grammys are always and forever one of my least favorite awards shows. Maybe it's because I don't really think the Grammys mean anything, and because the fashion generally blows. Most of the bigger names in the room either wear something too boring, or try too hard to look cool and trendy. Speaking of, Lady Gaga (above) was actually wearing Armani, and Mr. Armani actually released a statement about her crazy outfit: "We hear Lady Gaga's music everywhere we go. It is like a soundtrack of our times. In addition to her formidable songwriting skills, she is a modern fashion phenomenon. I am delighted to be creating these outfits on such an important night for her, the Grammys, and I wish her the best of luck." As for Gaga, she told Us Weekly: "I am honored to be wearing Armani this evening. The series of pieces Mr. Armani created for me are truly iconic; they represent not only beautiful fashion, but my spirit and essence as an artist. Mr. Armani is a fashion legend, and tonight would not have been the same without his touch, and his wonderful team." Oh, Gaga. You so crazy, girl. Look at her damn shoes!
Anyway, most of these girls aren't dressed well. There is no "Best Dressed" winner, only a parade of losers and meh's. Here's one… I hated was Rihanna's dress. I don't get this. It's not high-fashion, it's just dumb, in my opinion: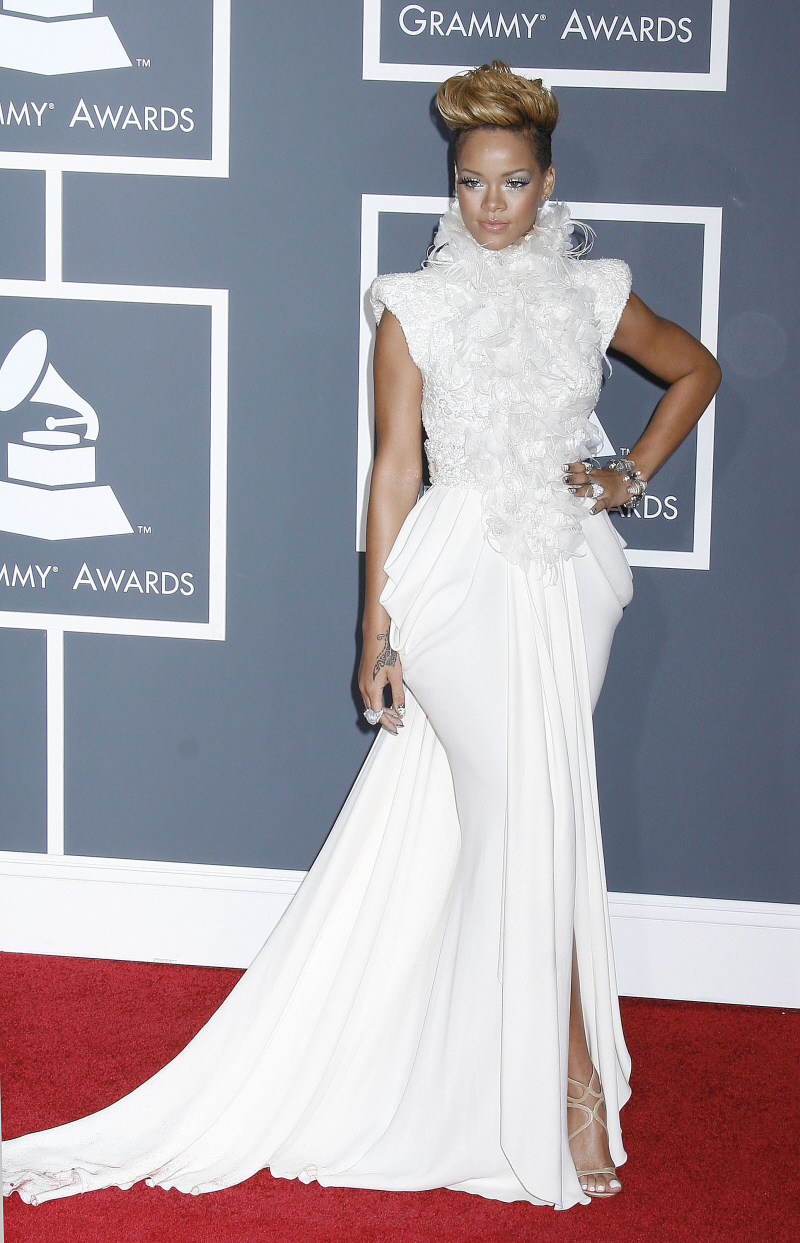 Nicole Kidman is going to vaporize us with her laser eyes. And the dress? Matronly (that's the word CB used, and I agree) but it's honestly not terrible. Just kind of boring. It would have been nice if she had worn a cute, young cocktail dress rather than dressing up as if she was the First Lady of the Grand Ole Opry.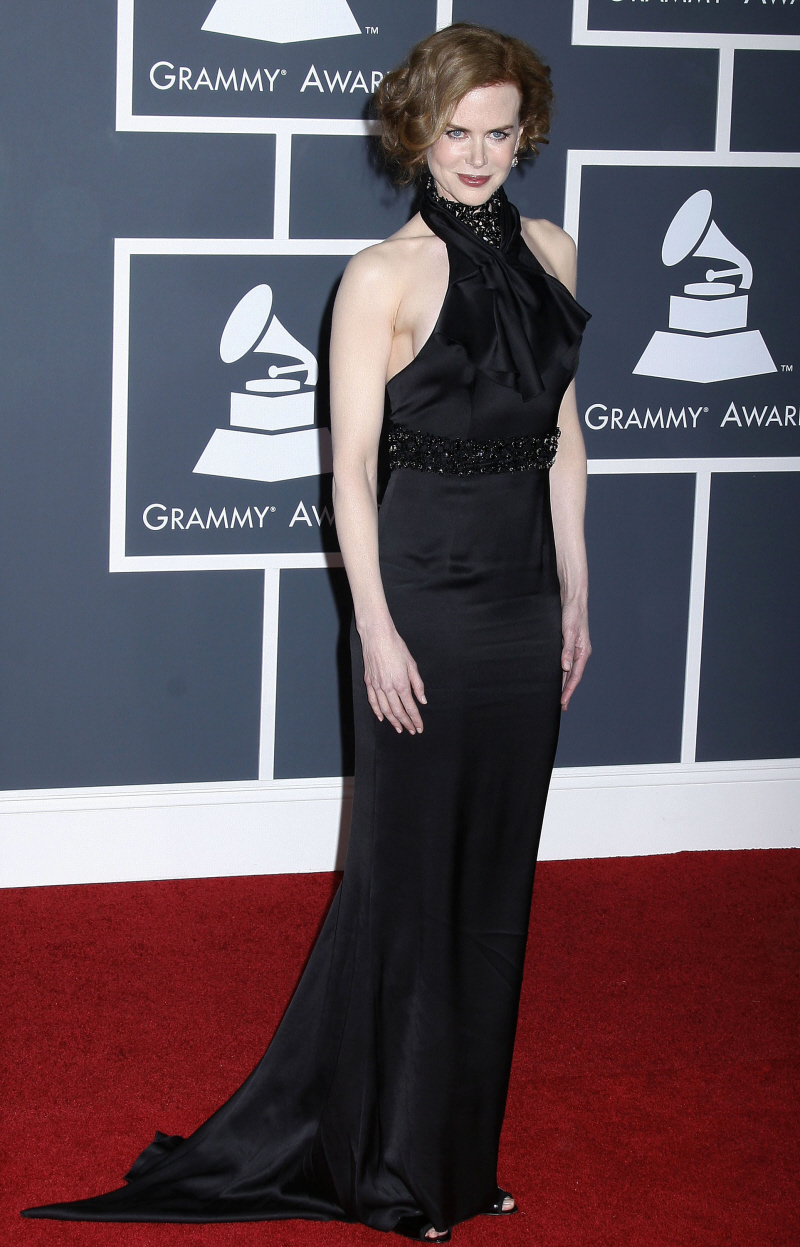 Taylor Swift's dress was cute enough, I guess, but once again, I wish she would have gone younger. She's only 20 years old! She doesn't have to wear a formal evening gown to the Grammys! The color is pretty, and the fit is great, though. I wish she would do something different with her hair: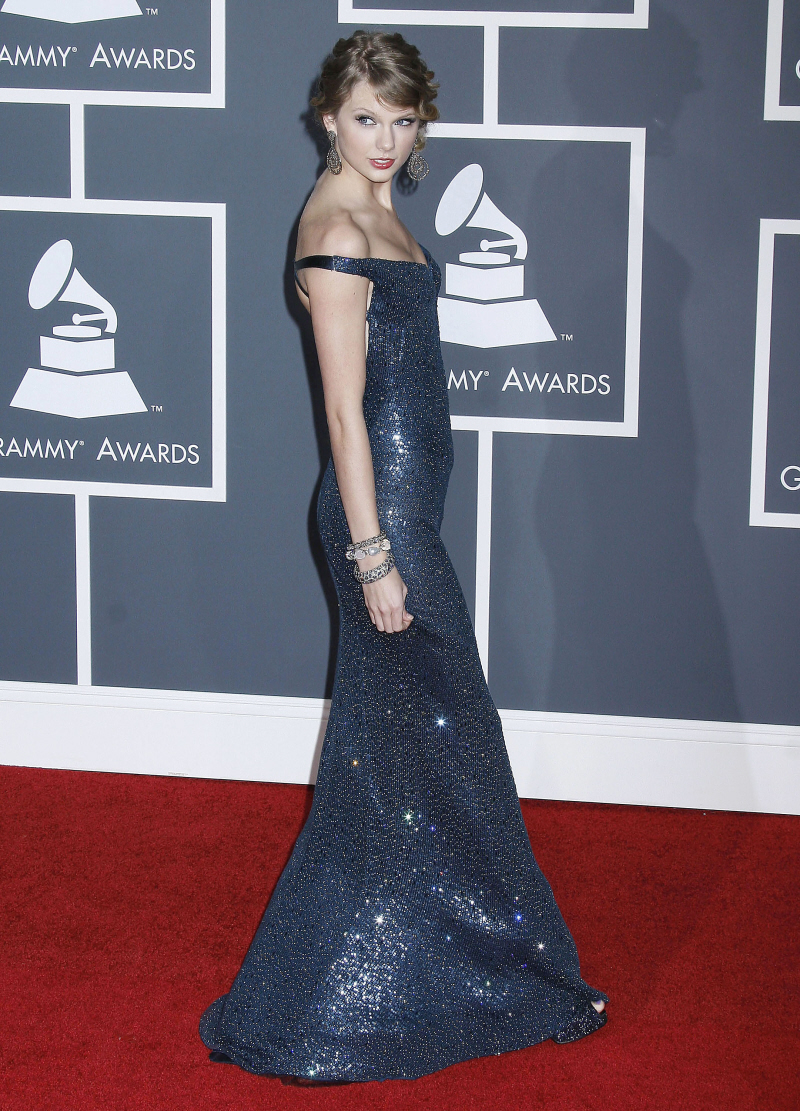 Jennifer Hudson wore the same Victoria Beckham-designed dress that Blake Lively wore several months ago. Bad choice, for many reasons. I think Jennifer is a beautiful girl, but she needs to get her style act together. And her hair was atrocious! Those thick bangs and the too-tight ponytail. Ghastly.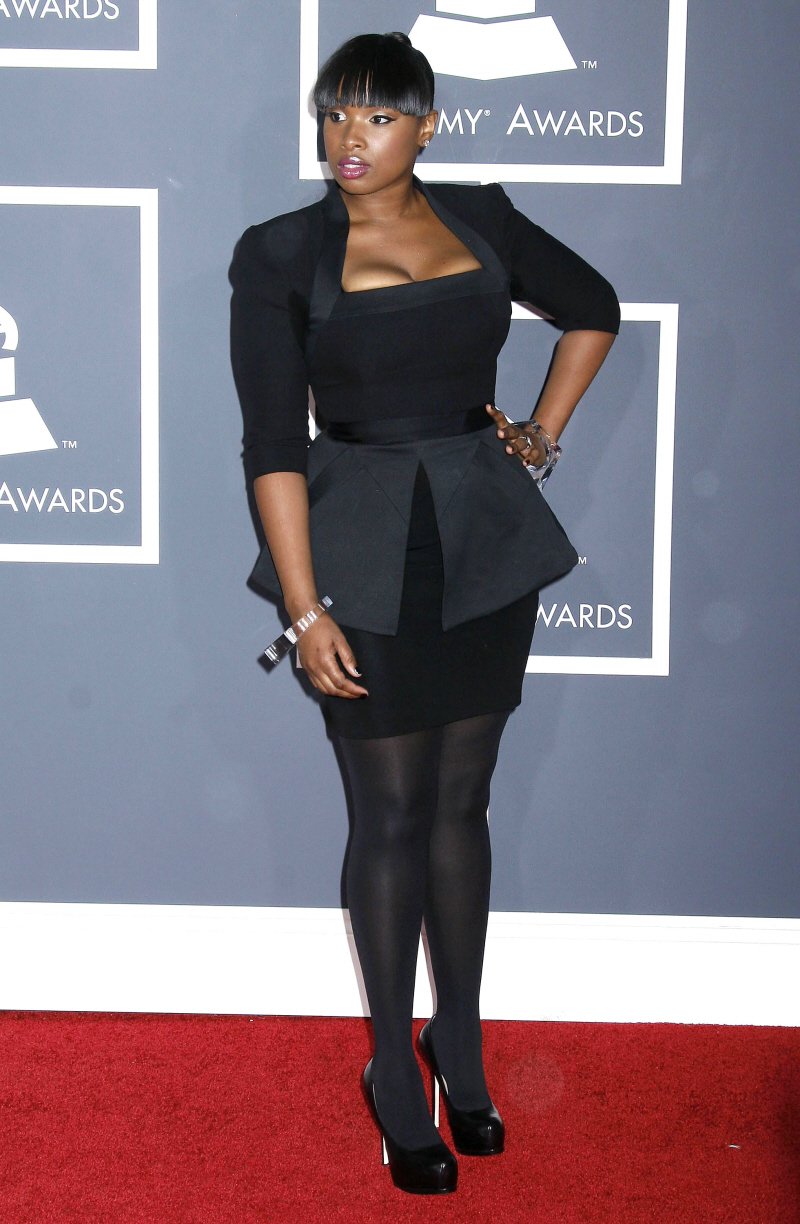 This was Beyonce's look for the red carpet arrivals, but she changed several times during the show. I don't care for this dress: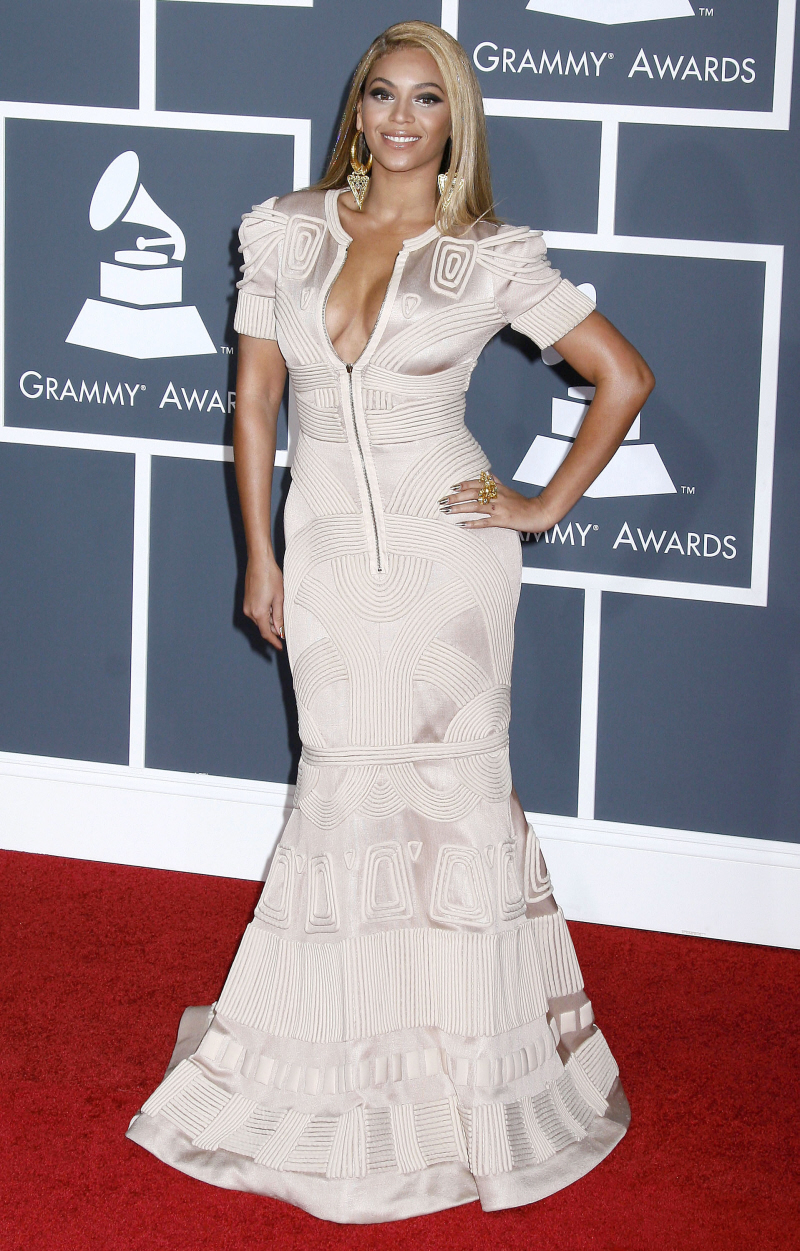 Katy Perry. Ugh, fug. CB pointed out that in other photos, Katy had "Lohan-level side-boob". It's just a terrible dress. And once again, do something different with you hair.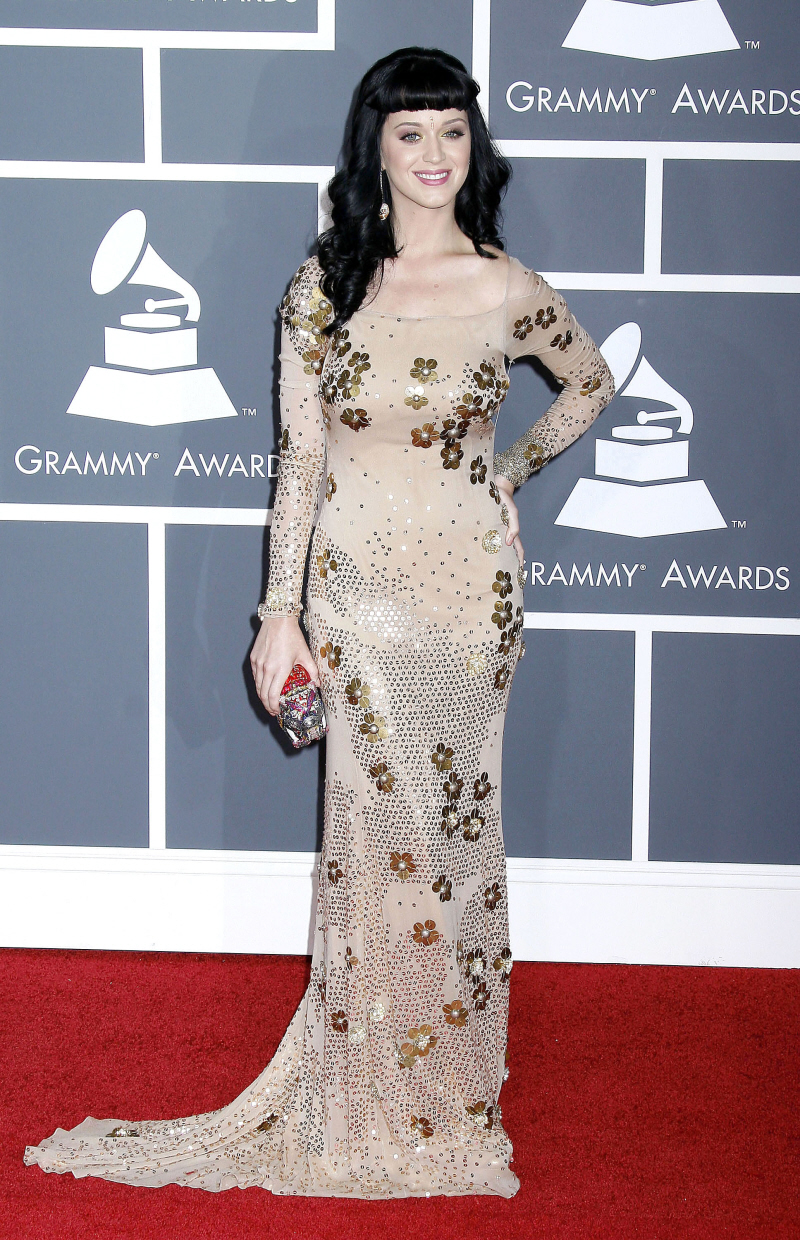 After Pink's Grammy performance, I'm just going to be happy whenever I see her fully clothed from now on.
Go ahead, call me crazy. But I thought Fergie was one of the most appropriately and best-dressed women there. And I liked her hair and makeup too. She was one of the few who actually looked like she was at the Grammys and not at a drag-queen prom.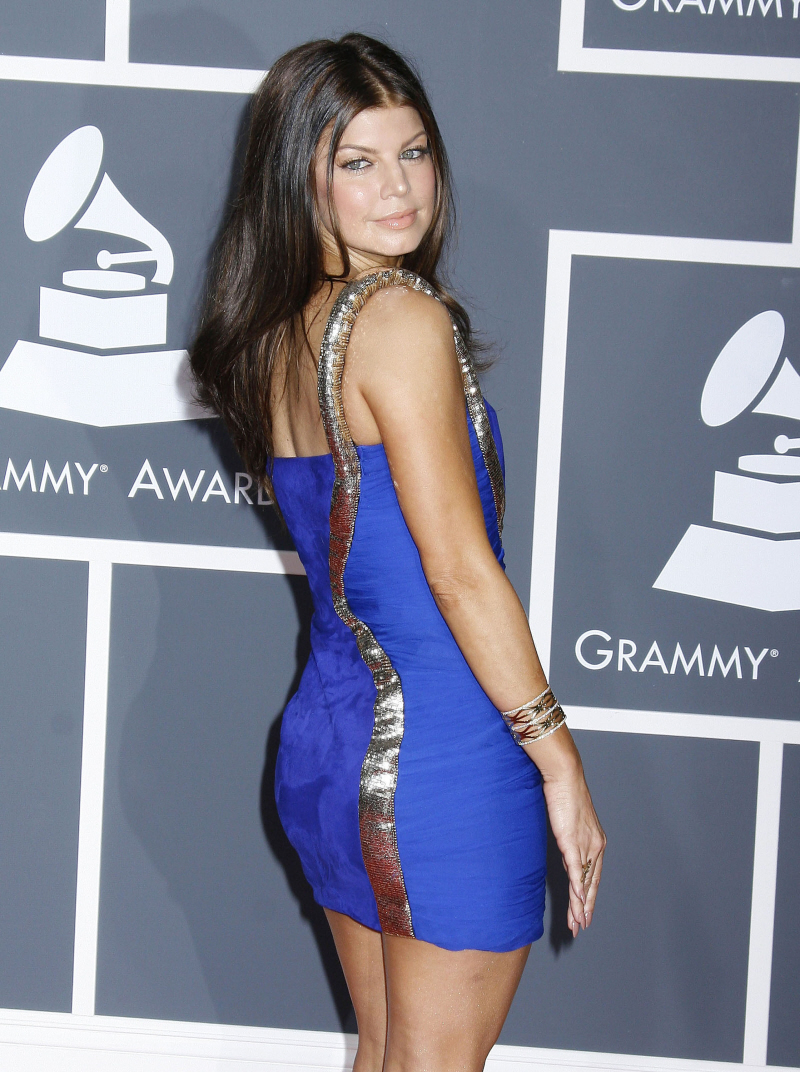 I don't pretend to get Carrie Underwood in any way, shape or form. But I didn't hate her look last night. The dress was… interesting, and her hair is so, so much better.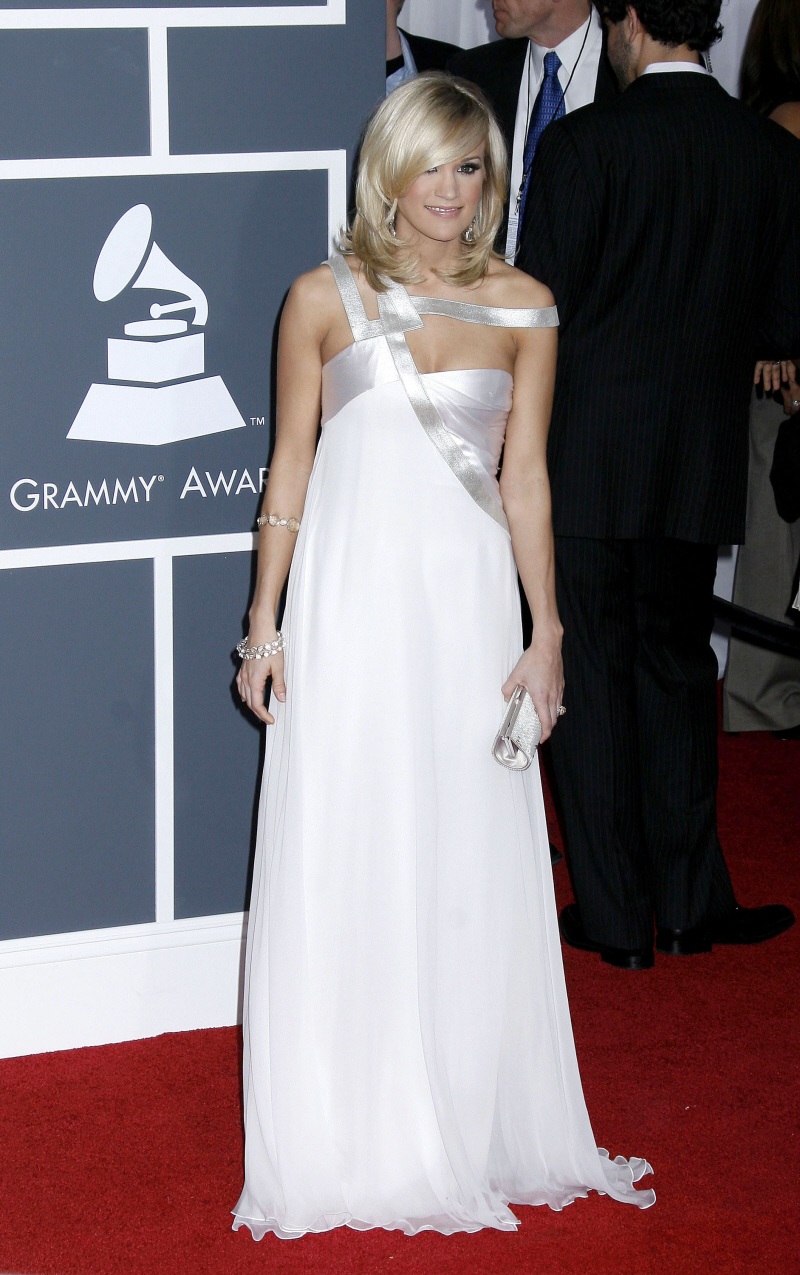 Jennifer Lopez could teach a course in trying too hard. This dress was so dumb and unflattering:
I'm sure I missed a few of the most egregious offenders, and if that's the case, I'll update. Thoughts? Disagreements? Wasn't Grammy night boring?
UPDATE: Dammit! I forgot Britney Spears. She was there too, looking like the wrath of God with her budget weave and her unfortunate outfit. Here she is:
Grammy fashions, credit: WENN.