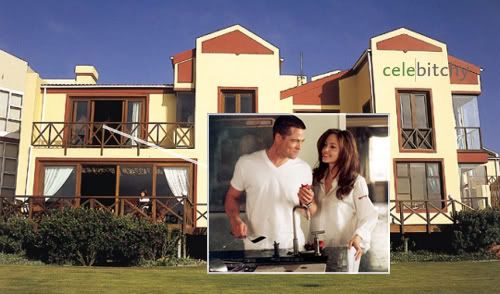 We have sort of exclusive googled-derived pictures of the Namibian resort that Brad and Angelina have booked out just in case Angelina decides to give birth in Africa.
The world's most famous couple have holed up in the "Burning Shore Lodge" in Namibia. Angelina is said to be uncertain if she wants to give birth in Africa or France, and Brad is along for the ride. They have a jet on standby in case they choose to return for Paris in time for the birth of their first biological child.
Reports say Angelina and Brad have booked up all "seven" rooms in the resort for three months, but there are seven rooms and five suites, so the reports are probably mistaken.
Nestled amidst this ethereal beauty, on the edge of the largest sand dunes in the world, overlooking the mighty expanse of the Atlantic Ocean in between Swakopmund and Walvis Airport is the Burning Shore beach lodge.
A modern, luxurious establishment, this ocean-side lodge is locatedon Long Beach just south of the unique quaint town of Swakopmund.
It offers 7 Luxury Rooms and 5 Luxury Suites, all enjoying private bathroom facilities.
Prices range from a modest $134 to $268 per night for two people. By our crude calculations, a three month stay in the entire hotel would cost around $240,000 USD.
The couple have been plagued by fighting and breakup rumors, which initially seemed like heresay but have come to ring true to us.
In Touch reports that Brad and Angelina are fighting over common issues like:
Schooling the kids:
Angelina has told Brad she wants to home-school her kids so they'll be free to travel the world. "It didn't fit with Brad's plan at all," says an insider and a friend, adding that he hopes Angelina will change her mind so that the new baby and adopted kids (Maddox, 4, and Zahara, 15 months) grow up in a more traditional home.
Angelina feels trapped:
As her due date nears, the magazine reports that friends say Angelina Jolie is starting to feel trapped in her relationship with Brad Pitt. She even insisted he go to Santo Domingo in the Dominican Republic to check out real estate because "she wanted her space."
An Illegitimate baby:
They can't seem to agree on anything lately," says another confidante, adding that the pair has been arguing about everything from where baby, [sic] to whether or not to marry before the birth.
Hopefully some time away from the paparazzi and pressures of the city will help bring their relationship back on solid ground.
Here are our exclusively google-found pictures of the resort where Brad and Angelina are staying.
Six more pictures after the jump.