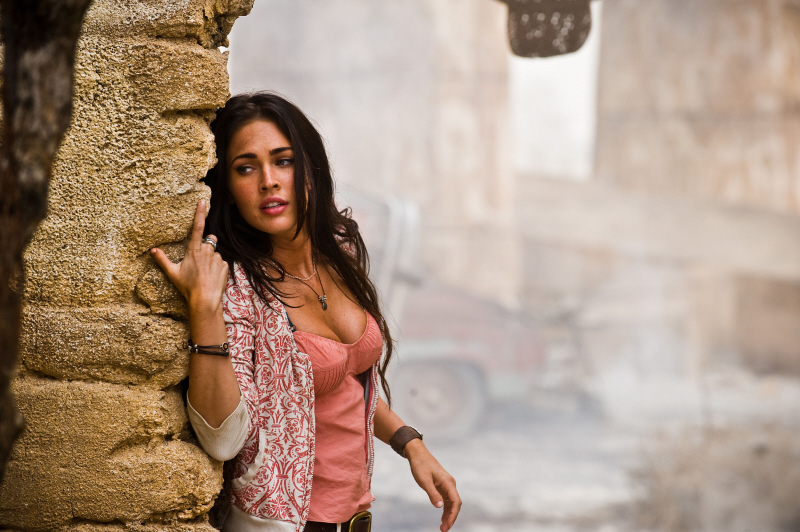 This year's Razzie nominations have been released! The Razzies, or Golden Raspberries, celebrate the worst films and performances of the previous year, and they always time the nominations and the awards for a day before the Oscar nominations and awards. Which means, sidenote, that the Oscar nominations come out tomorrow! Hurray! But I digress. This year's Razzies are celebrating several of our most talked-about people… namely, Megan Fox, Kristen Stewart, Robert "Sparkles" Pattinson, and Sandra Bullock. What will make this year's Razzies special is that they're also going to "honor" the worsts of the decade. Here's more:
"Transformers: Revenge of the Fallen" made a fortune. "Land of the Lost" tanked. Both films are equal earners at the Razzies, though, grabbing seven nominations each on Monday, including worst picture of 2009 and worst-acting slots for Will Ferrell and Megan Fox.

Other worst-picture nominees: Sandra Bullock's romance "All About Steve," the action tale "G.I. Joe: The Rise of Cobra" and the Robin Williams-John Travolta comedy "Old Dogs."

Bullock earned a worst-actress nomination for "All About Steve." She's expected to score an Academy Award nomination Tuesday for her hit drama "The Blind Side."

"She could be the first person ever to win a Razzie and an Oscar in the same weekend," said John Wilson, founder of the Golden Raspberry Awards, now in their 30th year of singling out Hollywood's low points. Winners will be announced March 6, the night before the Oscars.

Razzie voters also are making worst-of-the-decade picks. The worst-picture nominees are Travolta's "Battlefield Earth," Tom Green's "Freddy Got Fingered," Ben Affleck and Jennifer Lopez's "Gigli," Lindsay Lohan's "I Know Who Killed Me" and Madonna's "Swept Away."

Affleck and Travolta are up for worst actor of the decade, along with Eddie Murphy, Mike Myers and Rob Schneider. Lohan, Lopez and Madonna are nominated for the decade's worst actress, along with Mariah Carey and Paris Hilton. Wilson said the worst-actress category probably would come down to Hilton and Lohan, while "Eddie Murphy I would guess would be pretty hard to beat as worst actor of the decade."

Razzie 2009 nominees also include Miley Cyrus as worst actress and her dad, Billy Ray, as worst supporting actor for "Hannah Montana: The Movie."

All three Jonas brothers shared a worst-actor nomination for "Jonas Brothers: The 3-D Concert Experience." Razzie voters also included "any two (or more)" Jonas brothers in the category for worst screen couple.

Robert Pattinson was nominated as worst supporting actor for "The Twilight Saga: New Moon." Co-star Kristen Stewart is in the running for worst screen couple paired with either Pattinson or "New Moon" player Taylor Lautner.

Ferrell has nominations as worst actor for "Land of the Lost" and as worst screen couple paired with "any co-star, creature or `comic riff'" in the action comedy inspired by the children's TV show. "Land of the Lost" also was nominated for worst supporting actor (Jorma Taccone), director (Brad Silberling), screenplay and worst sequel, rip-off or remake, a category that includes the "Transformers" sequel.

Fox was nominated as worst actress for both "Revenge of the Fallen" and "Jennifer's Body." "Revenge of the Fallen" star Shia LaBeouf was cited for worst screen couple alongside Fox or any Transformer, while the movie also had nominations for supporting actress (Julie White), director (Michael Bay) and screenplay.

Joining Ferrell and the Jonas brothers for worst actor were Steve Martin in "The Pink Panther 2," Murphy in "Imagine That" and Travolta in "Old Dogs."

For worst actress, Bullock, Cyrus and Fox are up against Beyonce Knowles for "Obsessed" and Sarah Jessica Parker for "Did You Hear About the Morgans?"
[From Huffington Post]
How can Megan Fox not win, hands down? Maybe she'll split the vote with herself. As for Will Farrell, I feel for him. Sure, he's not the best actor, and sure, that Land of the Lost looked horrible. But he's not a bad guy! And poor Sparkles. I hope someone tells him that he doesn't have to go to that awards ceremony. Although it might show that he had a sense of humor if he did show up, much like when Halle Berry collected her award for Catwoman. As far as "worst of the decade" my votes are for Madonna (who should never act, ever) and John Travolta (because Xenu wills it).
Sandra Bullock at the 'All About Steve' premiere on August 26, 2009. Robert Pattinson & Kristen Stewart at the MTV Movie Awards on May 31, 2009. Credit: Adriana M. Barraza / WENN. Promotional photos from 'Transformers 2' (credit: WENN) and 'Gigli' (Google Images).