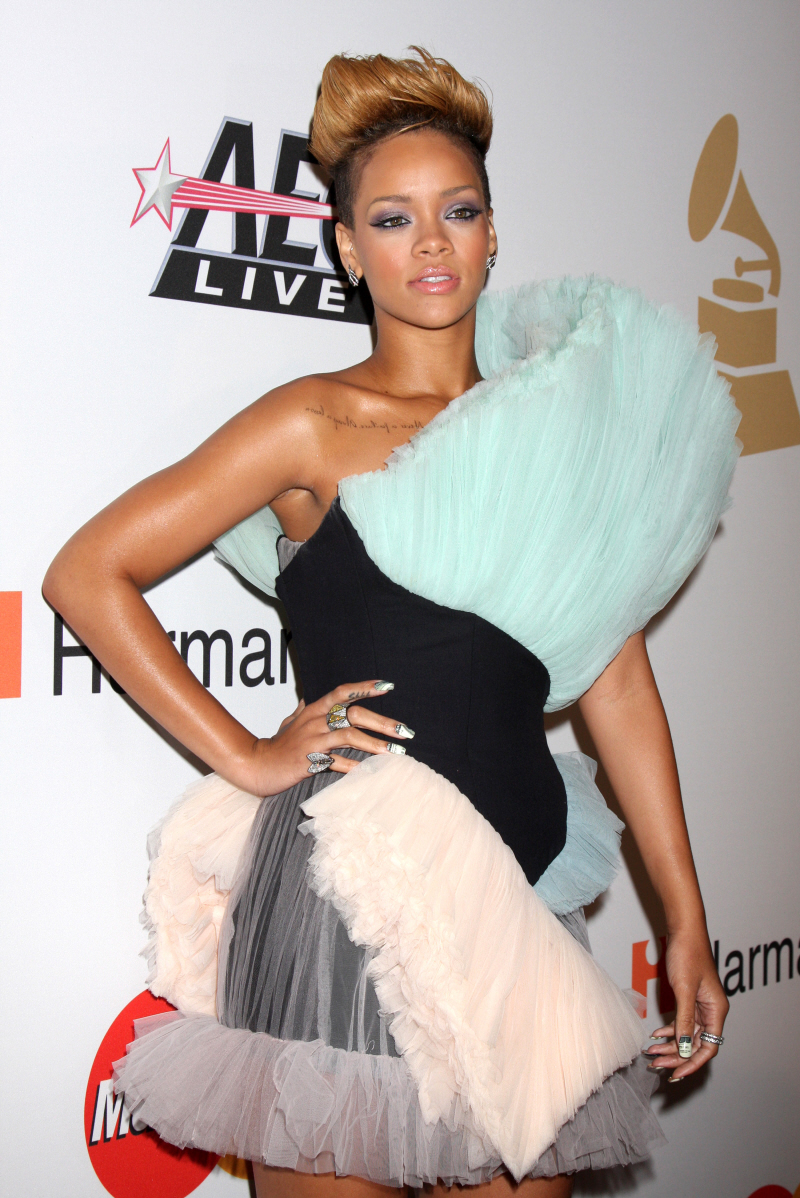 This is Rihanna on Saturday night, at Clive Davis's annual pre-Grammy party. Last year, it was after Clive's party that Chris Brown beat the hell out of Rihanna – so many media outlets ran stories about Rihanna – One Year Later. Personally, if everyone was going to be writing about me and I knew it, I would try not to look like a puffy Poodle. But that's just me.
Maybe Rihanna thought everyone was going to be talking about her, but at the actual party, Rihanna's thunder got stolen by none other than Barbara Streisand. Gatecrasher has more:
Barbra Streisand's happy days are here again: The legendary songstress was all the talk Saturday night at Clive Davis' pre-Grammy party at the Beverly Hilton in L.A.

Although Rihanna — who had her scary altercation with ex-boyfriend Chris Brown right after Davis' 2009 event — arrived at the bash all smiles and in an outlandish turquoise number, the 67-year-old Babs stole the show.

"It's rare for Barbra to show up to pre-Grammy parties, so this was a huge surprise," a music insider tells us. "No one could stop talking about her being there. Everyone thought that all eyes would be on Rihanna, but no one could care less after Barbra showed up."

The reason for her presence was twofold: The fete celebrated Universal Music bigwig Doug Morris, a longtime pal of Streisand's, and we hear she's about to make a big return to the pop music scene.

On the heels of her No. 1 album "Love Is the Answer," which was released in September, Streisand (above with Davis) is rumored to have signed up for Quincy Jones' highly anticipated rendition of "We Are the World."

The famous producer would only hint that she'd be joining, but he did confirm that he's aiming to record the track this week. While Babs is sure to be the headlining name on it (all proceeds will go toward the relief effort in Haiti), Jones confirmed that Smokey Robinson will lend his vocals, and dropped another hint — that fans may get to hear the crooning of wacky songstress Lady Gaga.

But not even that name, nor a little diva-esque moment from Mary J. Blige, could detract much from the Babs buzz.

Blige made a scene when, ironically, she was about to perform "No More Drama" for the A-list crowd. While Jane Fonda (who's dating veteran music producer Richard Perry), Jon Bon Jovi and Leonardo DiCaprio watched, Blige reportedly told her musicians to stop and angrily demanded, "Can we get the right music for Mary J. Blige?"

Performers who seemed a little more graced by Streisand's presence included Jennifer Hudson, who performed "People" and "The Way We Were" in the legend's honor.
[From Gatecrasher]
This has nothing to do with the Clive Davis party, but some people were wondering if the little boy that Jay-Z and Rihanna brought up when they won a Grammy was their love child. For real? My first theory was that it was some relative of Jay-Z's or Beyonce's, and my second theory was that this was the ever-gossiped about alleged lovechild Jay had with some random woman several years ago. Anyway, it turns out the kid is Beyonce's nephew Julez, the son of Solange. Julez and Jay seem tight, so that was really sweet and cool of Jay to bring him up.