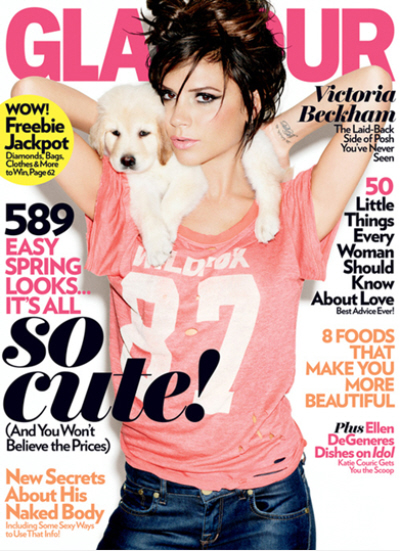 Ha! I just read some of the interview excerpts from Victoria Beckham's cover interview in the March issue of Glamour Magazine, and let me just say, this bitch is crazy. I mean that in the nicest way possible too. This woman… good Lord, she'll try anything once. This time, she's trying to give the impression that she's down with how the little people live. I think the whole point of the cover, photo spread and interview was to attempt to give the impression that Posh is one of us. That she struggles and gets starstruck and goes grocery shopping and plays with puppies. Just a word about the puppy – who would have thought Posh + puppy = magic? It's kind of brilliant. All of the photos are like that too, Posh trying to be cute while still sucking in her cheeks and not "smiling with her eyes" (Glamour slideshow here). Here's some of the interview: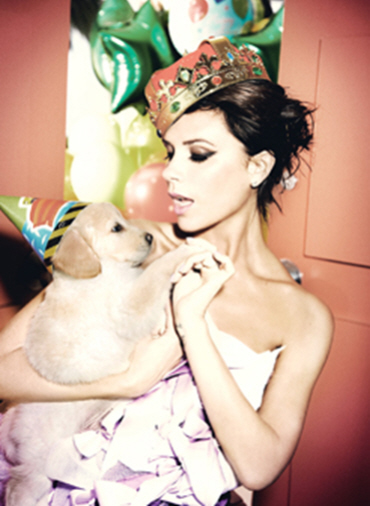 Posh: just like Us after all!

Despite her image as a flawless, world-famous fashionista who rarely cracks a smile, Victoria Beckham says she still gets starstruck, too. It's just that her nervous moments occasionally take place on private jets!

Case in point: Beckham, 35, said she got "nervous in a good way" when sharing close quarters with a certain movie star. "I [once] shared a plane with George Clooney," she tells Glamour magazine in its March issue. "My mum and I said 'Oh my God,'"

"I'm leading an extraordinary life. I never try to be too cool about [it]," she adds. The former Spice Girl also says that she cherishes mommy-time with her kids — and, when time permits, playing lunch lady at their school.

"I travel a fair amount, and when I'm here in L.A., everything revolves around the kids," she tells the magazine. "So if I'm not working, I go to the school and help serve lunches to the children. They just love that. It's like, 'Oh, there's Mummy serving me!'"

Victoria and her husband, soccer superstar David Beckham, have been married for over ten years, and have three sons: Brooklyn, 10, Romeo, 7, and Cruz, 3.

She claims that she doesn't get jealous of admirers of her sought-after husband, who's stripped down to his skivvies in numerous Armani underwear ads: "I look at David and I think, He's so handsome and I'm so lucky to have him as a husband. And he's an amazing father. I don't blame people for looking at him and finding him attractive. I mean, I do."
[From Us Weekly]
Do you think Posh still gets hot for Becks? I think she's being honest there. I think she still loves her husband very much, and she still wants to do him whenever possible. I would need to put something in his mouth so I wouldn't have to hear him talk dirty in that weird voice of his, but other than that, I can see the attraction. And I do think Posh loves her boys, and she tries to be a good mom. Over the weekend she even played with the boys on the beach, bearing her scary bunions and mangled toes. But… do you think she goes to their school and serves food? Uh… no. No, she does not.
Glamour cover and additional photos courtesy of Glamour online.