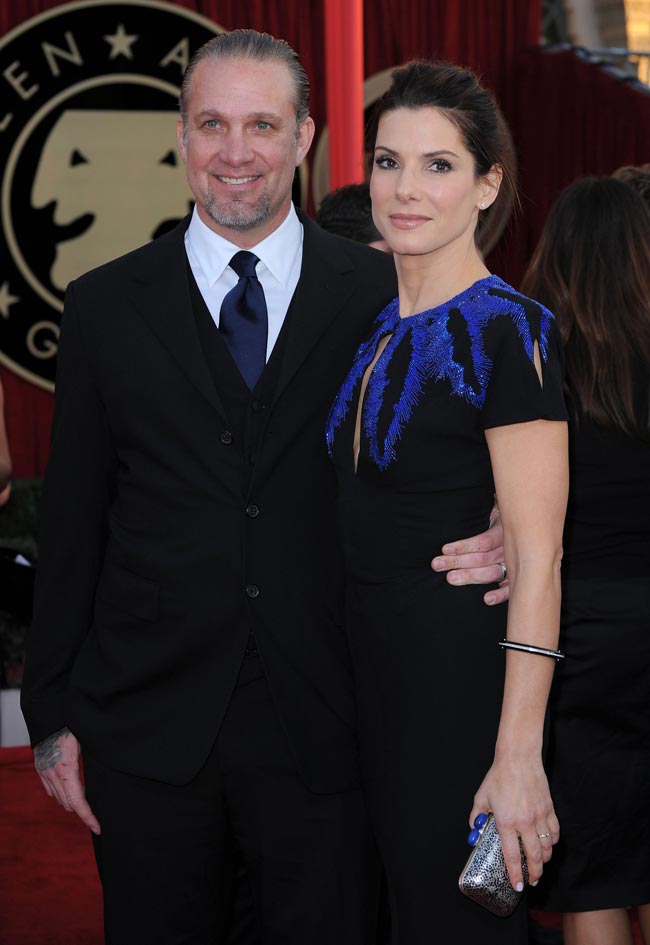 As Sandra Bullock makes the awards show rounds there's still some minor drama brewing for her at home. There's a custody battle going on between Sandra's husband, Jesse James, and his porn star ex, Janine Lindemulder, who served six months for tax evasion last year. Lindemulder and James have a five year old daughter, Sunny, who has been staying with Bullock and James since her mother served time starting in January. We've heard from Lindemulder at least twice, on Good Morning America and in Life & Style, in public bids to earn more custody time with her daughter. In response, James' lawyer issued a terse statement telling Lindemulder not to drag Sandra Bullock into the custody battle with his client. Meanwhile Lindemulder is back to "acting" in adult films and is now married to an ex con with a long rap sheet including federal drug convictions.
Anyway Lindemulder has had all visitation rights with Sunny revoked following a hearing in which her parenting was characterized as erratic. She's missed scheduled visitation time and scheduled calls with Sunny according to what James told the court:
At a hearing today in the contentious custody battle between Sandra Bullock's current hubby and his former missus, a judge ordered that Lindemulder be allowed to make daily phone calls to her 6-year-old daughter, Sunny, who currently resides full-time with the famous couple.

"No visitation rights were granted at this point," Orange County Superior Court spokeswoman Carol Levitzky told E! News. James and Lindemulder, currently serving a four-month stint in a halfway house for violating her parole in a tax-evasion case, were both present for the proceedings; Bullock was not.
However, the phone time ruling didn't come without resistance from James.

"She texts at least twice and up to 20 times a day, demanding to talk to Sunny," he said of his ex. "But sometimes she'll go a week at a time where she doesn't make a call.

"[Lindemulder] has no filter on what she tells [Sunny] about prison. There's a lot of conversation about prison or jail and things that I don't think a 6-year-old can comprehend or process."

James also noted in court that while Lindemulder had fought for (and won) Christmas custody of the girl, she never materialized on the holiday, and in fact had missed four of her past five scheduled visits.

The hearing was continued to June 14, and while the judge praised James and Lindemulder for being able to make positive progress despite the media attention, both were ordered to undergo joint counseling once a month.
[From E! Online]
It's probably in Sunny's best interests that she have limited contact with her mom if all of this is true. It's still so sad to hear about someone losing visitation with their child. As a mother, you feel for other moms who can't see their children. There are plenty of people in this world who aren't fit parents though, and it sounds like Sunny has a loving and supportive home with Bullock and James.
Jesse James and Sandra Bullock are shown at the SAG Awards on 1/23/10. Credit: WENN.com