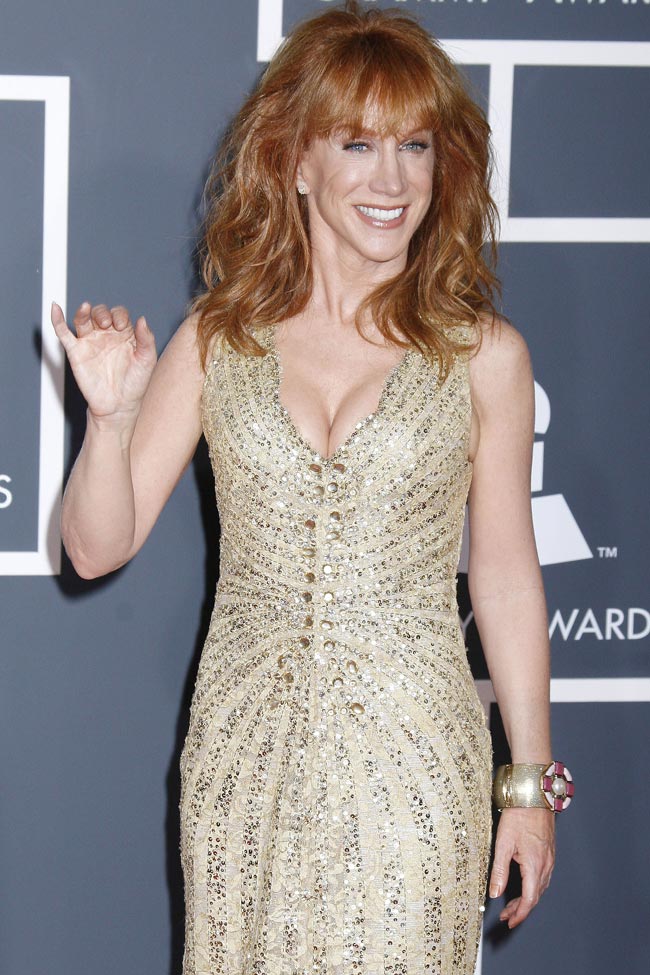 People rag on Kathy Griffin, but I admire her spunk and willingness to put herself out there. She's honest and fearless and while she can definitely be obnoxious there's something admirable about her. I love people with big personalities who aren't afraid to talk smack.
Kathy was a nominee at the Grammy Awards for Best Comedy Album for "Suckin' It For The Holidays." (She lost to Steven Colbert for "A Colbert Christmas.") While she was on the red carpet talking to E!'s Guiliana Rancic, she revealed the secret to her hot body at 49:
Kathy Griffin may have had a nose job, lipo and an addiction to diet pills, but at the Grammys she maintained that her breasts are her own.

"They're real, I'm not doing the Montag," she said when Giuliana Rancic commented on her cleavage. "My body is slammin."

"How are you getting this body?" asked Giuliana.

"It's frustration and starvation," said Kathy. "I'm cranky all the time and I'm hungry all the time.

"You look good, that's all that matters," said Giuliana.

Ryan Seacrest later commented that Kathy and Giuliana are looking more and more like sisters.
[From The Huffington Post]
On one hand I like that Kathy admits that it's not easy to stay thin and that she's hungry often. (Which reminds me of a comment that Julianne Moore once made that she was hungry all the time when she was dieting.) On the other hand it's irresponsible to chalk her body up to "starvation" because it encourages crash dieting, which is not effective, comfortable or healthy. There are much better ways to lose weight and to make sure you're getting enough to eat without going hungry. (I recommend Body for Life, Eat to Live, and Weight Watchers as sensible plans that have worked for me at various points.)
There's some debate going on in the comments at the Huffington Post as to whether Kathy's boobs are real or not. I figure that she's copped to so much other plastic surgery that she'd admit it if she had a boob job. There's a lot you can do with inserts and pushup bras. It's still not all "natural," but it's not like you've had surgery.
Kathy was looking decidedly cat-like in some promotional appearances for her book right before the holidays. I checked and while she may have had some work done she's also suffered from botched lasik eye surgery that significantly altered the shape of her eyelid, making it look raised. It looks like it's settled by now anyway.
In other news about the abrasive comedienne, Griffin denied that she's banned from CNN after dropping the F-bomb – again – during the live New Year's Eve broadcast with silver fox Anderson Cooper. She also said that she went out for lunch with Cooper's famous well-heeled mom, Gloria Vanderbilt, shortly afterwards.
Kathy is shown at the Grammy Awards on 1/31/10. Credit: WENN.com She is also shown promoting her book on 12/23/09. Credit: PRPhotos