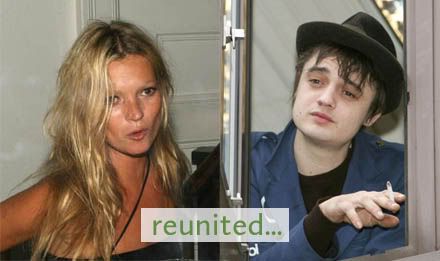 Kate Moss was so pissed off about Pete Doherty's blood squirting stunt that she asked him to come over to her place. When he arrived she promptly kicked his ass!
KATE MOSS beat up on-off boyfriend PETE DOHERTY in a mad frenzy after reading how he sprayed his blood at two MTV cameramen. The supermodel summoned the BABYSHAMBLES frontman to her north London home and set on him after reading about his antics after a gig in Berlin, Germany last week (ends12MAY06). After arriving at her St John's Wood pad at 5 am Moss began kicking and punching him in the street. Doherty says, "She was angry about the blood spraying thing. She beat the crap out of me. She layed into me punching and kicking. "I'm alright, but she hurt my finger. I couldn't do anything back, because she's a girl."
At least Doherty didn't fight back, but we doubt the junkie would have had the strength even if he wanted to. Moss shouldn't have even bothered with Doherty, though. Why doesn't she just ignore him? She's supposed to be dating comic Russell Brand now anyway.
Meanwhile Doherty's antics have lead his record label, Rough Trade, to drop his group Babyshambles. An source is quoted as saying: "Rough Trade were in the process of renegotiating a deal, but the talks broke down because it just proved to be so difficult to deal with Pete and the people he surrounds himself with."
Maybe losing his record label will help Pete follow-through on kicking heroin as he's been planning. It won't be easy, but he needs it desperately.
Here's Kate in a Primal Scream video: