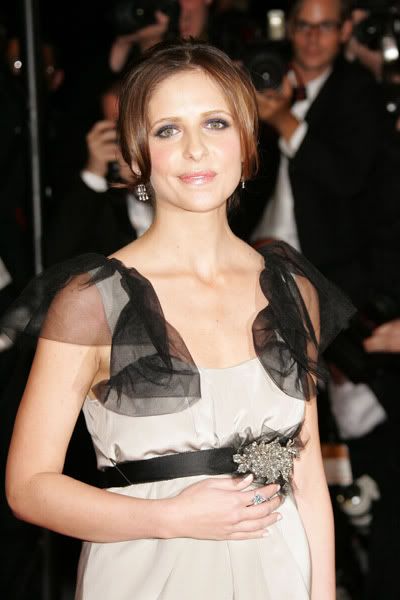 We know we're always saying people look pregnant. That's half the fun of looking at celebrity pictures so you can't blame us. Sarah Michelle Gellar wore three different loose empire waist dresses while promoting her film "Southland Tales" at Cannes. In some of the HQ pictures from Cannes, shown in the first row below, it really looks like she's trying to hide something. She also put her hand over her stomach while on the red carpet – a telltale sign!
Gellar is 29 and has been married to Freddie Prinze Jr., 30, since September, 2002.
She stars in "Southland Tales," "an ensemble piece set in the futuristic landscape of Los Angeles as it stands on the brink of social, economic and environmental disaster" with The Rock.
Gellar describes her character:
I play Krysta Now who is an adult film star but she's also a reality television star, she has an album, she has a soda drink…she's a multi industry and she's in love with Boxer Santoros played by Dwayne (Johnson).
It sounds pretty interesting. We'll have to wait and see how the film is, and if Gellar is actually pregnant.
Pictures [via]