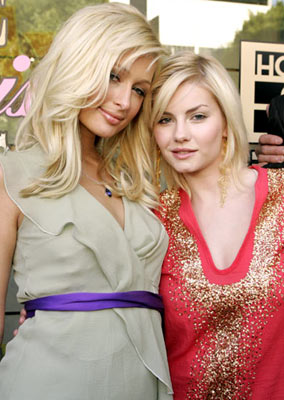 Paris Hilton has popped into a lesbian bar on Sunset Boulevard twice in the past month, most recently with her friend Brittny Gastineau. Paris is rumored to be bisexual, and there were some suggestive photos leaked from her hacked blackberry in early 2005 of her kissing a gorgeous female MTV VJ from South America.
Paris Hilton and her House of Wax co-star Elisha Cuthbert have recently renewed their friendship and were supposedly spotted full-on making out at club Tenjune on Tuesday night in NY. Were they just fooling around for publicity or was it something more?
Paris Hilton's film The Hottie and The Nottie comes out in theaters on February 8th. Surely her PDA with Elisha was honest and wasn't meant for self promotion.
On New Year's eve Paris was photographed kissing an unknown woman, also at a nightclub.
Paris and Elisha are shown in April, 2005 promoting House of Wax.