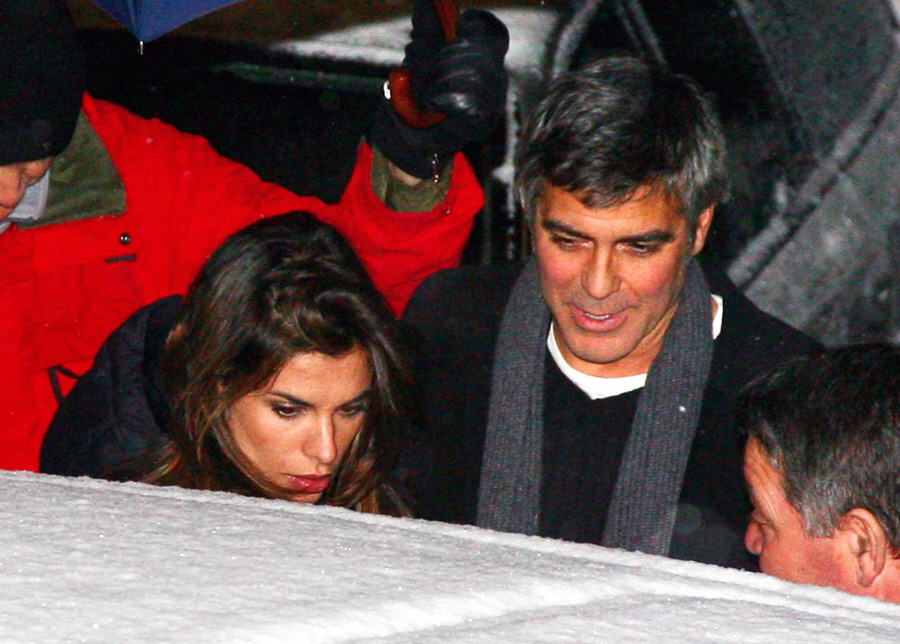 Well, it looks like George Clooney is keeping Elisabetta Canalis around for a little while longer. These are photos of George and Eli arriving in Switzerland over the weekend. While they don't look particularly happy with one another, they don't look on the verge of breaking up either. As opposed to my working theory that George had already grown tired of his Italian "television presenter" – an opinion I formed just by watching Eli and George's interactions at the Golden Globes, they both seemed over each other. Then George didn't even bring Eli to the SAG Awards, and then there were some tabloid pieces about how Eli's jealous behavior might be driving George away.
George Clooney and girlfriend Elisabetta Canalis received a very warm welcome yesterday after arriving in St. Moritz, Switzerland. George was greeted by a friend with a big hug after his private jet landed overseas.

Elisabetta went for a stroll with her sweater clad puppy during the day.

The Italian TV personality and model has been one of the most public of George's past leading ladies.

We can't wait to see the couple walk the red carpet at the Oscars, where George is nominated for Best Actor for his standout performance in Up In The Air.
[From OK! Magazine]
Meh. I still think Eli isn't going to last much longer. My guess is that she'll be George Oscar date, and then a few weeks after that, there will be a short but sweet announcement that she's broken up with him. Because George is nice that way – he'll make it look like he got dumped. It's his style.
Two more notes: Eli's puppy is not cute at all. He looks like a little rat. Also, George shaved his beard! So long, Beard Club. Do you think he's copying Jon Hamm?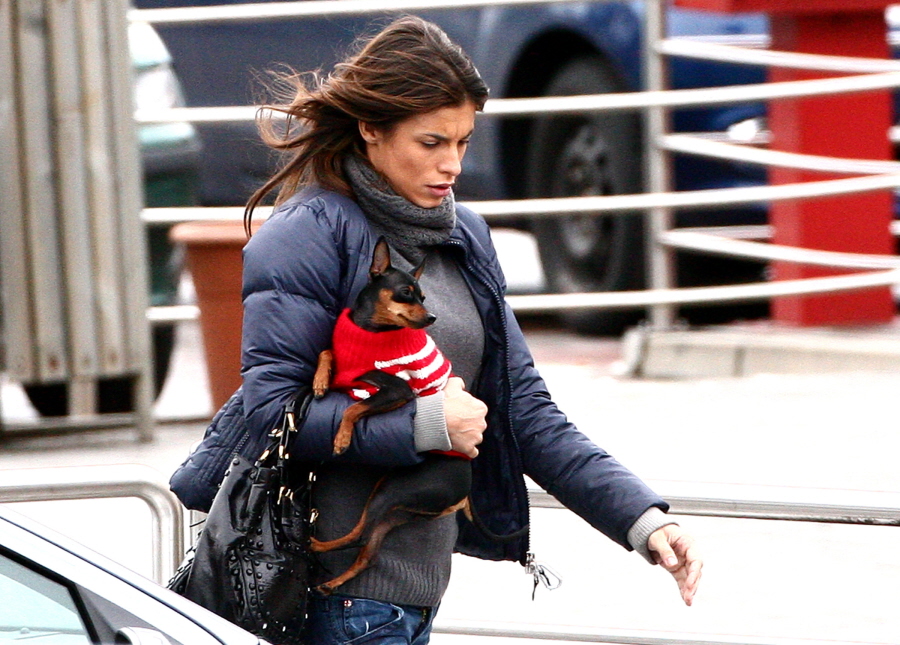 George Clooney and Elisabetta arriving in St. Moritz, Switzerland on February 7, 2010. Credit: Fame Pictures.