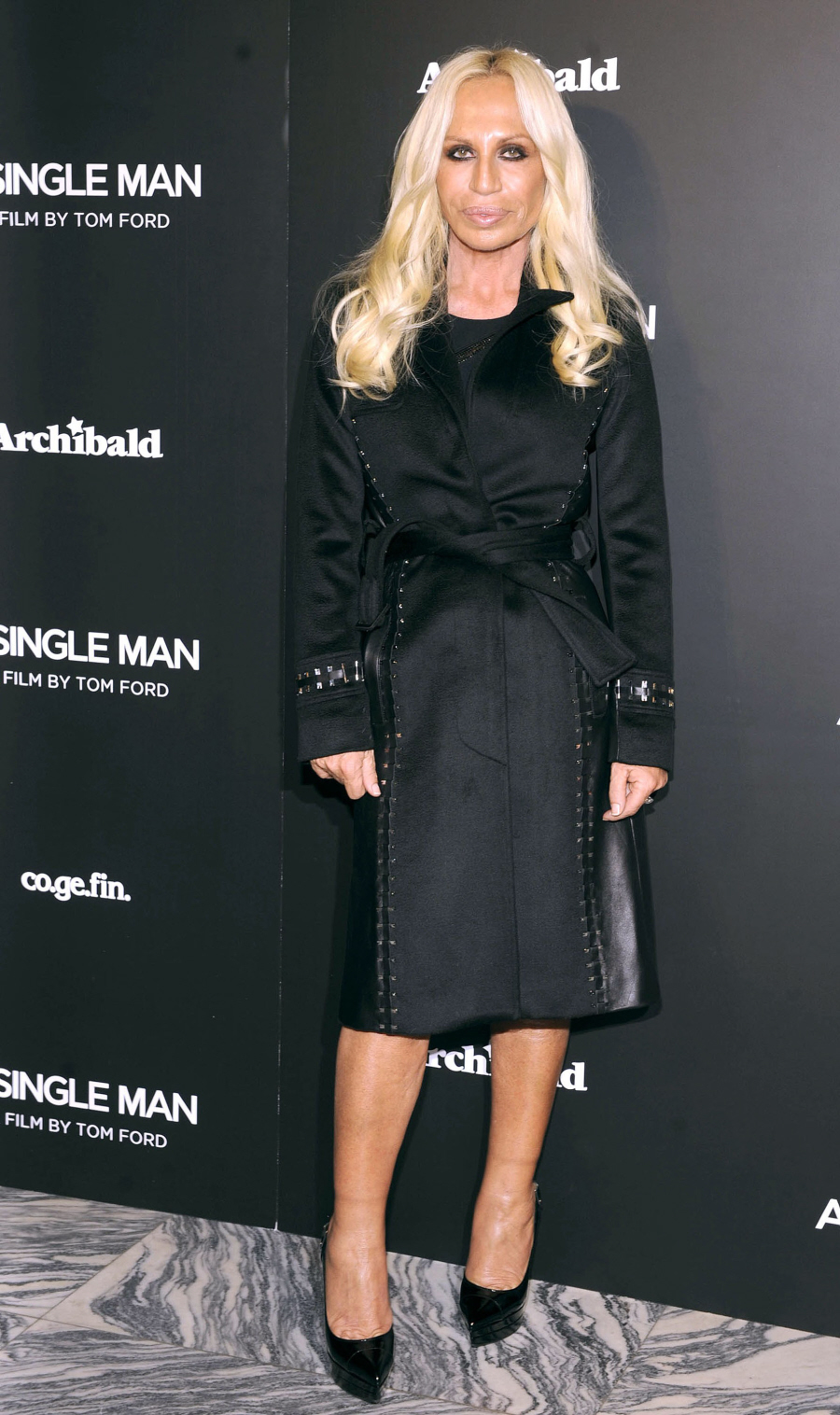 We don't do enough Donatella Versace stories. She's just as fun as Karl Lagerfeld, only more orange and more insane, if possible. While Lagerfeld seems contend to spend interview cataloguing his neverending list of hate, Donatella Versace genuinely seems to be much more fun and cool. If by "fun and cool" you mean "orange and insane". But Donatella has a sense of humor about herself, as evidenced by a recent interview in LOVE Magazine (via HuffPo) in which Donatella admitted she had no idea what her "natural" hair color was, and that "I do not believe in totally natural for women. For me, natural has something to do with vegetables." Haha… Beta-carotene.
Donatella Versace sat down with LOVE magazine to talk about the fashion world and her place in it. She remarked that she's never felt like a fashion icon and frequently jokes about her looks, once saying: "I don't even know what my natural colour is. Natural? What is natural? What is that? I do not believe in totally natural for women. For me, natural has something to do with vegetables."

She also reminisced about the supermodels of the '90s, remembering when "Christy, Linda, Cindy and Naomi together–they sang Freedom, and George Michael was in the audience–that was an iconic moment of fashion." But everyone didn't always get along: "When a new girl came along, oh my God, it was like a war. The first time they got together, it was the big girls versus the new girl. I remember one time backstage: Linda needed to go on the runway. She was about to put in her fake boobs and found one of them had been taken. 'Where is my boob? Where's my boob?' she was screaming over and over."

So what does she think about the current state of fashion?

"Now is a bad moment. Now we need something. We need a special personality. We need to feed the egos of these girls. Somebody like Kristen [McMenamy] who had a huge ego. Beautiful…"
[From Huffington Post]
I'm so with Donatella about the whole "I miss models with real personalities" stuff. I miss Linda Evangelista, although she's still working as a model. Linda used to be crazy and fun too. Naomi is still a diva, but I've never enjoyed her. And Christy was "the good one" right? The polite one who was never a diva. They really did have personalities, which this current crop… well, they might be nice girls, professional girls, but they all seem so boring.
Behold, the wonder that is a woman with nothing natural on or in her… please, don't everyone yell at once "Burn it with fire!":
Donatella Versace at the 'A Single Man' premiere in Milan on January 11, 2010. Credit: Bauer-Griffin and Getty.