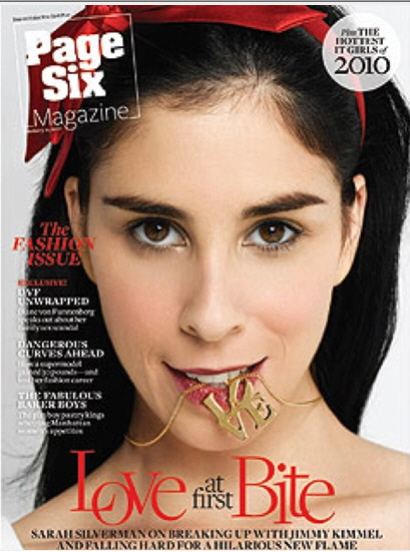 Under pretty much any circumstance, I find Sarah Silverman to be supremely annoying. I don't find her funny, I think her "I'm so dirty and naughty and I'm just a girl isn't it avant-garde?" act is tired and condescending. All of that being said, the interview excerpts from Sarah's cover interview for Page Six Magazine made me a little sad. She tells the magazine that her current boyfriend is "the first guy in a decade who's given me any kind of compliment, like saying I'm pretty or anything." That kind of sucks. Now I feel for her. Oh, and this bitch is 39 years old! She looks and acts like she's in her early 20s! Crazy.
After going through a particularly awkward stretch of single life, Sarah Silverman discovered a man who isn't her type at all – and it seems to be working out great.

Her new boyfriend, the writer Alec Sulkin, is "the first guy in a decade who's given me any kind of compliment, like saying I'm pretty or anything," the comedian, 39, tells the new issue of Page Six Magazine, due out Thursday.

"He's really skinny. Usually I like pudgy, macho-ish guys," says Silverman, who dated talk-show host Jimmy Kimmel for much of the last decade. "But I think I mistook macho-ish for strong, emotionally. And I think it's really the opposite."

The star of The Sarah Silverman Program on Comedy Central split up with Kimmel for good last March, and found herself dating for the first time since becoming famous – which proved tricky.

"It felt a little isolating," she says. "Part of the fun of meeting someone is having them discover you. You're doing your little tap dance, like, 'This is me!' And then [the person has] all these preconceived notions, things that are partially true and partially not."

Silverman also weighs in on the David Letterman and Tiger Woods scandals, saying neither surprised her. "I can't imagine he's the nicest man in the world, but I love 'talk show host' David Letterman," she says. "I'm not looking to have him be a United Nations representative. The same thing with Tiger Woods."

And when it comes to the Jay Leno/Conan O'Brien controversy, it's a no-brainer. "Conan was my first big break," Silverman says. "He put me on all the time. I played on the Conan soccer team. I have a place in my heart so special for him."
[From People]
It sounds like Sarah actually gave a real interview as herself instead of her dumb comedic persona. I also really like what she said about David Letterman, and even Tiger Woods – and I don't think she's alone. Those are two men with lots of issues in their personal lives, but many people will forgive them if they continue to do their jobs well. And Conan O'Brien? Well, Team Coco forever.
Page Six Magazine cover courtesy of CoverAwards.