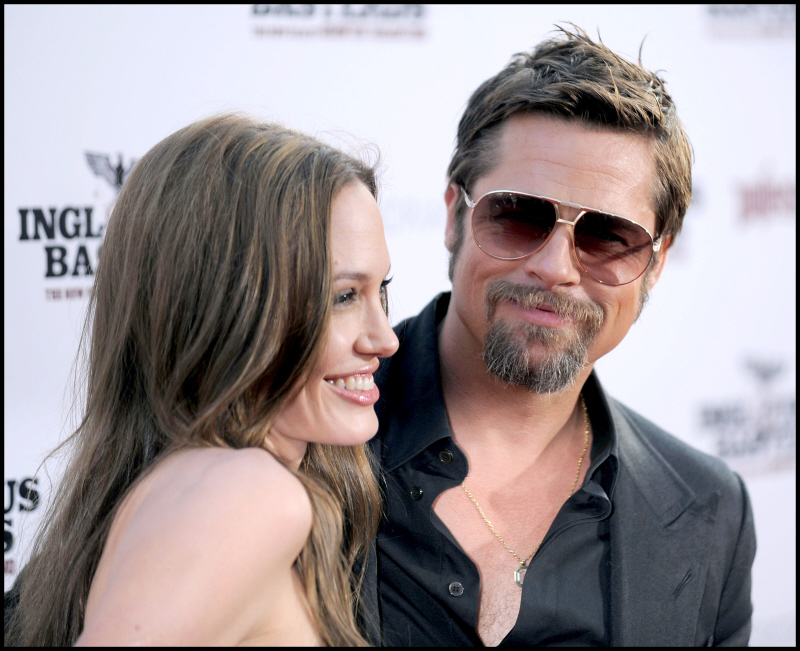 Two weekends ago, the News of the World published a scandalous story about Brad and Angelina "consulting a divorce lawyer" to split up their assets and work on a custody agreement ahead of their big breakup. This story jumped internationally very quickly, and many, many, many people freaked out, both the Brangelina lovers and haters. It was a weird situation, because the report didn't seem to have any more merit than all of the random Star Magazine and In Touch Weekly stories that have Brad and Angelina breaking up every single week. Still, it touched off a big media war, one that Brad and Angelina are still doing some damage control on. And now it's not just some friendly photo-ops to let everyone know they're fine – it was just announced that Brad and Angelina are suing! This is seriously the first time they've ever sued, so it's a big deal:
Brad Pitt and Angelina Jolie are suing a London tabloid for claiming that they were planning to split.

The couple's lawyer Keith Schillings tells BBC News that Pitt, 46, and Jolie, 34, have begun legal proceedings against the News of The World tabloid, which reported Jan. 24 that the two had agreed to divide their assets and made arrangements for the custody of their six children, Maddox, 8, Pax, 6, Zahara, 5, Shiloh, 3, and twins Vivienne and Knox, 18 months.

Schillings tells the BBC that the tabloid report contained "false and intrusive allegations" and that the paper failed to meet a demand for a retraction and apology for the article which was "widely republished by mainstream news outlets."

Schillings says Sorrell Trope, a Los Angeles divorce lawyer identified by some publications as advising the two, denied claims that he had been in contact with the couple. "I have had no contact from… Angelina Jolie and / or Brad Pitt," Trope said in a statement. "I have never met… your clients or had any involvement with either of them. The foregoing is true with respect to all other members of this firm."

A spokesperson for the News Of The World has yet to comment.

Pitt and Jolie, who are not married, packed on the PDA Sunday during an appearance at the Super Bowl in Miami. They took their eldest son, Maddox, to the big game.
[From Us Weekly]
I'm going to put all of my cards on the table: I like Brad and Angelina, together and separately. I think they're good people, I think they put up with a lot of crap from the media, and I think they're generally pretty smart about how they handle their public personas. All that being said, one of their dumbest moves as a couple was to have no publicist together or separately, and to have no media consultant or anyone like that. They should have had someone on their staff dealing with the media fulltime ever since 2006, when Brad let go of his long-time publicist. Having someone on permanent standby would have helped a lot throughout the trials and tribulations the tabloids seem to have Brangelina going through every week. And now that they're taken on lawyers and are actually suing one publication for one story, it just strikes me as too little too late. Why this story and not the others? I don't get it.
Oh, and why not sue Ian Halperin while they're at it? That guy needs to be taken down.
Brad and Angelina at the LA premiere of 'Inglourious Basterds' on August 10, 2009.