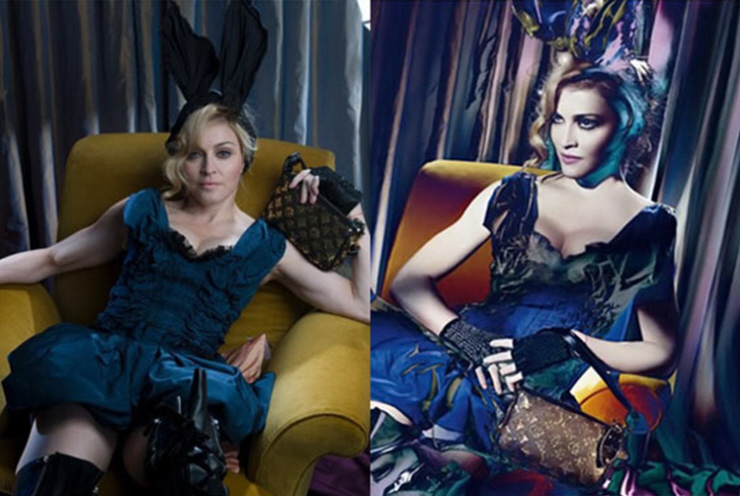 **Unaltered Louis Vuitton ad on the left, altered ad on the right, credit: Louis Vuitton and New York Magazine.**
Last year, Louis Vuitton unveiled new ads with their spokesmodel, Madonna. The ads were… in a word, hysterical. Madonna looked airbrushed within an inch of her life, down to the last veiny piece of gristle in her hands. She looked, in the ads, like Heidi Montag looks in real life now. Like a doll. An unmoving, frozen, sketchy plastic doll. Anyway, Sassybella and New York Magazine got their hands on the unaltered Madge ad (above, in the side-by-side – the unaltered photo is on the left), and I can only say that it's truly frightening the kind of Photoshop horror is trust upon the general public.
I came to see this altered ad because Jezebel ran a piece called "The Irresistible Allure Of Unretouched Madonna Photos". Erin at Jezebel asks "Who keeps leaking the "before" shots of Madonna photo shoots?" and "Why her more than anyone else?" Possible answers: there's tension between the Madge Camp and the Steven Meisel camp, the photographer who shot the Vuitton campaign, a W Magazine spread from several years ago and Madge's Hard Candy photo shoot (which also had some leaks).
As for the alleged joy (or schadenfreude) we get from seeing unaltered photos of Madge, Jezebel continues: "Madonna offers her own complications: She seems to regard her body as a hard-fought act of defiance, a bulwark against weakness or aging. If the unretouched photos of her tell us anything, it's that people are still obsessed with confirming the ultimate impossibility of that goal."
Here's the now classic unaltered Madge photo from Steven Klein's photo shoot with Madonna and Jesus Luz, for W Magazine (courtesy of Pop Crunch):