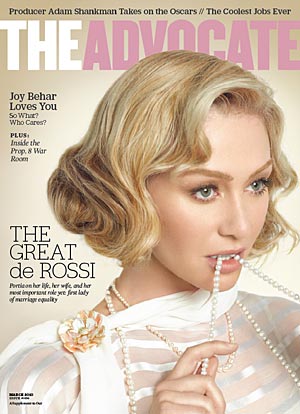 There's a new interview with Ellen DeGeneres' wife, Portia de Rossi, in The Advocate. She comes across as thoughtful and grounded as she talks about the fight for same sex rights along with her decision to publish an as-of-yet unwritten autobiography, due out this fall. The article references Portia's troubled past, when she was on Ally McBeal in the late 90s and was struggling with anorexia and bulimia. Portia, 37, is now much more content and is half of the worlds most famous lesbian couple. Her wife, Ellen DeGeneres, regularly cracks jokes about their home life on her popular talk show. We haven't heard a lot from Portia recently, but that's about to change. She tells The Advocate that she's happy to help further the cause for same sex marriage rights and hints that her profile is about to raise as she writes her book. Portia may become the face of the marriage equality movement:
On advocating for same sex rights
After so many years dancing around questions about her sexuality, she first spoke with The Advocate in 2005, talking at length about her relationship with DeGeneres. But even then she avoided talking politics.

But four years later, during an appearance on The View to promote her sitcom, ABC's Better Off Ted, De Rossi didn't hesitate before she schooled conservative host Elisabeth Hasselbeck on what marriage really means: "Without the word, we don't have equal rights.… Every citizen of this country should have that right."

"I've had fun there in the past," De Rossi says of the show. "But just before I was scheduled to appear, the New York legislature voted on marriage and it failed. It was so disappointing to me. And I thought, if I'm going on The View and I have a viewpoint, I might as well talk about it. It's more important than talking about a TV show."…

"Ever since Ellen and I got together, I feel like I've been given an opportunity to actually—God, this sounds corny…" She rolls her eyes at herself, fidgets, and then forges ahead. "Well, I feel like my life can actually kind of stand for something. And I don't mean that in a self-aggrandizing way, like, 'Look at me, I can make a difference.' But I feel like, maybe I get why I'm here."…

"I think it's up to us to save marriage," she says. "Up to gay people across the country, seeing as though we're fighting for it so vehemently." De Rossi has an impressive ability to marry the personal and political: "This whole thing has been a wave of excitement and hope, and then it gently falls back into despair. And then it picks us up again. Unfortunately, we're the ones who have to suffer this—this humiliation, really. There's kind of a dignity that's been stripped from us. Gay people are the ones who have to suffer through it—but without it, it won't change."

On her relationship with Ellen
"To think that a married gay couple is considered boring and normal is fantastic," she says. "Happiness is a choice too. It's a choice to live in a state of gratitude and to fix what makes you unhappy. Being honest with who you are, being able to go out into the world and show people that you can be successful and be happy and be in a good marriage—it's important."

Mostly, they have so far avoided letting their notoriety get the better of them by communicating with each other. "I tell her all my insecurities, all of my worries, and within a few minutes I feel better," De Rossi says. "She's just so helpful to me. I think I help her too. I keep her focused on what's important and what the big picture is. I think that's what a good couple does for each other." …

On her book
This is the first time she's talked to a reporter about it. "I wanted to see what kind of book I was writing," she says. "It will deal with all the secrets that nearly killed me." Approached by an agent at William Morris to write about eating disorders, De Rossi wasn't sure she could do it. Nevertheless, she's writing it from a firsthand perspective without the typical celebrity-assist ghostwriter. "Nobody can really get inside the anorexic's mind like the anorexic," she says, referring to her own battles with an eating disorder.
[From The Advocate]
I really admire the way Portia is so matter-of-fact in the way she explains the fight for same sex rights. There's something quiet and reluctant but steadfast about her. Like she feels uncomfortable putting herself out there but has made peace with it and knows it's the right thing to do. It doesn't make sense to me that it's 2010 and same sex couples don't have the same rights as everyone else. I also find it baffling that there are people who are openly fighting the fact that there are couples who want to settle down and have families. Isn't that what that side claims to value? I look forward to seeing what's next for Portia.
The Advocate also has photos of Portia in their article that feature her in 1920s styling and she looks incredible. Some of the photos are here, and there are more on The Advocate's website.