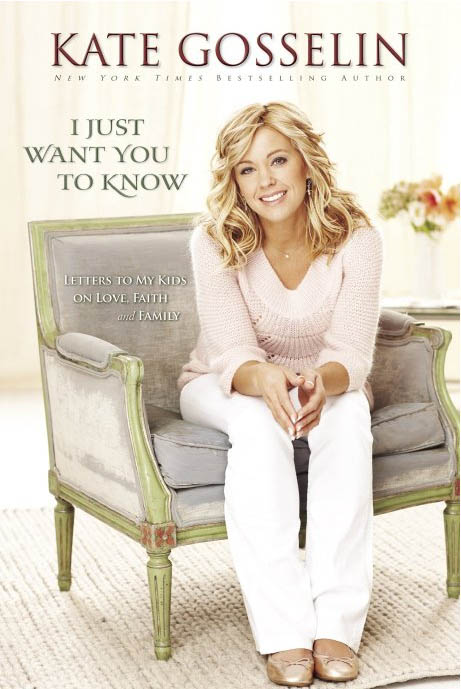 When we saw Kate Gosselin showcasing her sad tiered hair and mommy outfit on a paparazzi-followed night out with her hairdresser in NY City, many of you wondered if she had something to promote. Now we have our answer in the form of a just-announced book from Kate called I Just Want You to Know: Letters to My Kids on Love, Faith and Family. I was hoping it would be a tell-all trashing her good for nothing husband, but it's going to be a feel good book that will probably gloss over the collapse of her marriage and focus on the love she has for the kids she barks orders at. It doesn't matter what Kate writes, people will buy this. Her other two books on her family were best sellers:
She already wrote two New York Times bestsellers and, soon, Kate Gosselin could have a third on her hands.

The reality star is scheduled to release I Just Want You to Know: Letters to My Kids on Love, Faith and Family on April 13 by Zondervan Publishers. The personal book will feature prayers, excerpts from her journal and eight individual letters addressed to each one of her children.

"Each day the thought crosses my mind that when they get older, my kids are going to look back and think about how they were raised," Gosselin says in a statement. "I know they will have a lot of questions about things that may not make sense because they were raised so unconventionally. I don't want them to grow up and wonder; I want them to know without a shadow of a doubt how much I love them and how much every sacrifice made was worth it for them."

In addition to the book, Gosselin is in production on a new television show for TLC. Her previous nonfiction works include Multiple Blessings and Eight Little Faces.
[From People]
I want to know how much Kate sacrificed exactly as compared to an average mom. I know that large families are no longer considered "average," but most moms work way harder than Kate at taking care of their kids and have barely any time to themselves. Kate has a pampered, privileged life that many moms of 1-2 kids would love to experience. She has plenty of money and free time, has teams of people working for her, and even has a bodyguard. It must be stressful to be a mom to so many young children and I don't mean to discount what Kate does, even with all the help she fails to acknowledge at all. How did this woman become the face of mommyhood though? I guess we talked about her enough, and she got enough media exposure. It's kind of how Heidi Montag became the face of plastic surgery. There are much better examples of each but the ones that stick out for the wrong reasons end up getting publicly acknowledged.