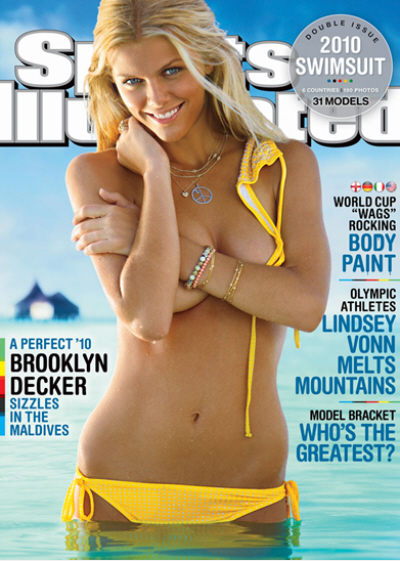 Brooklyn Decker has been chosen as Sports Illustrated's Swimsuit Issue's cover girl. Brooklyn is mostly famous (in my mind) for being the wife of tennis player Andy Roddick, and I can't even think of one major modeling contract Brooklyn has. I also seem to remember that Brooklyn used to have brown hair – I didn't recognize her as a sunny blonde. As for the cover shot – well, it's nice, I guess. She has a great figure. But is it just me, or have we seen this pose a million times before? That's not Brooklyn's fault – it's Sports Illustrated's fault. They should have chosen a less cliché pose for their cover shot.
For Brooklyn Decker, the next few months will bring a series of firsts.

The North Carolina-raised model, 22, is celebrating her first-ever time as the cover girl on the coveted Sports Illustrated Swimsuit Issue – a spot she landed after five years of posing for the magazine.

"It's shocking and a dream come true!" Decker told PEOPLE shortly after learning that her photo would grace this year's cover.

Another first? Doing a round of talk show interviews to promote her prestigious job. "I've never been on one! I'm kind of freaking out," she said before appearing on The Late Show with David Letterman Monday. "I've done news shows, but I've never done a big talk show."

Andy Roddick to Enjoy the Envy
So how did her family react when they saw the photos of her clad in a yellow Delfina bikini? "My mom cried," says Decker. The photos were shot in the Maldives by award-winning sports photographer Walter Iioos and inspired by '80s and '90s SI covers featuring Elle Macphereson and Rachel Hunter.

"We're all on pins and needles before the issue comes out, because the cover is something all the girls want so badly," says Decker. "So it's nice for my family because they don't have to stress about it anymore."

After the flurry of parties and media appearances – including spots on Jimmy Kimmel Live and The Ellen DeGeneres Show – Decker will take time for another very important first: Her 1-year wedding anniversary in April with tennis champ Andy Roddick, whom she says is 100-percent supportive of her latest accomplishment.

Asked if Roddick is even a little jealous that the men of America will soon be ogling his wife, Decker says: "No. He's so proud. I think this gives him a one-up in the locker room for the next year or so."
[From People]
I wonder if that is difficult for a dude – knowing that a significant number of men are going to ogling (and masturbating to, let's be honest) your wife. Something tells me that if Andy really gave it some thought, he wouldn't be so understanding. But hey, maybe he gets off on that too. There are some guys who are like that.
Anyway, congratulations to Brooklyn!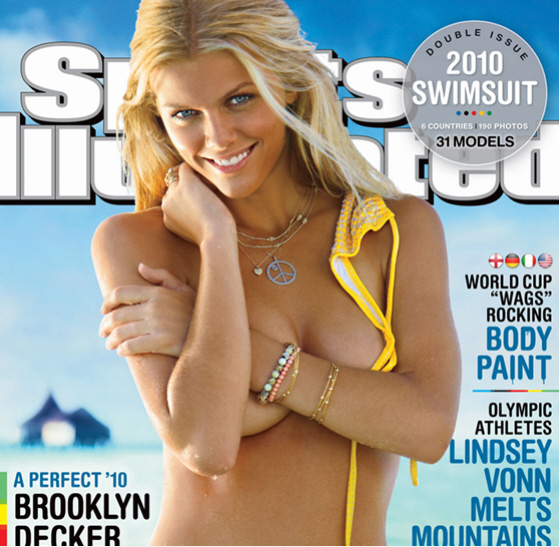 Sports Illustrated cover courtesy of Huffington Post.