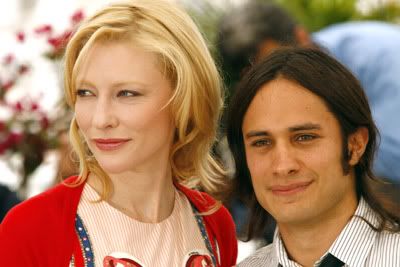 "Babel," directed by "21 Grams" director, Alejandro Gonzalez, stars Cate Blanchett, Brad Pitt, and Gael Garcia Bernal and is a multi-layered film about miscommunication in the modern world. It is in the running for the Palme d'Or, the grand prize at the Cannes Film Festival. It is said to be in competition with Sofia Coppola's film starring Kirsten Dunst, "Marie Antoinette," and Pedro Almodovar's "Volver," starring Penelope Cruz. Pitt could not make it to Cannes due to the impending birth of his first child, but sent his regards.
Brad Pitt and Cate Blanchett star in the powerful new film "Babel", an examination of linguistic, cultural and personal barriers that sweeps across three continents and tackles terrorism, immigration and suicide.
In competition at the Cannes film festival, the movie by Mexican "21 Grams" director Alejandro Gonzalez Inarritu is seen as one of the favourites for the coveted "Palme d'Or" prize, although there are eight films still to show.
Pitt and Blanchett portray a couple on holiday in Morocco when tragedy strikes, and their story is linked to that of two shepherd boys living in a remote village…
Blanchett praised co-star Pitt, who was not in Cannes due to the impending arrival of his child with Angelina Jolie.
An e-mail from him was read out to journalists before the briefing began.
"With the imminent arrival of the newest addition to our family, I am unable to join Alejandro, Cate, Gael and the rest of the cast and crew in introducing the film," he wrote, adding that he was "tremendously proud" of Babel.
Blanchett's words about working with Pitt were even warmer.
"In terms of working with Brad, it's like chocolate. He's glorious and wonderful and I really wanted to work with him for a long time."
"Babel" sounds like a rich, thoughtful film and with talent like Blanchett, Pitt and Bernal it's not surprising that it's a hit with the critics.
Here is Cate Blanchett with cutie Gael Garcia Bernal at the photocall for "Babel" in Cannes today. Her dress is a bit wild, but I really think it's lovely and suits her.