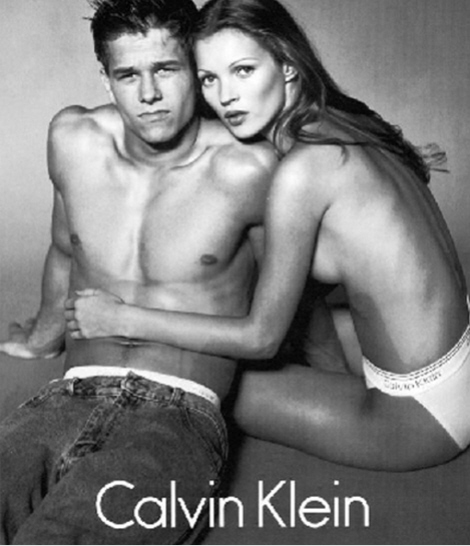 Oh, snap! You know how you never really hear anything bad about Kate Moss as a professional? Sure, you hear about her drug use, and her crackhead boyfriends (cough Doherty cough), but I'd always come away with the impression that Kate was a true professional when she was working. Not so much, apparently, at least according to Calvin Klein.
With her earnings a fifth of what they were two years ago — she had to get by on a paltry £1million last year — Kate Moss has just taken another blow to her amour-propre, courtesy of Calvin Klein.

Klein, recalling the time he cast Moss and Mark Wahlberg in a series of advertisements in the Eighties, says she was, while "a great model," a "difficult" person to work with. "It didn't go too well. She didn't like him at all. He was a pleasure. I have worked with so many women, great ones, and Kate was always difficult."
[From Telegraph]
Just looking up these old ads has gotten me hot. Damn, remember when Mark was the bomb? I mean, he's still pretty cool (hello, The Departed!), but back in the day, he was crazy, dangerous and unbelievably sexy. I still remember being very young and looking at these ads and feeling naughty. I thought for sure that Kate and Mark were probably doing it like rabbits. Turns out, Kate was a diva! And Mark was the good one. Who knew?
Old Calvin Klein ads courtesy of Google Images.