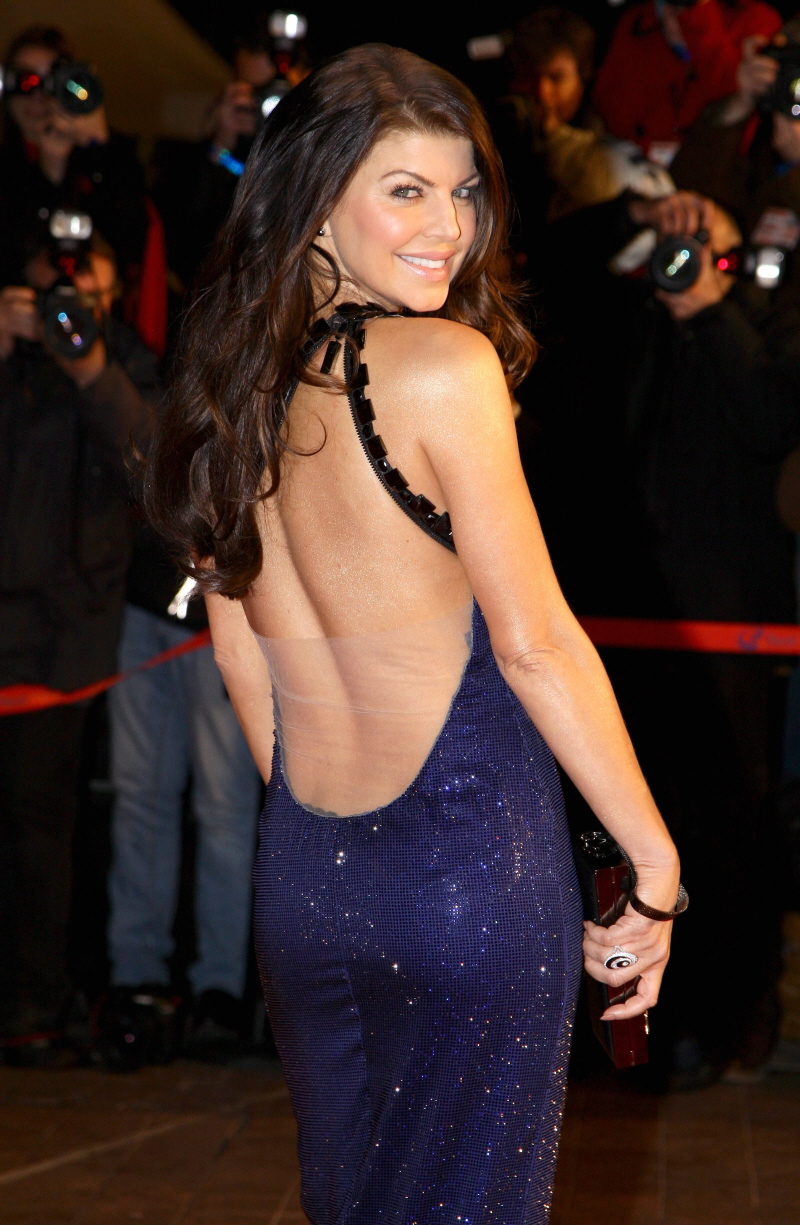 As I've mentioned before, I don't really care if someone gets a little plastic surgery here or there. Sometimes the gene pool comes up with some weird combinations, and I get that everyday people and celebrities might need or want the occasional nip or tuck. The thing that bothers me about celebrities (and real people) is when they lie about it, especially when they've come back from a three month "vacation" with an entirely new face.
But I digress. I've always thought about getting my nose done – my nose isn't hideous or anything, and I know it has "character" (and a bump that annoys me), but I've always wondered if I should just go in for, at the very least, a consult. If I had to choose a celebrity nose that I would just love to have, it would probably be Isabella Rossellini's or Catherine Zeta-Jones's (although it's rumored Catherine does not have her original nose – or her original birth date – either). You know who wouldn't be on my list for anything? Fergie. It's not that Fergie is unappealing – I've actually been finding her really cute lately – but I never look at her and think "I want what she has." Apparently, I'm alone though. Fergie has one of the most requested bodies, claims the latest annual list compiled by plastic surgeons. What the hell?
Jennifer Aniston may have a figure that most would consider close to perfect, but apparently it wasn't enough to help her keep her title as Hollywood's most desired body. While the "Bounty Hunter" star topped the list of the annual "Famed Hottest Looks," compiled by Beverly Hills plastic surgeons Richard W. Fleming, M.D. and Toby G. Mayer, M.D., it seems Aniston failed to crack the top three this year.

So whose body does the majority of surgery seekers want more?

Black Eyed Peas songstress Stacy "Fergie" Ferguson apparently has the most wanted figure, followed by Gisele Bundchen and Olivia Wilde.

"Fergie's body is proportional – that's really the key," Dr. Fleming told Tarts. " Women like Jennifer Aniston and Eva Longoria have topped the "best body" list in the past. They're not as curvy as Fergie is, but they're all proportional."

Meanwhile, Aniston's ex-husband Brad Pitt's and partner Angelina Jolie topped the list for the most-requested lips.

"The two of them are the whole package – they're considered to be gorgeous, very talented entertainers and they do a tremendous amount of good will, all of which makes them appealing," Fleming said. "But the only way you can get Jolie's lips is through the gene pool. If somebody comes in with small lips requesting perfect Angelina lips, we can't duplicate that; they would end up looking like Melanie Griffith."

Angie's full-bodied lips were followed by Jessica Alba and Katherine Heigl. Pitt, meanwhile, was followed by David Duchovny and Will Smith.

And when it comes to hot Hollywood hair "Glee" starlet Lea Michele, Taylor Swift and Alicia Keys topped the list.

But despite the ever-changing celebrity landscape and the constant shift in trends, Fleming said that in his thirty-plus years of making these seemingly unattainable standards a reality for his patients, nothing really changes.

"It amazes me that people's concepts of beauty hasn't changed that much over the years; what people are requesting in terms of beauty has been pretty consistent with us. Our patients want to look natural and proportional," Fleming added. "It surprises me that despite the exaggerated appearances like Joan Rivers and Michael Jackson, what people really desire is to look natural and not overdone. "
[From Fox News]
I could see wanting Gisele's body. But Olivia Wilde? Seriously? Genetically, I think God made her a beanpole, which is fine, but I really think Olivia has some kind of eating disorder. She did that mostly-naked photo shoot in GQ last year, and she looked very underweight. I guess I just don't get these women going into plastic surgeons' offices with photos of Fergie or Olivia when women could be holding up photos of Halle Berry or Blake Lively – because, seriously, those women have the perfect bodies, in my opinion.
Fergie at the NRJ Music Awards 2010 at Palais des Festivals on January 23, 2010 in Cannes, France, credit: AHN/Fame Pictures.