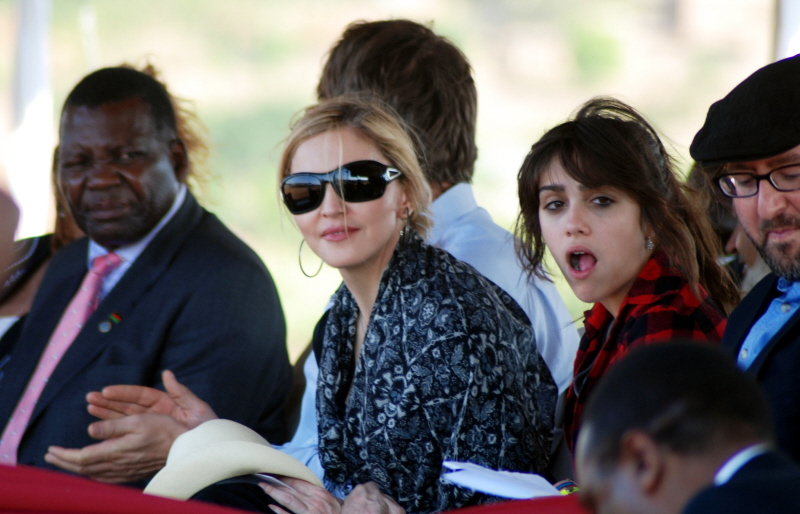 I was fully prepared to write about this story with a "Madonna is a neo-colonialist bitch" slant. But I just can't, because I think this story is being hyped to make Madge look terrible, when really she's actually trying to do the right thing. So, Madge announced a while ago that she planned to build and partially finance a $15 million girls' school in Malawi. Instead of buying a parcel of land, from what I understand, the Malawi government gave her a parcel of (government-owned) land to built the school. Unfortunately, 200 local Malawians live on the land, and now the government is trying to force them out, and they're putting up a fight. Madonna tried to do the right thing (I guess, if there is a "right thing" in this situation) and paid each villager roughly $115,000 to relocate.
Malawi's government has told a group of villagers they will have to move to make way for a $15 million girls' school being built by pop star Madonna.

Residents have refused to leave the site just outside Lilongwe, the capital.

Lilongwe District Commissioner Charles Kalemba told 200 villagers Thursday that the government land has been handed over to Madonna. The villagers have been offered other government land.

Anjimile Mtila-Oponyo, who will be principal of Madonna's school, says the singer paid the villagers more than 16 million kwacha (about $115,000) to compensate them for their houses.

Headman Binson Chinkhota urged residents to move, saying the school would benefit their children.
[From Huffington Post]
Now, this is a crappy situation, but I don't think Madge is the only one who should be bashed, if there is bashing to be done. It kills me how subservient the Malawi government is being to Madge, even to the extent of throwing 200 of their own people out of their homes. As for Madonna, her share of the blame is this: why did she need government-owned land? Why couldn't she buy a parcel of land that wasn't being used? Why does she need to build a school on land that's already being used? I don't get it.
Madonna in Malawi for the tree-planting ceremony for the school, on October 26, 2009. Credit: INFphoto. Also, a photo of the Malawi school as it's being constructed. Credit: WENN.