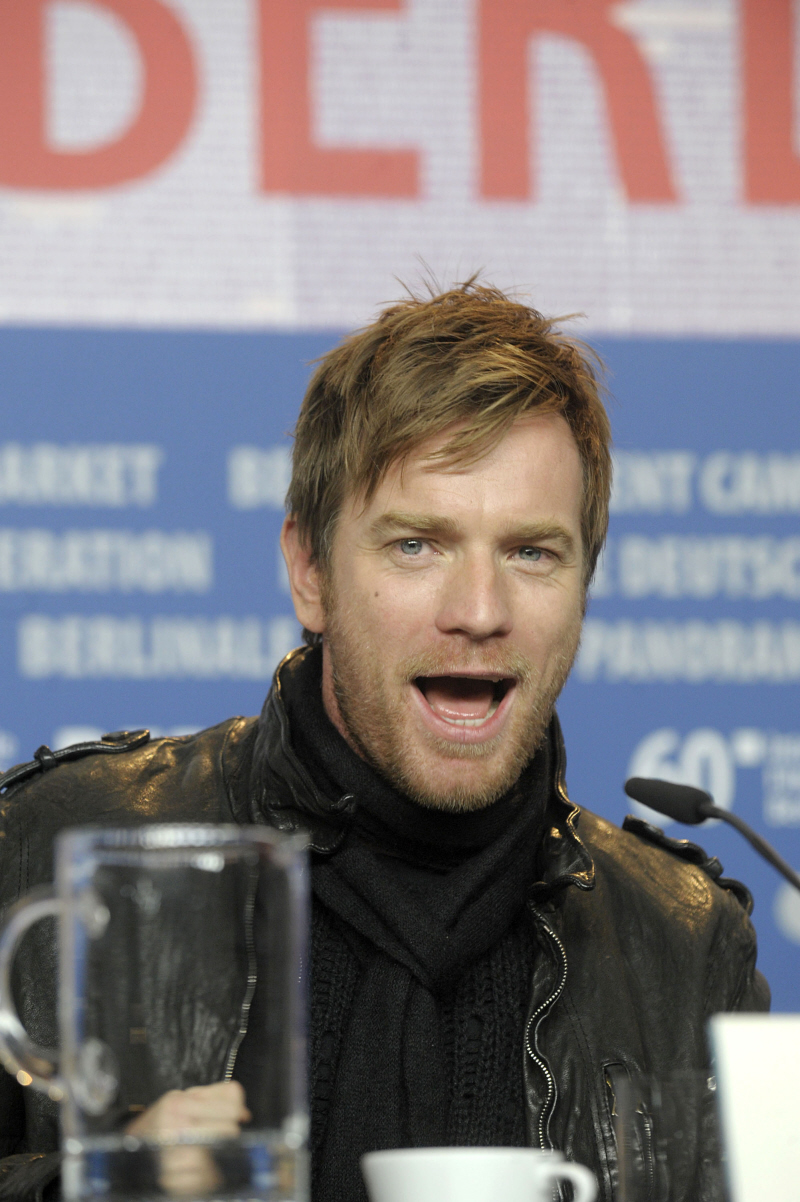 Oh, screw you, you sexy bastard. I won't fall in love with you again, even if I do love your crinkles and your crooked smile and your sexy beard. You're screwing around on your wife with Melanie Laurent. You defend Roman Polanski. I can't love you. You've already broken my heart.
Yes, so this Ewan McGregor (and Pierce Brosnan and Olivia Williams) at a press conference for the Berlin premiere of The Ghost Writer, a film directed by Roman Polanski before the Swiss caught up with him and placed him jail. It actually looks like a pretty decent thriller, very loosely based on Tony Blair's post-prime-minister life. Brosnan plays the former prime minister and Ewan plays the "ghost writer" who gets hired to write the prime minister's memoirs, which the prime minister hopes will be an effective white-wash of his war crimes while in office.
Unfortunately, most of the talk at the press conference was about Polanski. And even more unfortunately, Brosnan and McGregor had nothing but love for him:
Pierce Brosnan, star of Roman Polanski's "The Ghost Writer", said he regretted the director could not be at Friday's premiere at the Berlin Film Festival due to his house arrest, and called him a "great man."

Brosnan and fellow cast members Ewan McGregor and Olivia Williams said they had jumped at the chance to work with Polanski.

"He's an intense director, a man who's lived an intense life. He was exhilarating," the former James Bond star told reporters. "You wanted to be on top of your game for this great man. It was just a magic experience, one never to be forgotten."

Polanski, the Oscar-winning director of "Chinatown" and "The Pianist", completed the thriller at his Swiss chalet while awaiting possible extradition to the United States over a 1977 case of unlawful sex with a 13-year-old girl.

It features Brosnan as the former British premier who hires a ghost writer played by McGregor to help him pen his memoirs. But the hired hand quickly finds skeletons in the closet of his new boss, who is being probed for war crimes for involving his country in CIA renditions of terror suspects, and in the process stumbles upon a global conspiracy.

The picture is one of 20 films vying for the coveted Golden Bear top prize at the 60th anniversary Berlinale. The Hollywood Reporter called the movie "the hottest ticket in town." After the screening, critics praised a suspenseful, often witty script and deft acting but said the picture lagged a bit as the final plot twists unfolded.

They also found certain parallels to the embattled director's life, with a once-admired public figure who finds himself under fire, isolated and fighting to define his legacy.

McGregor said he had been intimidated at first by the notoriously short-tempered film-maker but had never learned more from a director.

"I think it's a great pity he's not here to launch the film with us because I feel that he's as responsible for my performance in this film as I am," he said. "I left having felt like I'd been really stretched and pushed and challenged as an actor."

Williams said there was a fashion in directing today to coddle actors.

"After a take, they'll say 'That's great, maybe you'd like to try it like this'," Williams said. "Roman was the first director I've known that, when you're actually acting, will stop the camera and say 'No, no, no!'" she said, mimicking the French-Polish director's accent. "It's quite alarming when it first happens."

Filmed in Germany, "The Ghost Writer" sees its prime minister in a kind of exile in the United States, fearing possible extradition to an international war crimes tribunal. Polanski himself had to flee the United States while at the height of his powers in Hollywood, unable to return without risking prison.

The movie, based on British writer Robert Harris's bestseller "The Ghost", had been considered as the festival opener until organisers got cold feet.

"It might have been understood as a statement about something that we didn't want to get mixed up in," festival director Dieter Kosslick said in the run-up to the Berlinale's start Thursday with the Chinese drama "Apart Together."

Polanski's long-time producer Robert Benmussa said the director's arrest in Zurich in September had created unexpected complications in finishing the film in time for its Berlinale premiere.

"Despite his incarceration, Roman continued to work on the film though courier packages that we sent to him in prison through his Swiss lawyer. Then, when he was in his chalet, he continued to work on the movie, putting the last touches (on) the final print," he said.
[From AFP Via Google News]
In Ewan and Pierce's defense, neither of them signed the Polanski petition, and neither of them offered a defense of Polanski the man, the criminal, the child rapist. They just seem to be defending him as an artist, which I can kind of understand, I guess. I can do that too – separate the artist from the scummy human being, but in Polanski's case, it's quite a tall order.
Ewan has previously discussed the Polaski situation, saying that he was "pretty upset" about Polanski's Swiss arrest, and "I don't like to think of him sitting in a prison cell. But I wouldn't comment upon it because it's a very complicated issue, you know? It seems odd. He's been living in Switzerland for years and I've visited him there, so this is all very strange." You know what else is strange, Ewan? A married man walking arm-in-arm with another woman. Just sayin'.
Ewan, Pierce and Olivia in Berlin for the 'Ghost Writer' press conference on February 12, 2010. Credit: WENN.