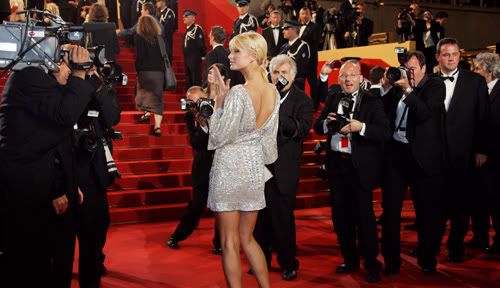 According to the NY Daily News, Paris Hilton played an angry voice message for friends from Lindsay Lohan, in which Lohan had some things to say about the "firecrotch" video featuring Paris and a drunken Brandon Davis.
The most hated bitch in the world, aka
Paris Hilton played pals in Cannes a voice message from an angry Lindsay Lohan — and called Lohan the C-word
, according to a spy spilling to NY daily News. Lindsay's anger stems from an incident last week when Z list, greasy Brandon Davis slammed her, calling her a fire crotch. During Davis's comments , Paris Hilton held her phone up so a friend could hear, as she smiled and laughed.
Now Paris'… publicist says [he] has never heard Paris used the C-word
Paris' rep argues, "I've never heard her use that word."
Lindsay admits she's "mad" at Paris and her sidekick Brandon Davis.
Maybe Lindsay will realize that the firecrotch video is the best thing to happen to her image since she was rumored to be considering charity work at an unspecified time in the future. She should just suck and up and relish her status as a victim this week.
Paris has been partying in Cannes, and picked up $200,000 just for showing up at a charity event. She couldn't have even bought her way into a Vanity Fair party, though.
Socialite Paris Hilton's feud with Vanity Fair is continuing across the Atlantic – she was banned from the magazine's party at the Cannes Film Festival in France.
The glossy publication hosted a star-studded bash at Cannes' prestigious Hotel du Cap on Saturday night and despite Hilton's presence on the French Riviera, she was kept out of the event, PageSix.com reports.
In March Hilton was banned from the magazine's annual post-Oscar bash at Morton's Restaurant after she was blacklisted by the magazine's editor Graydon Carter. Carter said, "Paris who? She will never attend one of the parties I host."
That's awesome that bird face can't get into any more Vanity Fair parties. If only she would get banned from an entire country like Snoop Dogg.
Here she is in Cannes at the X-men 3 premiere and out shopping with Caroline D'Amore. Did you notice that we didn't post any pictures of her for two days? This took a lot of restraint.