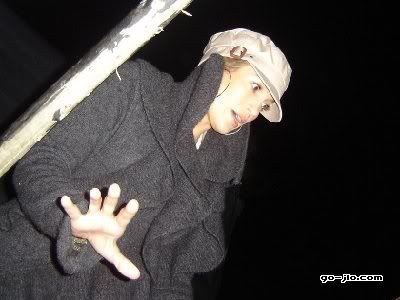 Jennifer Lopez, who may be pregnant finally depending on how much evidence you need, is going to get her own reality show on MTV in which she auditions dancers for an excuse to make a show about their hard knock life:
Jennifer Lopez is set to star in a new MTV reality series called 'Moves'.
The 'Jenny From The Block' singer – who originally found fame on US comedy series, 'In Living Colour' – will select and audition dancers to star in a show which follows their constant struggle to get their big break.
She said: "I started out as a dancer, and I know what that world is. These dancers have dedicated their lives to this. It's something they do only out of love.
"It's a tough life, and I want to show that struggle."
I don't know about Lopez's "dancing out of love" comment. Dancers must enjoy it or they wouldn't make it their career, but J.Lo's dancing career was easily abandoned for singing and acting, and it seems like she does it out of pure ambition.
Lopez has somehow avoided a lawsuit for pulling out of her strange handful of tour dates in the Middle East and Eastern Europe. She promised to reimburse concert promoters for costs incurred in preparing for the shows she pulled out of, and they have agreed not to sue her.
She is also quoted as saying that thinking about her ex, Ben Affleck, and his new family makes her depressed.
The Latino star admitted the thought of Ben and Jennifer Garner and their new baby makes her sick reports Female First UK.
Jennifer told Britain's Star magazine: "Just raising the subject depresses me."
The Latin beauty – who has made no secret of her desire to have children with husband Marc Anthony – is reportedly pregnant. Lopez is due to give birth around Christmas, a source told America's In Touch magazine.
So far the only source for J.Lo's supposed pregnancy seems to be In Touch magazine. We'll believe it when and if she looks further along.
Header image is of Lopez on May 19th at her husband Marc Anthony's concert in Columbia. Picture from Go-JLo.com.