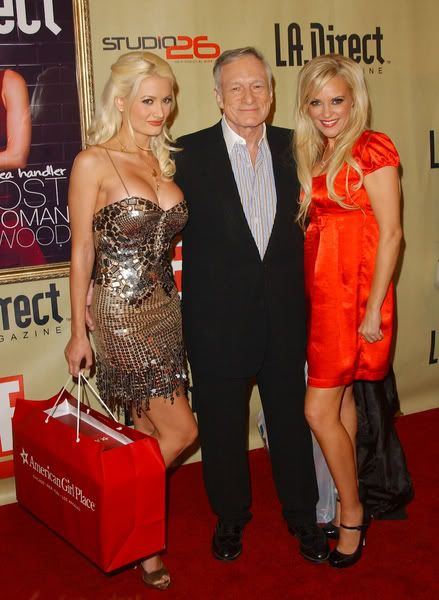 Few things are as nauseatingly disgusting to me as the thought of Hugh Hefner having sex. It's not because he's old – though that doesn't help – but skeezy old men who classify their girlfriends (plural) by their hair color and rotate them as such really freak me out. Holly Madison – one of Hef's current blond trio – has made no secret of the fact that she wants to have Hef's baby. And I've gotta say that, although the idea of ever doing anything to a naked Hugh Hefner terrifies me to my very core – if she's doing it anyway, birthing a little cash cow probably wouldn't be the worst decision Holly Madison has ever made.
"There has been lots of trying — lots of trying!" [Madison] told Usmagazine.com at Playboy's Ninth Annual Super Saturday Night bash in Arizona.

Hefner was tight-lipped when asked if they have plans to tie the knot. "There will certainly be a lot of romantic years ahead, but a wedding we will see," he told Us.

Next up for the two: Valentine's Day. "We are just going out to dinner," she said. "I am trying to think of something creative, but at this point I am just going to save all of my ideas for Christmas cause Valentine's Day came up fast."

What does she hope Hefner will get her? "I don't know," she said. "I want like a house and a kid."
[From Us Weekly]
A house is a pretty nice present – especially for Valentine's Day. I'm pretty sure that if I asked any of the men I've dated for a house, they would have given me a lovely crayon drawing of said house. And considering all the conditions that I'm guessing would be attached to Holly Madison's real estate, I'd prefer the crayon drawing. I guess a kid is a nice Valentine's Day present if that's what you're really looking for. It's probably not as awesome if it's a surprise.
Picture Note by JayBird: Header image of Holly Madison (left), Hugh Hefner, and one of Hef's other girlfriends, Bridget Marquardt at the E! Entertainment and L.A. Direct Magazine's "Remember to Give Holiday Party" on December 13th. Note that Holly is holding an American Girl Place bag. That is some incredibly weird Playboy swag. Images thanks to PR Photos.