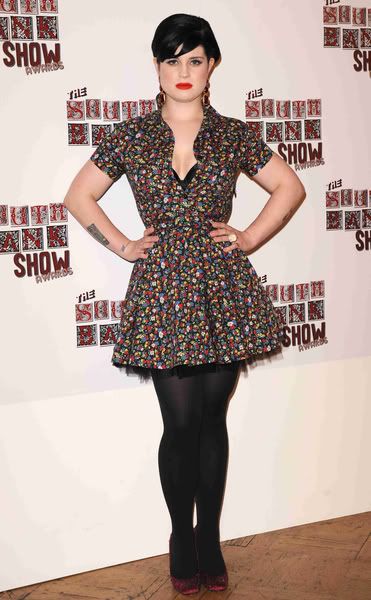 Kelly Osbourne is running her mouth off again. This time she's going after anyone who uses the internet for dating, saying that online dating sites are filled with sexual predators. Oh, and the internet in general is "perverted." While I can't really argue with the second statement, I highly doubt that internet dating sites are filled with nothing but sexual predators. I'm sure there's some out there – and though I looked, I couldn't find any statistics on if there are less or more sexual predators online than in the general population. But implying that that's all you'll find out there is a rather bold statement.
Kelly Osbourne has insisted that she would never try online dating because the internet is populated by "sexual predators".

The reality TV star claimed that it wouldn't matter how keen she was to find herself a partner, because she thinks the internet has become "perverted".

She is quoted as saying: "I'd never go on one of those online dating sites. It's weird. It's full of sexual predators.

"The internet was created for knowledge and now it's perverted."

Talking about her failed romances in the past, she added: "I've fallen head over heels twice in the 'love is blind' way and got hurt.

"Now I'm so guarded that when it comes to that point I jump ship. I'm frightened I'll get hurt again."
[From Digital Spy]
I'm not sure that Kelly Osbourne should be so picky. I'm not saying it's because of how she looks – though she does have an unusually round face – but more because of her personality. She's always spouting off with a bunch of poorly thought out theories. Or worse, claiming downright falsehoods, like when she said she was going to pose for Playboy. After Hugh Hefner publicly shot that down, Kelly amended her statement, saying she said she wanted to pose for Playboy. That's a little different. She's also said her own good friends (dear Paris Hilton included) are competing in a "contest of self-loathing." Though I can't really argue with that point – it's still not smart to say it publicly about your supposed friends. It's good that she can be honest and real and figure out why she's got issues with love and trust. But internet dating is pretty popular these days, and there really isn't much stigma attached to it anymore. Calling out such a large percentage of the population is a little ill-conceived. Not that that ever stopped an Osbourne.
Picture Note by JayBird: Here's Kelly Osbourne at the South Bank Show Awards in London on January 29th. Images thanks to PR Photos.