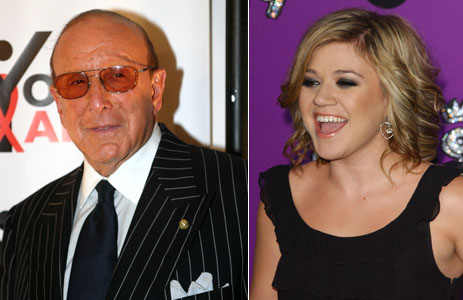 It appears that the year-long battle of creative differences between legendary producer Clive Davis and American Idol winner Kelly Clarkson is diffusing. Clarkson, who has been quite vocal over her disagreement with Davis regarding her album, "My December," has been added to the bill of select performers for Davis' prestigious pre-Grammy bash.
Kelly Clarkson had a bad year last year, you may recall. Her album, called "My December," was a dud. But before it was released, she wound up in an unfortunate war of words with legendary J Records label chief Clive Davis, who's also the head of BMG North America.

But time heals all wounds. The magnanimous Davis has held out a very key olive branch to Clarkson by including her photo among just a few select acts in the glittery invite to his annual pre-Grammy dinner gala.

The swanky black and gold square-shaped invitation has four pages of past dinner performers. The book opens with Alicia Keys, and continues with such Davis stalwarts as Whitney Houston, Rod Stewart, Annie Lennox, Barry Manilow, Fantasia and Jennifer Hudson.

But it's the fourth page that's most interesting. Diana Ross in the upper left hand corner. Rob Thomas and Carlos Santana are next to her. Below that pair is Clarkson, by herself. And to Clarkson's left is the duo of Usher and Kanye West.
[From Fox News]
Sharing the same bill with Barry Manilow, Whitney Houston and Diana Ross is a sign of being accepted back into the fold? No wonder the music industry is in trouble.
Davis reportedly held the release of Clarkson's album because he felt that that the material, which she wrote herself following a bad breakup and some bad experiences during her "Breakaway" tour, was too dark and not pop enough. Clarkson shot back with the infamous reply, "You don't have to like my album. You're 80– you're not supposed to like my album." Some felt that Clarkson was shunned by Davis during his appearance on the finale show of American Idol season 6, when he proceeded to promote other Idol contestant's current singles or albums, but failed to mention Clarkson's album, or its first single, "Never Again."
While "My December" didn't live up to the expectations set by her previous album, it wasn't exactly a flop, either. The album received mixed reviews and debuted at #2 in the U.S., with sales of approximately 291,000 copies – a mere 6,000 copies less than Clarkson's debut hit "Thankful" sold in its first week. It came behind "Hannah Montana 2: Meet Miley Cyrus," which sold about 326,000 copies that week.
Hopefully, Davis and Clarkson can renew their relationship and get back to making music. Kelly deserves kudos for standing her ground — even at the risk of selling fewer albums and canceling a few tour dates. Clive's label has supported Alicia Keys in her quest to take more creative control, so why should Kelly be penalized for trying to do the same thing?