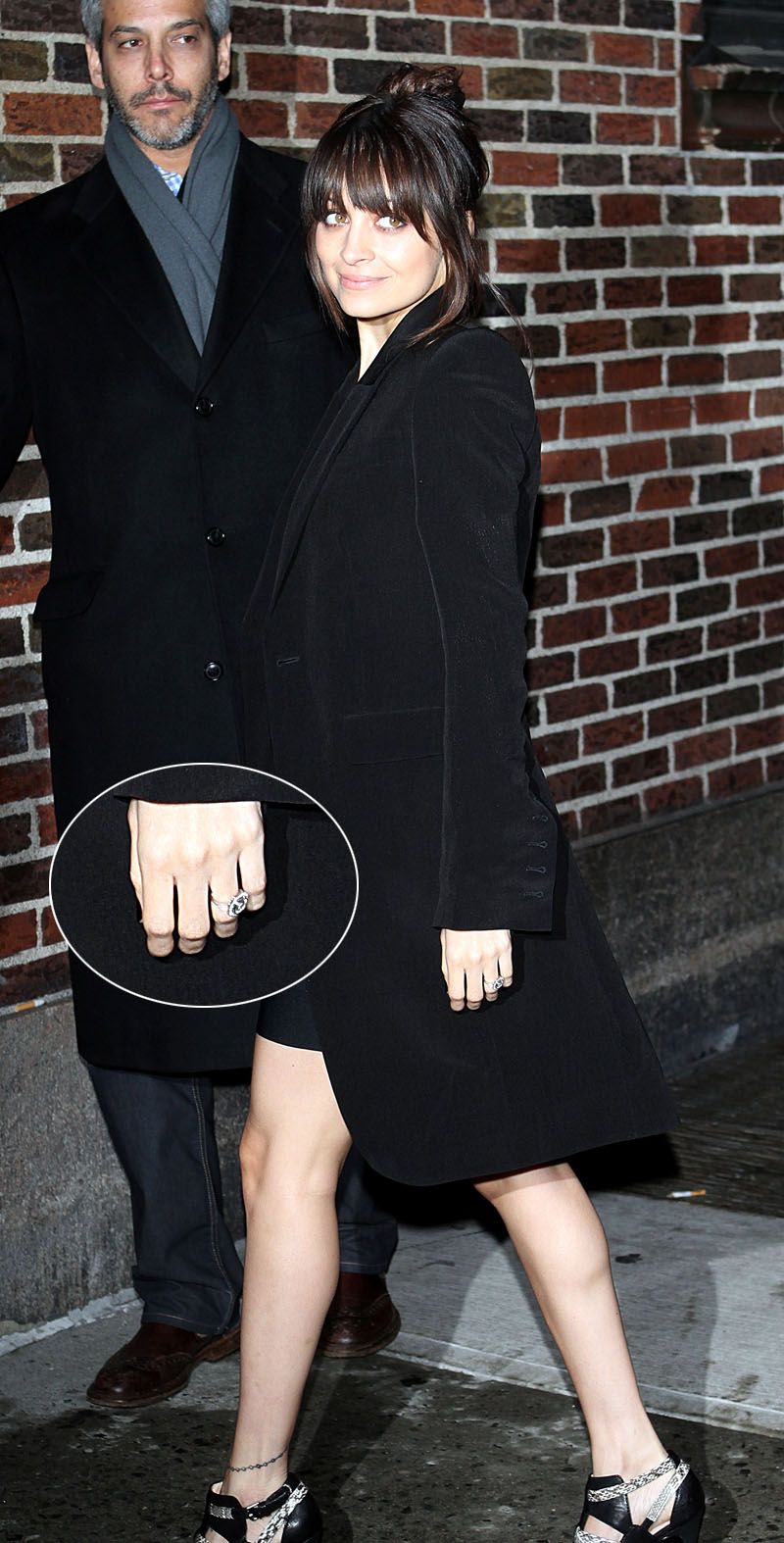 Nicole Richie chose to announce her engagement to her partner of three years, Joel Madden, by showing up for a taping of The Late Show with a giant diamond ring on her finger. Her interview will air on Friday. Joel confirmed the news on his Twitter account, but it looks like he's since deleted that tweet because it only appears on caches of his feed and not on his actual page. Maybe Nicole told him that she wanted to save the news until her Late Show episode aired. Joel later tweeted "I'm screwed. Oh boy," which taken with the deleted tweet probably means that he's in trouble for confirming the engagement before Nicole was ready.
They've been together for more than three years and have two children. Now, Nicole Richie and Joel Madden are planning to make it official.

"Yep. i'm engaged. Very happy. Yeah we've been engaged for a while so your all kind of late on that. But Thanks for the hooplah all the same," Madden Tweeted Monday night, after news of their plans to wed went wide. He also expressed thanks to relatives who did not let word of the engagement slip.

He Tweeted: "P.s. thats why i love my family and friends. None of them are sources. All good tight lipped people who let us enjoy it! Thanks everybody"

Richie said Monday night during a taping of the Late Show with David Letterman that the couple are engaged to be married, a source told PEOPLE.

After the show, Richie headed to the New York restaurant Abe & Arthurs – without her fiancé – for dinner. "She was glowing," says a source. "She was telling her table how happy she was."

Richie, 28, and Madden, 30, began dating in December 2006 and have daughter Harlow, 2, and son Sparrow, 5 months.
[from People]
Whatever works for them. I don't think that people should necessarily get married just because they want to be partners and raise children together. It's a legal issue and is not for everyone. It sounds like this is something that Joel and Nicole have thought through and that they're ready to make it official. US Weekly quotes a source that says they're already planning the wedding. "Nicole and Joel are in the process of planning the wedding. She's very involved in every detail. She's thrilled."
We haven't heard much about Nicole and Joel because they lead such a family-oriented, low-key lifestyle. There is an article in this week's National Enquirer about Nicole, and it's all about how she's influencing Jessica Alba to feed her daughter whole, organic foods and limit access to television. Given the things we used to read about her, it's a welcome change. Congratulations to Joel and Nicole!
Photo credit: WENN.com