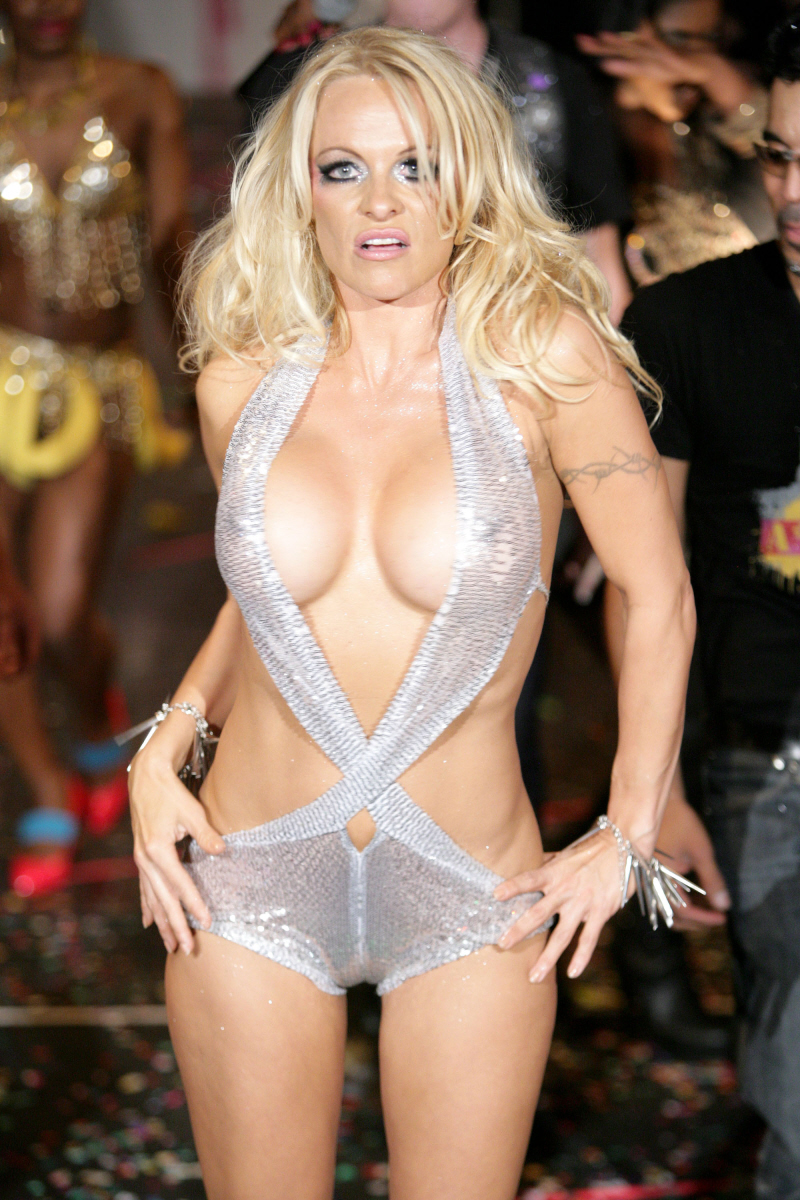 Remember yesterday how we saw those photos of Pamela Anderson "modeling" at the Richie Rich "A*Muse" show? And remember how budget, gross, sweaty and wrong she looked? Yeah. These photos should refresh your memory. Anyway, after the show she talked to Page Six and admitted that this (above and below) is not the sweaty, gross face of a woman who is happy with the way she looks. Shocking!
Pamela Anderson donned a barely- there swimsuit on a catwalk to promote her new fashion line this week — but she doesn't really think much of her body.

The busty former "Baywatch" babe — who joined designer Richie Rich to launch new line A*Muse — told Page Six that despite years of baring her famous flesh, she still doesn't think she looks that good. Right after taking to the catwalk in a revealing metallic bathing suit for their show Wednesday night at Amnesia, she said, "I never feel confident. I really don't love my body."

But Anderson, who's single again after splitting with electrician boyfriend Jamie Padgett, says she'll star in the next season of ABC's "Dancing With the Stars" starting March 22.
[From Page Six]
Now, while I will say that Pam looked like a wreck in general, I really don't think her body is in any way bad for a woman her age. I mean, the not-plastic parts of her body look pretty good. Sure, she's got some cellulite. It's not the end of the world. But she should still take batter care of herself, because her face… her skin… ugh. Just… no.
But that's not all. Gatecrasher has a story about how Pam showed up late for the event, and has some interesting behind-the-scenes gossip:
Fashion Week headed toward its end with some extra excitement on Wednesday night as chaos ensued at Richie Rich's A*Muse show. The cause of the uproar? Pamela Anderson, aka Rich's inspiration, was almost three hours late to the event.

"She showed up at 9:55 when the show was supposed to start at 9, and press people were there as early as 7 to interview her," a spy at Chelsea hot spot Amnesia dished. "People were yelling at door handlers and getting incredibly antsy, especially because the standing room was so packed.

"Some guests started storming out at 9:30, when the start of the show was nowhere in sight," the source added, noting that the madness outside on W. 29th St. was nearly as bad, if not worse.

"They had shut the doors at 8:40, since it was so crowded, so there were guests on the street who couldn't get in. They were outraged."

Those out-of-luck stylistas certainly won't be happy to hear this: Although Pam did have a reason for her tardiness — her flight was delayed — the buxom blond also insisted on stopping at her hotel to prepare for the show instead of racing to the venue.

"I got dressed — well, semi-dressed — before I got here," she admitted.

The designer himself, who refused to start the presentation without Pam, would say only, "It was a crunch."

The drama didn't stop — there was postshow chaos as well.

"Pamela was brought upstairs to be interviewed with Richie," our insider explained. "The photographers were getting so crazy over scoring a shot of her that one was physically removed by security. He just got a little too close to Pam for comfort. It was a madhouse."

Was it all worth it?

Not according to some — especially since Pam didn't even technically "walk" in the show, instead only briefly appearing with Rich as a finale of sorts.

"It was a lot of waiting to see her onstage for just a minute," complained the insider, before saying with a laugh: "At least she wore nothing but a sparkly leotard. That soothed some of the audience's irritation."
[From Gatecrasher]
It amazes me that people still get this worked up over Pamela Anderson. It kind of makes me wonder why she's broke. I mean, if she still has these kinds of fans and people still want to see her, surely she could figure out some way of making money (and hanging on to it)?
Pamela on February 17, 2010. Credit: WENN.