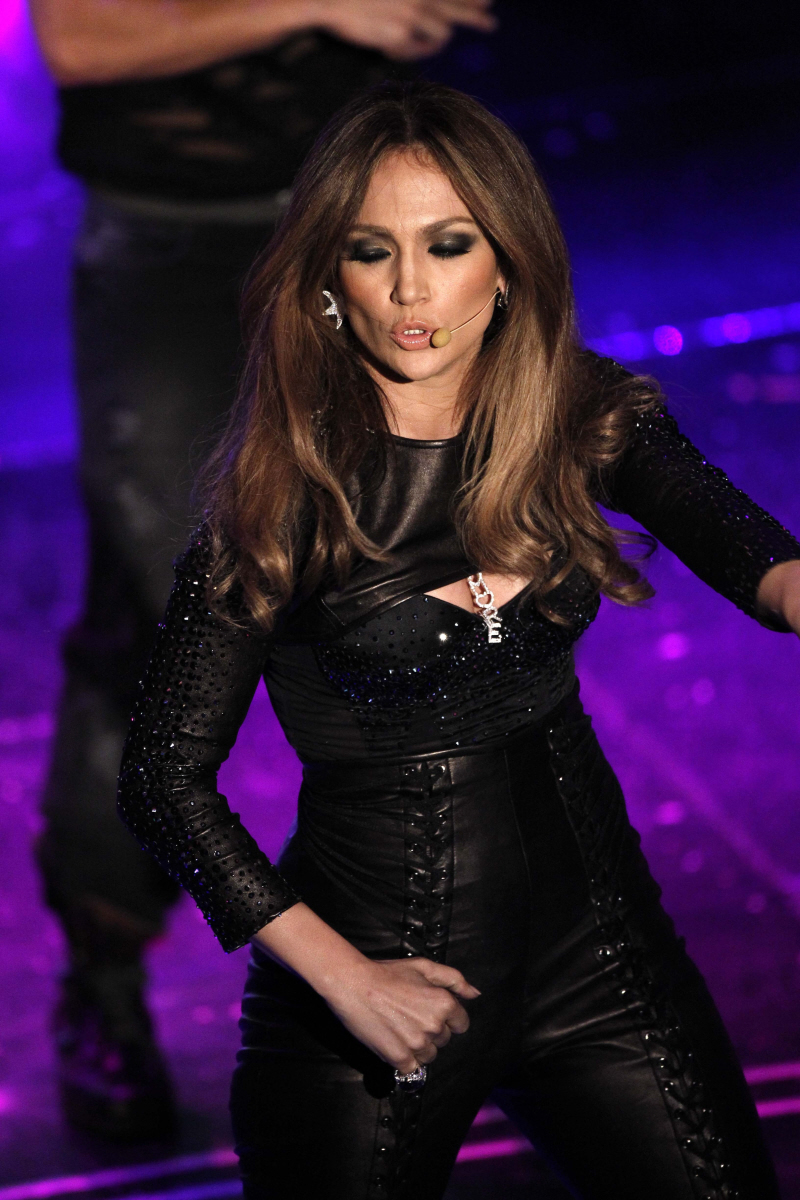 Uh, I think I'm getting a yeast infection just from looking at these photos of Jennifer Lopez performing at the 2010 San Remo Italian Music Festival on Friday. Yes, she's wearing a leather catsuit (that she looks like she's about to bust out of). True, this leather catsuit isn't as bad as the nearly-nude, saggy-butt one she wore on New Year's Eve. But it still kind of sucks. At some point, I do have to ask La Lopez: why the catsuits? Can't you find a cute outfit that isn't a onesie (that won't give you a yeast infection)?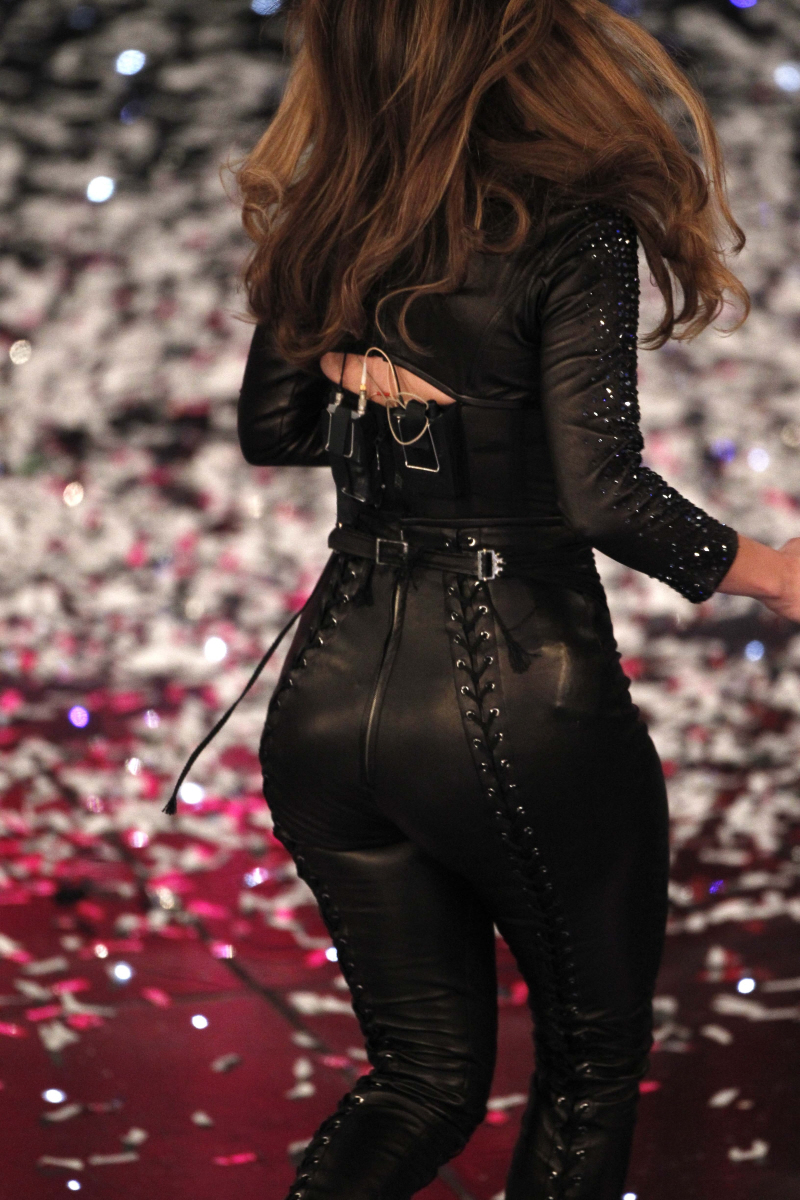 If you thought the outfit was the worst part, you're mistaken. There's video of Jennifer performing a medley of her songs, and it's… rough. I suppose I could give Jennifer credit for attempting to sing live. But she should know by now that she's not the best live singer, and that hearing her sing live isn't why people come. Here's the video below, and a summary by the NYDN:
J.Lo's cat-suit look apparently has nine lives, or at least two.

After stalking into the new year in a sparkly body-hugging cat-suit, Jennifer Lopez's booty set tongues wagging again Friday night – this time in a skin tight black leather suit accessorized with studs and laces.

The curvy 41-year-old singer, who was performing on the fourth night of the 2010 San Remo Italian Music Festival, seems to have maintained her stamina and her curves since the New Year.

Lopez sang a medley of her major hits: "Jenny from the Block," "Waiting for Tonight," "Love Don't Cost a Thing," "Get Right" and "Lets Get Loud."

No doubt constricted by the tight leather, she didn't perform highly complicated moves, settling for a lot of hip swiveling and stomping. But that was probably enough for the male population.

The highlight of the performance had Lopez and her back-up dancers twirling canes for a Charlie Chaplin-esque number.

The mother of two took to the stage twice for the festival's 60th anniversary. During her second act she wore gold tasseled military regalia and sang "What Is Love?" – a single from her new album, "Love?"

At the end of the show, Lopez smiled under a sea of confetti and shouted breathlessly, "You didn't know I could do that did you?"
[From The New York Daily News]
"You didn't know I could do that did you?" Uh… yes, we did know that you couldn't sing live and dance in time all while wearing a yeasty leather catsuit. But, seriously, I love that Jennifer tried. I give her credit for trying. She's funny when she tries. I think I've mentioned this before, but I'll say it again: I am not a Jennifer Lopez hater. I kind of like her and all of her diva antics. I get enjoyment from how she's so full of herself and how she thinks we've all been sitting around, praying for her musical/dancing/acting/fashion comeback. And in some ways, we have been sitting around waiting for it. Because Jennifer is usually newsworthy. Even if it's the bad kind of newsworthy.
Jennifer Lopez performing in Italy on February 19, 2010. Credit: WENN & Getty.