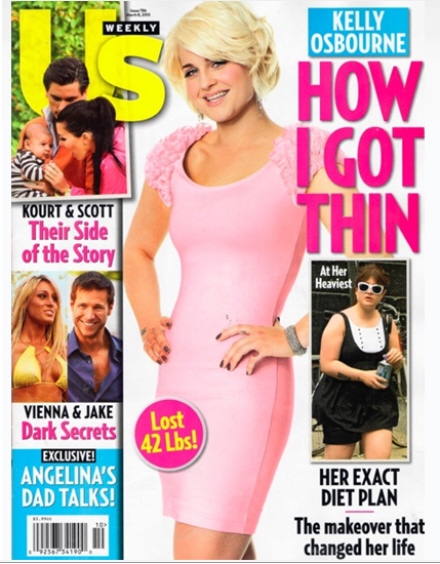 Us Weekly's cover story this week is surprisingly positive. They did a pretty decent interview with Kelly Osbourne and got her talking about her recent weight loss and her new (rather fabulous) look. While I haven't always been Kelly's biggest fan, I have to admit she comes across really well and very "real" in this piece. She talks about the struggles she always had with her weight, comparing her struggles with her weight to her drug usage, and how much work it took (and still takes) for her to maintain her current figure. It's kind of an advertisement for The Bar Method of exercise, but whatever:
Kelly Osbourne checked into rehab for drug and alcohol addiction three times. But the singer, 25, tells the new Us Weekly (on newsstands now): "I took more hell for being fat than I did for being an absolute raging drug addict. I will never understand that."

"Now I've actually read in some magazines that I'm too skinny. You can never ever ever win."

The 5-foot-2 Osbourne, who once weighed "almost 160" pounds, recalls walking down the street one day and "some horrible obnoxious teenager screamed out a car window to me, 'You're fat!'" she tells Us Weekly. "I went to my parents [Sharon and Ozzy] bawling, 'I would rather be called ugly than be called fat!'"

She tells Us Weekly she "hated" herself because of her weight and "never wanted to do anything to fix it … For a very long time, Mrs. Field's salted cookies were my favorite thing in the world … It's hard to get out of a hole you've dug so deeply."

Today, after years of yo-yo dieting, Osbourne has lost 42 pounds the healthy way — through regular exercise and a portion-controlled diet.

"Before Dancing With the Stars, I thought, I'm always going to be heavy. I'd better get used to it… After [the show], I started the Bar Method. I do it three times a week, not every day — I don't have that kind of dedication. Working out sucks, it's miserable. You sweat and you stink, but then you're done — and you see that just taking an hour three times a week can change you so much. It becomes addictive."

"I'm really proud to look in the mirror and not hate every single thing I see," she tells Us Weekly. "I no longer think, Why don't I look like this girl or that girl?"

For more — including her impressive new weight; her exact diet and workout plan; how extreme diets left her "sick and shaking"; her healthy tip on shedding five pounds in one week and how she doesn't crave "french fries anymore" — pick up the new Us Weekly today!
[From Us Weekly & Jezebel's tabloid round-up]
How can you all of a sudden no longer crave French fries? I don't get that. As I was standing in McDonalds yesterday, I was reminded of how much I dislike grown women who order Happy Meals for themselves… and then don't even finish it. I have never understood those women, and I don't understand how you can just "lose" a craving. Yes, you can maintain cravings, you can deny yourself the mini-Snickers bar (It's mini! You can have it! NOOO!), but do people really "lose" the craving? Anyway, congratulations to Kelly, she's looking really great, and I applaud her for being so honest about how hard she works for it.
Us Weekly cover courtesy of CoverAwards.