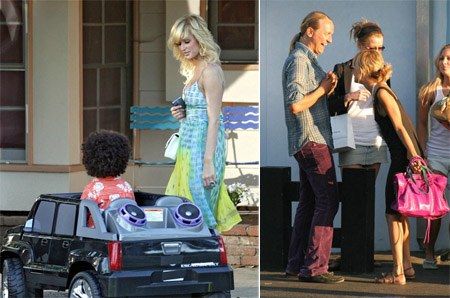 The new "Simple Life" on the E! Entertainment Network, prophetically titled "Til Death Do Us Part," is so terrible that the NY Daily News gives it zero stars. News TV editor Richard Huff says that the Fox version was funny at least. Richie and Hilton never appear together in the new series due to their ongoing feud, but it's the terrible concept and bad execution in the latest installment of the faux reality show that make it cringe-worthy. Based on the preview of the first episode he screened, Huff calls it unwatchable.
The series, launching June 4 at 10 p.m. on E!, is
a dreadful mess so devoid of any of the fun stuff that made the pairing of two rich girls engaging, when it aired on Fox in 2003, that it's not worth watching – ever
…
Because the two women aren't talking in real life, the producers concocted a concept that has them separately filling in for a married pregnant woman with a young daughter.
"I'm the nice one; she's the evil one," Hilton tells the wife at one point of Richie.
The wife gives each of them a list of chores, ranging from taking care of the daughter to filling the dishwasher.
Richie, in full floozy form, asks if she should take care of hubby, too. "If you want me to sleep with him, let me know," Richie says. "How am I supposed to be pregnant if I don't sleep with your husband?"
The wife gasps. Viewers will, too, wondering why they stayed so long…
Nevertheless, the show goes downhill from there.
At one point, Nicole takes the husband to a strip club, and, oh, surprise, she gets the wife on the phone while he's surrounded by flesh. She also straddles him during Lamaze class to demonstrate sex while pregnant.
And after ordering pizza for her Lamaze class, Hilton acts like she's going to puke while watching a movie of a woman giving birth.
"This is a natural process," the instructor tells Hilton, barely holding back a laugh.
The fact is, the instructor might be the only person to laugh at this show. Most people might feel like Hilton watching the birthing movie.
I didn't like the original "Simple Life" and felt uncomfortable watching the girls pull such immature pranks. If this reviewer thought the Fox version was good, the new season must be terrible.
Richie got producers threatened two months ago by asking an 11 year-old boy on the street if he thought she was a MILF during filming. When the boy confessed he didn't know what it meant she explained the acronym in foul detail. The boy's parents complained about the incident and refused to sign a release allowing the clip to be used. That's not funny, and it seems safe to say that nothing else about "Til Death Do Us Part" is funny, either.
Here are some older images from this year's filming of "The Simple Life."