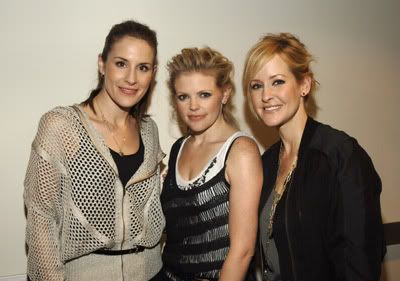 The Dixie Chicks have refused to appear on the dumb women's roundtable talk show, "The View," saying they have to be selective about the shows they choose. They mentioned "The View" specifically in an interview with Time Magazine, saying that they use Bruce Springsteen as their model for publicity choices, and that he would never appear on the show:
"Natalie [Maine's] new motto is, 'What would Bruce Springsteen do?'" says [Emily] Robison, laughing. "Not that we're of that caliber, but 'Would Bruce Springsteen do The View?'" They're not doing The View.
This pissed off "View" cohost Joy Behar so much that she ripped up the article on the air:
After reading the article, angry The View co-host JOY BEHAR ripped up the offending interview live on air yesterday (23MAY06), declaring, "They're.. not doing… The View.
"It's one thing to diss the (GEORGE W) BUSH administration, it's treason to diss The View."
What a idiot Joy Behar is. She may be the token liberal on the show before Rosie joins, but she's not acting like it. The Dixie Chicks are ahead of their time. They criticized George Bush back when it was taboo, but now everyone hates the murdering son of a bitch. We think their refusal to do "The View" is a harbinger of the shows demise, and that most of the cohosts will go on to fabulous careers as spokespeople on infomercials.
The Dixie Chicks aren't too good for XM Satellite Radio. They are shown performing on May 23rd on "Artist Confidential" in the pictures below. They are also seen at Time Magazine's 100 Most Influential People event on May 8th.