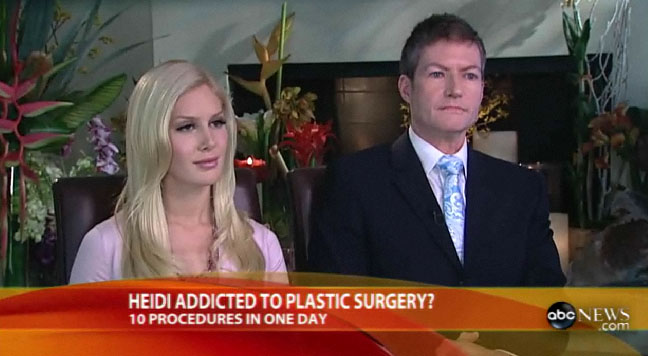 This week's Star Magazine has an article about how Heidi Montag is fixated on her plastic surgeon, an attractive 49 year-old guy who lacks the scruples to realize that it's not entirely ethical to perform 10 elective procedures at one time on a perfectly attractive 23 year-old woman. Is this like how people fall in love with their psychologists? In Heidi's case, she could be transferring her love of her new body to the man who made it possible. Or something. Maybe she's just a fool. Surely the guy is more deserving than her husband, though: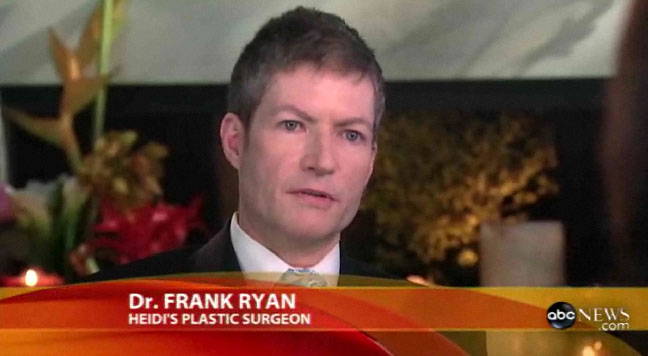 "Heidi has known Dr. Ryan for years, but lately she's totally crushing on him and comes up with any excuse she can to stop by his office," dishes an insider. "She makes appointments for the most ridiculous things and stays as long as possible…"

While [Heidi's] surgeries require lots of attentive medical follow-up, Spencer, 26, got a shocking wake-up call when he realized that his 23-year-old wife of less than a year is mesmerized by her handsome surgeon!…

"Heidi has found a lot to be attracted to in Dr. Ryan," says the insider, noting the 49-year-old is a multi-millionaire with a highly respected practice…

"Let's put it this way," says another source. "Spencer is fast food. Dr. Ryan is the Ritz. Spencer has to scrounge around for money, and as for his reputation? Well, you know. Dr. Ryan is already filthy rich and is considered a genuinely caring person." The surgeon is beloved for his charity work, especially the non-profit he founded, Malibu's Bony Pony Ranch Foundation, which helps need, inner-city kids.
[From Star Magazine, print edition, March 8, 2010]
Isn't that a rather questionable name for a children's charity: Malibu's Bony Pony Ranch? I know I should be ashamed for thinking that, but couldn't he have come up with a better name? Star goes on to claim that Heidi and Dr. Ryan had dinner at that Bony Pony Ranch in June. The source spills "Heidi wanted the time alone with Dr. Ryan, and ever since she's babbling about how great he is. She sounds like a crushing teen." They say that Heidi "doesn't have a prayer" with Dr. Ryan, though.
Maybe Heidi realizes that if she gets Dr. Ryan to fall in love with the fem-bot he created, she'll get free upgrades for the rest of her shelf life. It's better than hustling for cash by exaggerating her personal drama. That said, is this whole article a plant by Heidi and Spencer's camp? I barely trust anything I read about these two. The last I heard from Spencer he was blowing all his cash on crystals, and not the kind that people cook up with cold medicine. He claimed that he loved energy crystals and had spent 1/2 a million on them. "It's supposed to bring love. There's a whole science to this [the crystals] — I'm not crazy." Keep saying that, Spencer. Your wife looks like a Real Doll before they put the finishing touches on her and you could lose her to a Beverly Hills Plastic Surgeon. Some colored rocks aren't going to help you.