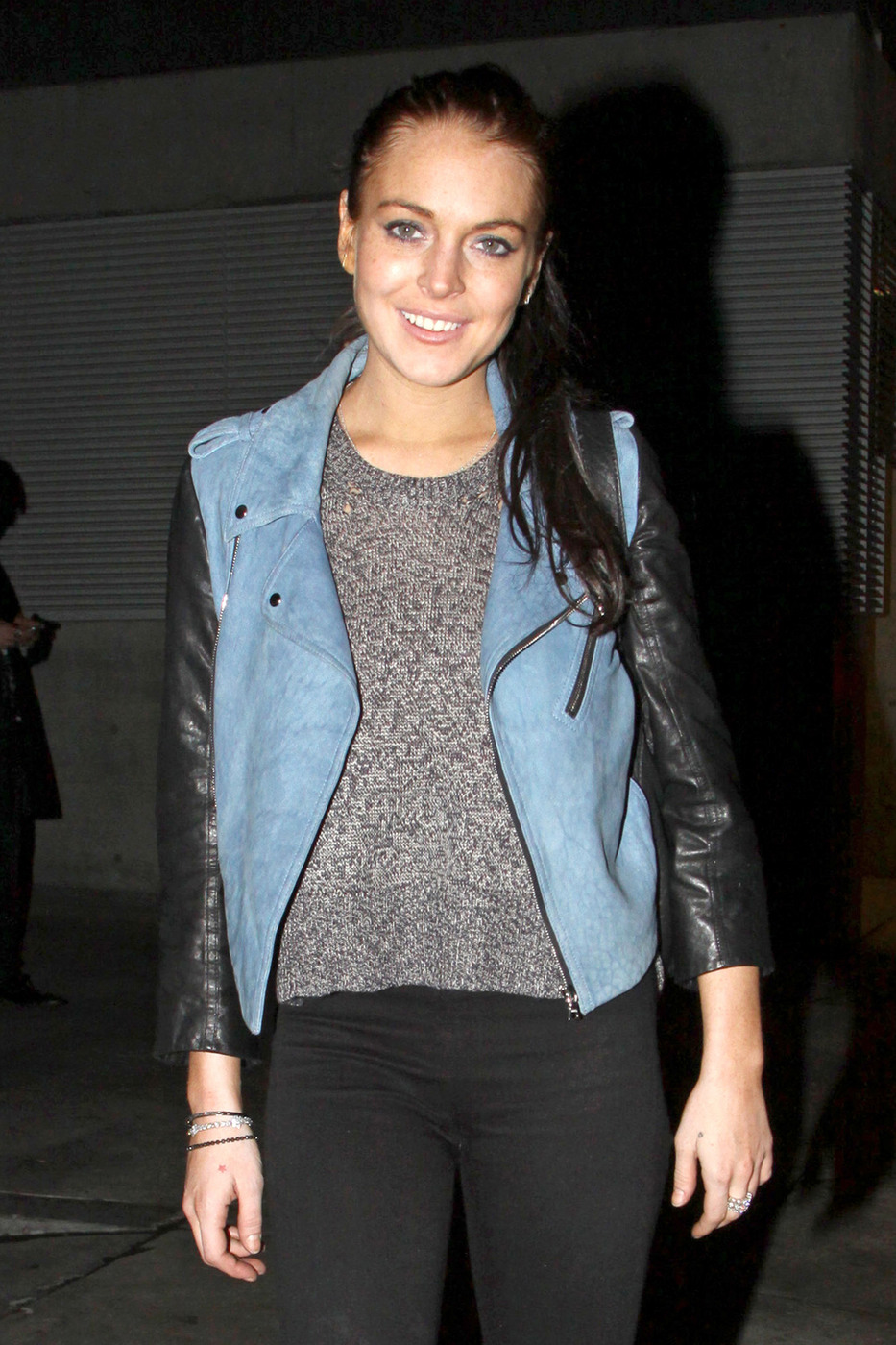 My thoughts about the celebrity media coverage of various hot messes, train wrecks and breakdowns is this: you know when People Magazine starts calling you out, there's real trouble. Such is the case with this mysteriously direct calling-out of Lindsay Lohan in an online article on People today. People dissects Lindsay's actions and interviews over the past two weeks – including her two part interview in The Sun, where she lied about her drug usage (Part 1) and claimed that she was still in love with Sam Ronson, and that if she couldn't be with Sam, she would go back to "boys" (Part 2). They also note that Lindsay has gone out partying every night for the past two weeks, no matter if she was in London (where she's apparently moving, because of her love of chunnels), to Atlantic City, to LA. They even document some very tabloidy behind-the-scenes drama where Sam Ronson asked a club's security to protect her from Lindsay's cracked-out shenanigans. It's all pretty hardcore:
Lindsay Lohan recently declared she is healthy and happier and has put her substance-abuse problems behind her – but her recent behavior may suggest otherwise.

After trips to London and Atlantic City, N.J., Lohan, 23, is back in Los Angeles, where she has been out late for three consecutive nights.

On Tuesday, the starlet arrived at Bardot Hollywood after 1 a.m., where her ex-girlfriend Samantha Ronson, 32, was deejaying. According to a source, Ronson asked security to stay by her side until Lohan left the club. "She wouldn't leave, and at the end of the night, you could tell she was waiting for Sam," the source says, noting that Lohan texted her ex, who ignored the message.

"They never talked at all, though, and Sam was definitely avoiding [her]," the source says.

A similar scene played out the night before – this time at Teddy's inside the Hollywood Roosevelt Hotel, where Ronson was also deejaying. Lohan, who asked for a table near Ronson and was denied, was "a total mess," a witness says. "She looked really drunk when she arrived and seemed so out of it," the witness tells PEOPLE.

The actress was out again on Wednesday night, acting "aloof" at West Hollywood's Chateau Marmont – though this time her ex-girlfriend wasn't anywhere in sight.

'She Needs Help'
Friends of Lohan are concerned about her recent partying.

"She needs help. She needs to solve her problems," a source close to the star says. "She's just not taking care of herself."

In a recent interview with Britain's Sun, Lohan admitted to using cocaine in the past, and pointed a finger at her father, Michael Lohan. "I was only aware of cocaine because of my dad," Lohan told the paper. "I was terrified of it. But I tried it because I was stubborn, stupid, and wanted to see what it was like."

And she maintains that her substance use is behind her. "Now I'm in a place where I don't need to use anything," she told the paper, "and I can feel emotions because I choose to."

She also told the newspaper that she drinks alcohol in moderation. "I'm allowed to drink now, but I know my limits," she said, adding that she sees a therapist every two weeks and attends weekly alcohol education lessons.

Her Father's Concerned
Michael Lohan, tells PEOPLE he's concerned about his daughter still – and wants to get her help. "The reason Lindsay tries to drown her sorrows and mask her pain was because of my divorce from her mother," he says, "which in turn tore her apart."

Upon Lindsay Lohan's return to Los Angeles this past weekend, a source tells PEOPLE, "Her dad showed up at her apartment in L.A., and Lindsay alerted security to make him leave. She is dealing with her attorney to stop him from harassing her."

Amid all the drama, Kristi Kaylor, who runs Lohan's 6126 clothing collection, scoffs at the notion that the starlet is in trouble. "She is very supportive of 6126 and very hands on," Kaylor tells PEOPLE. "She just finished styling and modeling in the photo shoot for the debut fall collection. I have to say, I was extremely impressed with Lindsay and think she is a very talented designer."

Globetrotting
On Thursday, Lohan was expected in Milan, to attend an Armani-hosted art event. Lohan is also expected at the designer's Friday and Saturday runway shows.

"She's going from hemisphere to hemisphere from party to party," says a source close to Lohan. "She needs to slow down a little bit and take time for herself and really figure out where she's going to do."
[From People]
I'm beyond caring about what Lindsay is doing to herself. She's had ample time and opportunity to take a step back, to get help, to get away, to find her career. She chose not to, instead choosing a life of partying, drugs, enablers, and denial. What's scary is how she survives – and even thrives – in that environment. It's spooky.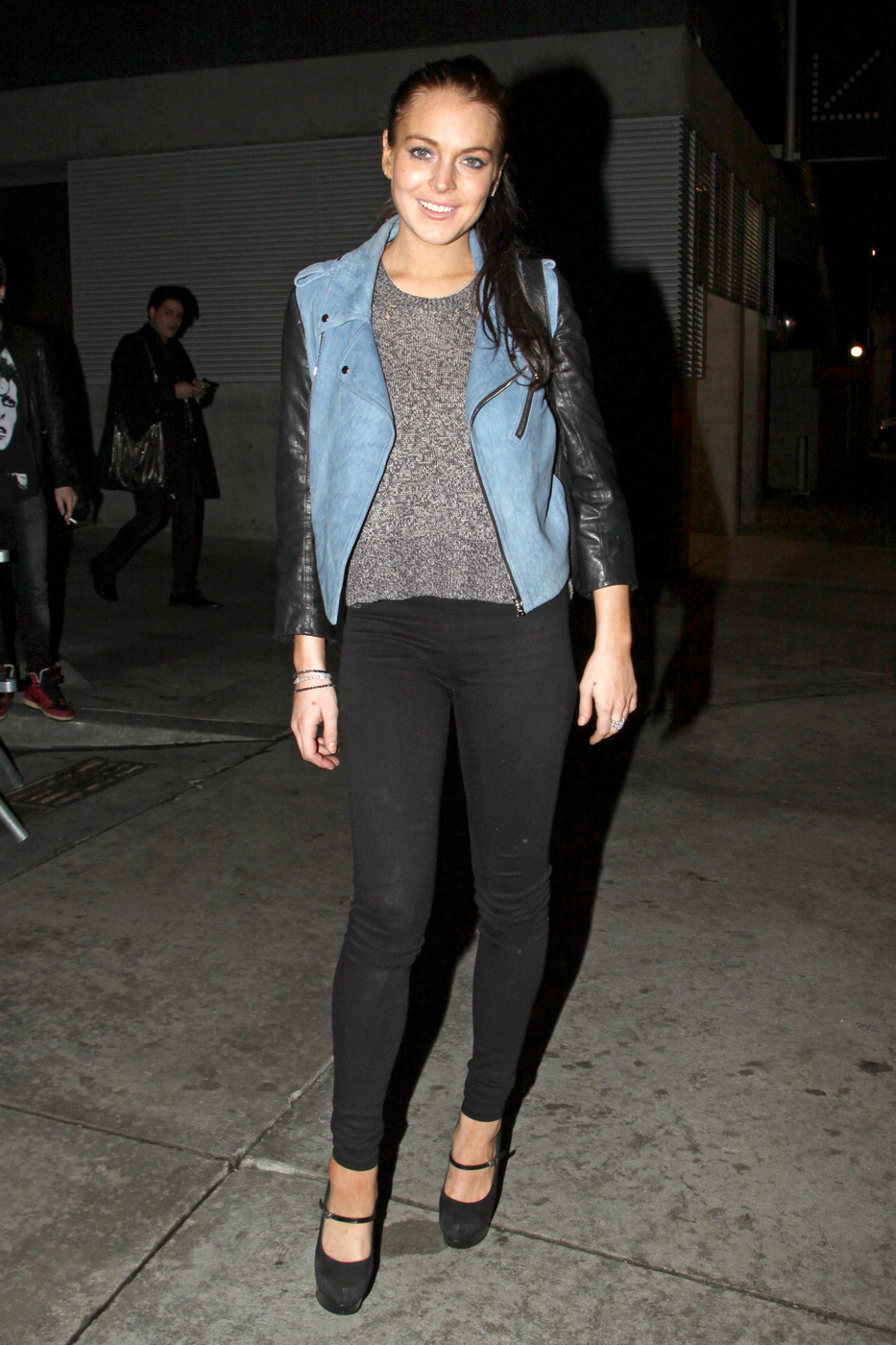 Lindsay Lohan out in LA on February 24, 2010, credit: David Tonnesson/Pacific Coast News