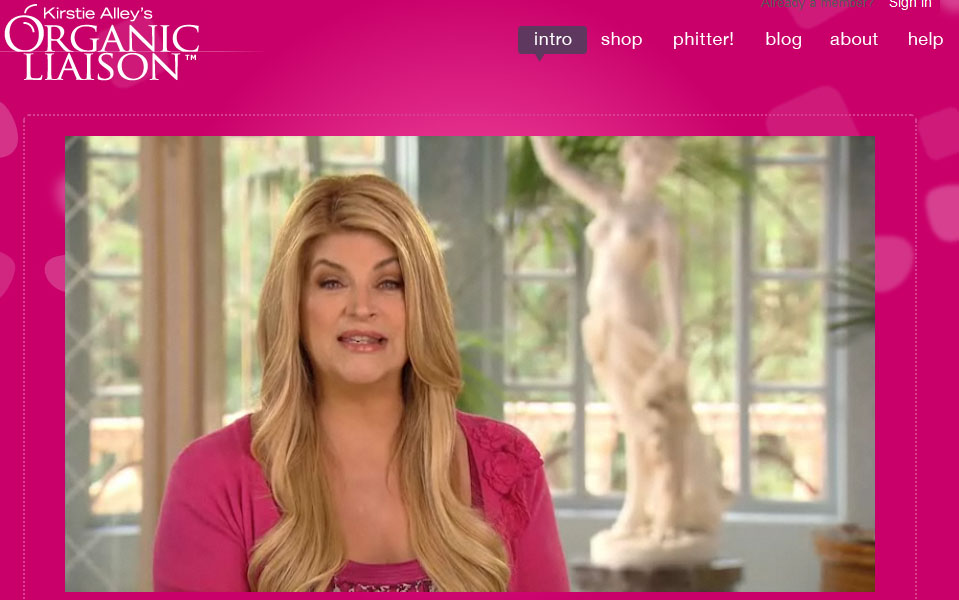 Kirstie Alley has launched a new weight loss program called "Organic Liaison" that primarily consists of vitamins and supplements and a $10/month "membership" program for access to vague "online tools and community support." Kirstie has promised to come out with some kind of weight loss plan for years, and now it's available. According to videos she's posting on Organic Liason, it's "the first certified organic weight loss and management system in the world." The products have names like "Rescue Me," and "Relieve Me," and promise to be "natural" cleansers and to help fight hunger and cravings. Kirstie claims that they will "flood your body with the missing elements that make weight loss an uphill battle." The thing is, the ingredients are typical vitamins and minerals and we have to take Kirstie's word for it that the $12-$15 bottles are better than the same organic supplements available at the local health food store. Plus you can get all those "elements" in food if you plan your meals right and eat healthy.
That's a good gimmick, but there's nothing new about a bunch of supplements. Kirstie is a known Scientologist and many members of the group Anonymous are pointing out that Organic Liaison has the same address as a known Scientology front company and has advisory members that are easily identified as Scientologists. Are those vitamins and minerals L. Ron Hubbard approved?
Here's more information:
The private personal info you send to Organic Liaisons Kirsties new company is a Scientologist and info can be sent to a third party hope you don't mind being contacted by a Scientoligist.
From Organic Liaison web site
* by email at: legal@organicliaison.com or
* by normal mail at: Organic Liaison
Attention: Privacy Statement Personnel
1515 North University, Suite 222
Coral Springs, Florida 33071
* by telephone at: 1 (800) 513-5201
is the same as (google)

Saul B Lipson (a Scientology front company)
Category: Accounting Services
Lipson Professional Group, The
1515 N. University Dr., Ste. 222
Coral Springs, FL 33071-6032
United States

from Organic Liaison web site
2 out of the 5 advisors are Scientologists
Advisory Board
Thomas Lovejoy (scientologist) (on the board of Scientology's Artists for Human Rights)
Bob Durst
Deborah A. Klein, MS, RD
Soram Khalsa M.D
Michelle Seward (scientologist)
or read about Dr Soram Khalsa
Quack To the Stars: Dr. Soram Khalsa

the testimonial videos on the site were shot at the Fort Harrison Hotel (Scientology's Flag Base in Clearwater Florida)
[From comment on RantRave.com]
I would have a lot more respect for Kirstie Alley if she wasn't shilling vitamins. You can bet that the "online tools and community support" are heavily laden with Scientology concepts. I'm not going to say anything about how Scientology hasn't helped Kirstie so far. It just seems strange that she's launching a weight loss program when she's only lost 20 pounds so far, though. It's also a real concern that they're going to market Scientology to people who innocently try and buy supplements to lose weight.
The 230 pound star was on Oprah yesterday to promote her new reality show Big Life, premiering on A&E in March. She also put in a plug for Organic Liaison. Kirstie says in a clip from the show that she needs to lose 90 pounds and would like to get back to 140. (She told Oprah she's lost 20 pounds in 7 weeks, so maybe she's 210 now.)
I watched Kirstie on Oprah and found her mildly funny, especially when she was talking about how she wanted a booty call with Jamie Foxx. Foxx appeared via satellite and gave Kirstie a special message. The best part was when she went back to kiss the screen where he was on and he started undulating his tongue. The audience was roaring laughing. Jamie told Kirstie he would be her booty call and that "You're absolutely beautiful. Don't worry about how much you weigh.. Don't worry about a thing, just be you. Fantastically you."