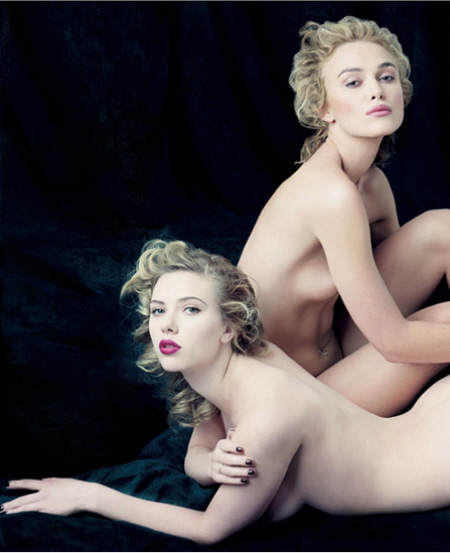 I'm not really sure what I think about this strange "Diva Alert" report from Star Magazine. Allegedly, Keira Knightley and Scarlett Johansson are up for two roles in The Emperor's Children, a film about blah, blah, pre-9/11 New York. Apparently, they've both been acting like crazy divas about their wardrobes and shoot dates and stuff. The weird thing is that neither has actually signed on to the film, which by the looks of IMDB, is still in the very early stages of pre-production. So what is there to bicker about? I don't get it.
Have they gone diva? Sources from the upcoming flick The Emperor's Children – about a group of New Yorkers turning 30 just before 9/11 – tell Star about the outrageous demands of Scarlett Johansson and Keira Knightley, who are negotiating for roles in the film.

"These two are bickering about everything from wardrobe to their character to shoot dates," a source tells Star. "Normally ScarJo and Keira are so easy to work with, but they can't seem to agree on anything! I think they're very competitive with each other, and they want to see who gets more."

It's so bad that costar Robert Redford is read to step in and referee, the source adds. "Robert's never seen behavior like this before – and he's been around forever!"
[From Star Magazine, print edition, March 8, 2010]
Meh. I wonder what the hell caused such a random and easily fact-checked report? As far as I know, ScarJo is still on Broadway doing a play, and Keira is supposed to be one of the most pleasant and down-to-earth actresses out there. I have no idea what's going on. But I liked the Robert Redford shout-out. We need more Redford stories.
Vintage ScarJo & Keira photos from Vanity Fair's 2006 Hollywood Issue, courtesy of Google Images.