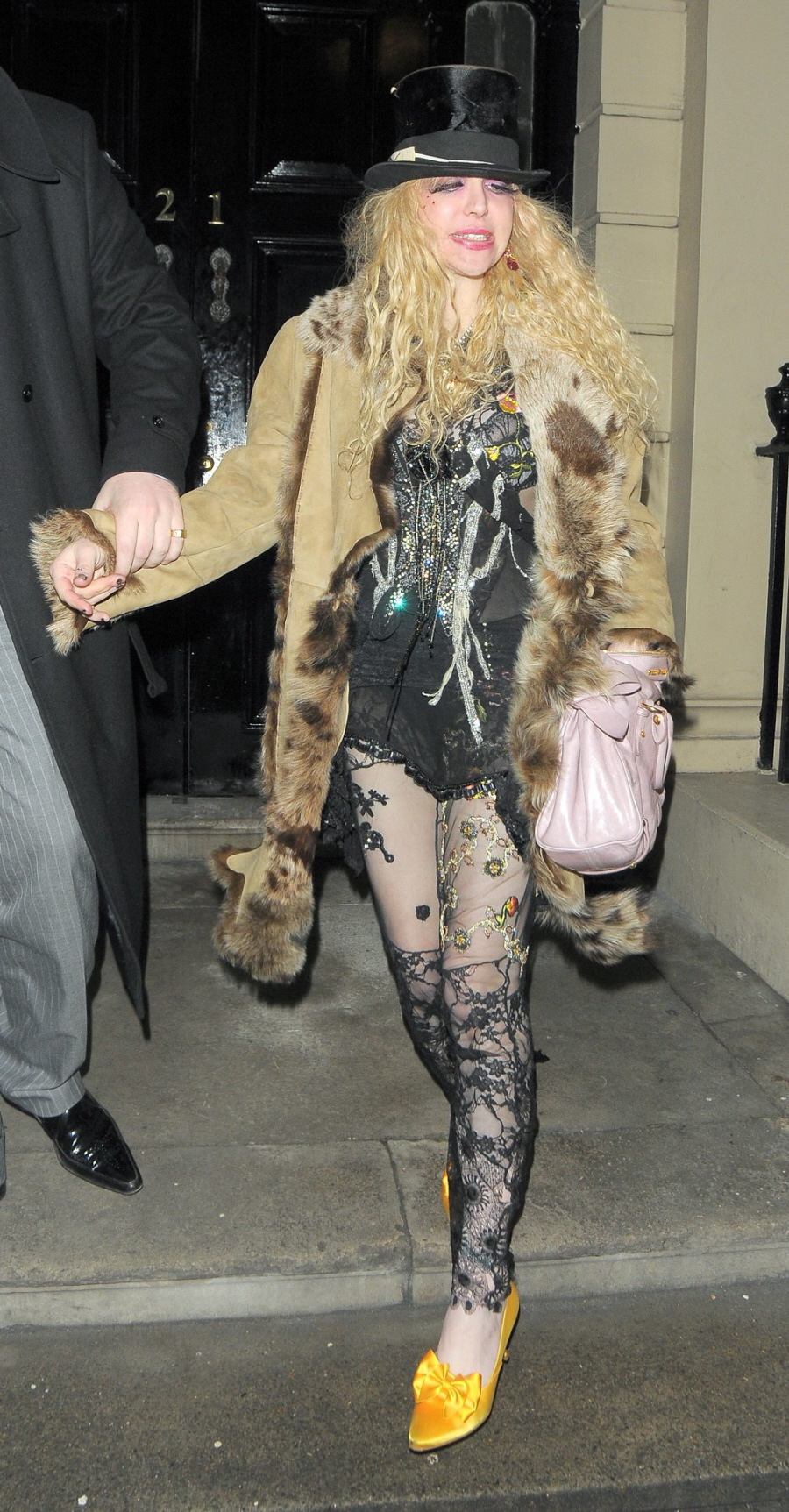 Remember how Courtney Love had a brief moment of lucidity last week? Yeah, that's over. In spectacular form, actually. Yesterday, we heard about Love's literal crack tweets regarding her desire to "hate f-ck" John Mayer with her powerful vadge. Then this morning, I awoke to this story at HuffPo about Courtney spending pretty much all of last night crack tweeting about how Edward Norton cheated her out of $300,000, and how he cheated Angelina Jolie and Brad out of money too…? But my crack tweet-to-English literacy is sub-par. I get a headache trying to decipher Lohan crack-tweets, so Courtney's are way above my pay grade.
Anyway, it's safe to say Courtney is no longer feeling any pain due to whatever maximum-strength crack she's smoking. Not content to simple pick fights with Ed Norton and John Mayer (and her powerful vadge, probably), it seems she and Lily Allen are in the middle of some kind of beef. Let me just say, I've always had mixed feelings about Lily Allen, but the way she takes down Courtney actually had me giggling:
Safe to say Lily Allen won't be catching any of those Courtney Love-fronted Hole reunion concerts. Things are definitely heating up over on Twitter, with the ever-bloomin' English rose slamming Love for spreading rumors about some of Allen's alleged diva demands—demands Allen says are completely bogus. But don't call it a fight!

"I would never fight with her, as a rule I don't pick on crazy old ladies," Lily tweeted.

First, some backstory: It all started earlier this month when the music stars collided at London's Brit Awards, the U.K. answer to the Grammys. On the red carpet, Love went out of her way to tell anyone with a microphone that while her Miu Miu frock was perfectly acceptable, she really wanted to wear a Chanel dress to the event (the Miu Miu PR department's thank-you is no doubt in the mail).

Love claimed that she was denied access to any Chanel apparel, however, claiming Allen put a "lock" on all that design house's wares.

Well, the accusation got back to Allen, and needless to say, she wasn't happy. She was so unhappy, in fact, that she reportedly snubbed Love at this week's much more casual U.K. music bash, the NME Awards.

Everyone caught up? Good. Now on your marks, get set, Twitter!

"Just clearing a couple of things up," Allen wrote this morning. "Courtney Love and I did NOT have a bust up at the NME's. There was an exchange of words, yes. She's upset because she has got it into her head that i put a lock on some dresses for the brit awards. She's made no secret of this and, when i saw her at the NME's she tried to talk to me and i told her to shut up and stop spreading stupid rumours about me. And thats pretty much it. I would never fight with her, as a rule I don't pick on crazy old ladies."

Oh, our mistake. But she wasn't quite done there. When asked by a follower if it actually transpires in celebrity world that stars put dibs on clothing, Allen seemed to deny the practice entirely—or at least denied that it's something she ever engaged in.

"No but it's the sort of thing a paranoid drug addled lunatic might come up with."

As for Love, her defense was too little, too late soon.

The rocker, who has already redirected her ire to Edward Norton, actually offered a mea culpa to Allen last night.

"Dear i was told by my pr you had a ;ock on chanel couture this coulve been nonsense, it's a compliment if true," Lovee wrote, going on to admit that she was probably misinformed.

"I think i know the actual reality, if you did NOT have a lock wich i think is the mpore probable I was told nonsense. so end."

Well, almost end.

"F–K i'm going to miss you all you brits with a few mean girls exceptions," the U.S.-bound Love wrote this morning. "im taller than most girls so when some smaller girl picks on me it always looks like im a bully or mean, im really not, always.swear."

Swear swear? OK then.
[From E! News]
Is that about it? Let's see what else Courtney has been up to… ah, yes, she also took credit for making British actor/comedian Steve Coogan "cool". Uh…yeah. Love said: "I've been embarrassed before, but that [fling with Coogan] was like a ten,. He was very, very nice – nicely spoken, didn't know he was a super freak." Love then said she was afraid she ruined Coogan's rep, but then said: "Without knowing I'd actually made him really cool." Jesus, Love.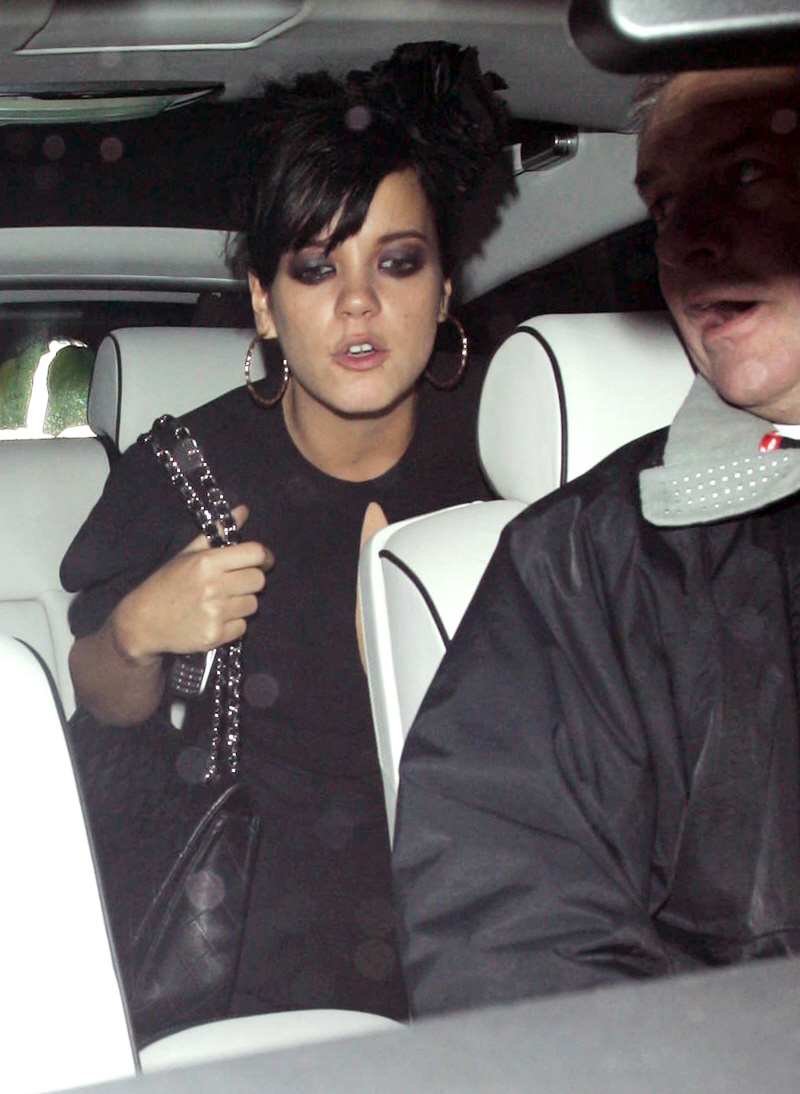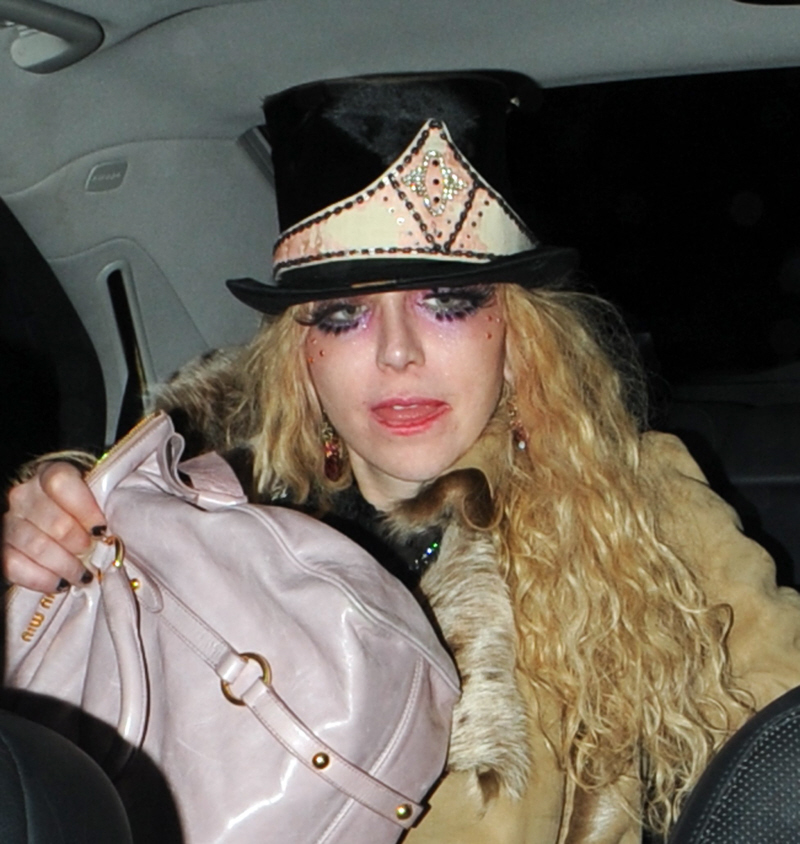 Courtney Love in London on February 24, 2010. Lily Allen on February 25, 2010. Credit: INFphoto.com.